Ok, so I really only just finished the shift.  The short stays were finished last year and I never took proper blog photos.
– The Shift –

And one "in progress" pic.  I am actually pretty proud of this, because this picture is taken inside out!  I did a pretty good job of those seams, if I do say so myself :)
Pattern:  Country Wives- Two Chemises- 1805-1807
Fabric:  100% Linen.  Lightweight.
I was recommended this pattern by a friend, and after I got it finished I loved it.  I'm actually halfway through the other view in the pattern, too.  I had been putting off making a proper Regency shift for well over ten years, so it's about time I made it!
The pattern is basically about 6 pages of written instruction, telling you how to cut and assemble a shift.  There are minimal illustrations. I was really frustrated by it at first, but after I figured it out I loved it.
This pattern is for historically accurate sewing, so the instructions call for piecing the width of the shift, as fabric widths were narrower in the past.  A little math and reasoning allowed me to cut it full width so I could cut out the step of adding a panel.
I found it extremely frustrating that each of the two large panels (for front and back) were to be cut 40″ long, and the pattern gave allowance for two yards of fabric.  36″ + 36″ = 72″ long, which is 8″ shorter than the 80″ that would be required (assuming that the person who sold me the fabric cut it on grain. Which they didn't.  So when I pulled a thread to make sure I was exactly on grain, it was even shorter than 72″ long.)  So I hemmed and hawed, and posted on my Facebook page, and finally realized I needed to cut it CROSS GRAIN.  Duh.  But if would have saved a lot of headache if it was just noted down in the pattern.
Other wishing that there were instructions included for cutting it full width and not piecing, and other than the whole cutting cross grain conundrum, the pattern went together very easily.  I did a lot of handwork- I flat felled my seams by hand,  hand sewed my neckline casing, and hand sewed my hems, but the side seams are done by machine by French seams, and the stitches that don't show are done by machine.
I did shorten the sleeves on the chemise I'm currently working on (the other view of this pattern) because I think they're just a bit too long and too full to go under all the things I'd like to make in the future.  That view has drawstrings at the bottom of the sleeves and gathers.  Well, you'll see if for yourself whenever I get it finished!
For those interested, I bought the pattern from Wm. Booth, Draper.
I do sell the Laughing Moon stays and shift pattern in my Wearing History Store, if you're looking to make your own shift.
– The Stays-
I don't know how many of you remember, but last year I was really trying to wrap my head around short stays. If you're interested, I did two blog posts with my research.  One here and One here.  This is actually my fourth pair of Regency stays.  I made two sets of long stays (each of which was a disaster in one way or another), and one set of short stays.  But my short stays accidentally got shrunk in the washer (oops), so I had to make a new set of short stays.  Plus, I wasn't entirely convinced that they were what I wanted.
These were actually finished last year but I didn't get any proper pictures. So- ta da! Pictures!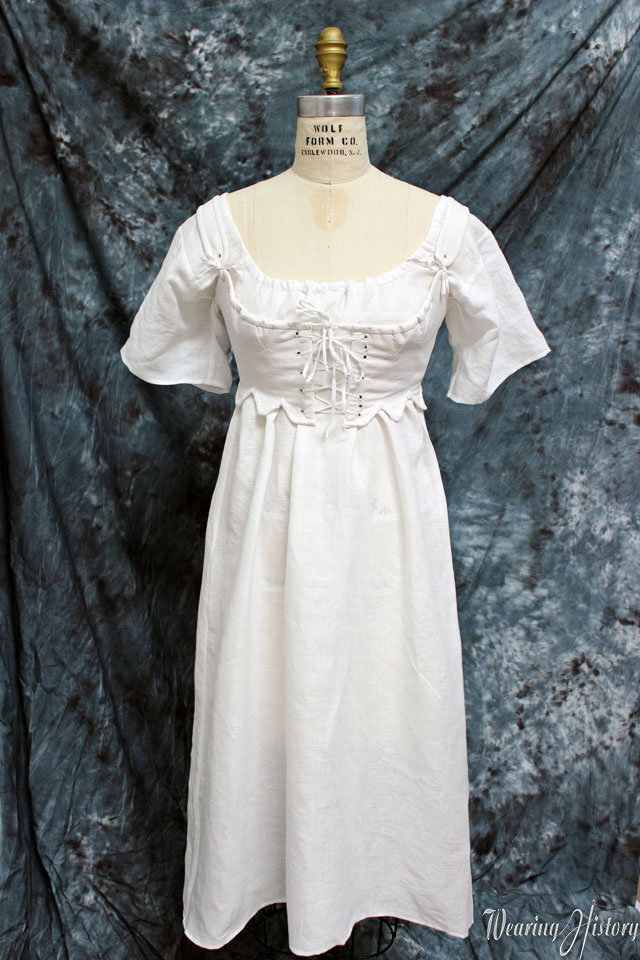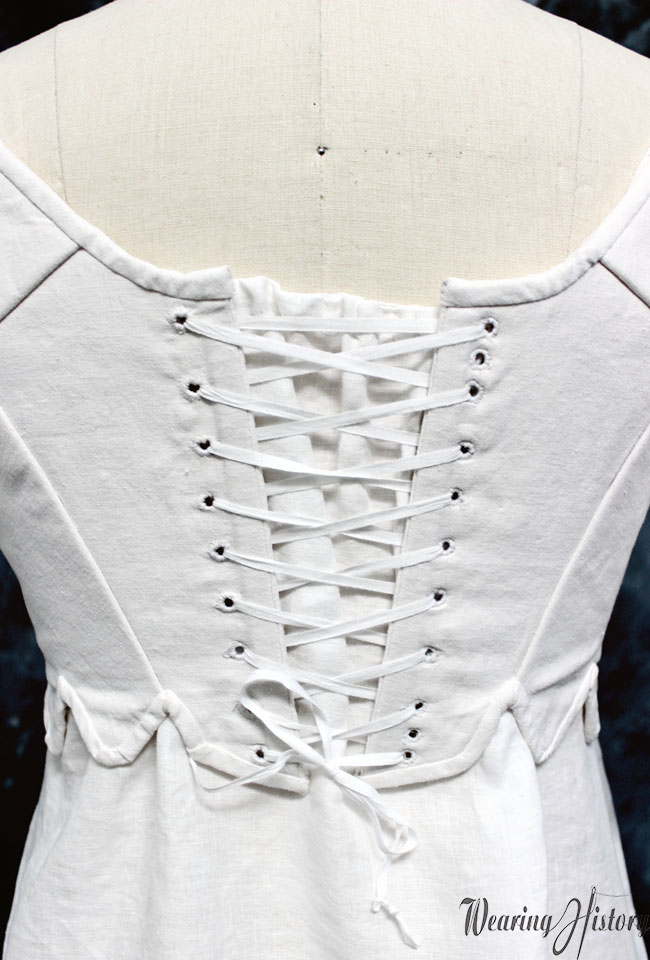 Pattern: Self drafted.  I honestly don't remember much about it, and I was a bad girl and didn't really keep much track of what I was doing or what went into it.  But I did find one progress picture.
Fabric- I believe I used a cotton canvas sandwiched between two layers of linen.
And for the sharp eyes among you. YES, I messed up my eyelets.  I wanted to do spiral lacing and then spaced out on how to do it.  It was a very stressful and busy in my life dealing with family stuff during the time I was making these last year, so I've given myself a free pass ;)
Have you been doing any sewing lately?