I had so many thoughts when I posted my last post on Regency short vs long stays, that I had to continue into another post!
If you missed the first post, you can find it here.
Big ol' disclaimer right now:  This post is entirely based upon my thought process, and questions based on existing materials found online via extant periodicals and personal reflection of extant costumes.  I may be right, I may be wrong, but I'm certainly questioning what I thought to be the "standard" view of corsets of this period.
Late 18th Century:
With Cups
V&A Museum.  1790s Stays
Met Musem: Stays, 18th Century.
Without Cups, Without Shoulder Straps
Met Museum: Stays, 1700-1799
Met Museum:  Corset, late 18th Century.
With Tabs and Straps and Without Cups
Met Museum:  Corset- 1780s-1790s.
In the late 18th century, when fashion underwent radical changes, it seems that understructure had big challenges on how it would conform to the changes.  It took time for some people to convert to the styles, of course, and we were adjusted to the same sort of stays, in little changes at a time, rather than the big changes that were to come in the next hundred or so years.
It seems we could not make up our mind.  We blend the ones similar to those that came before, but are challenged in a way to make the breasts seem to be "natural", and yet, enhance nature and uplift.  The 18th century stays flattened and brought together, but the cups on the ones above, combined with the structure of the 18th century stays in other places, seem to indicate that fashion was trying to change.
Whatever genius came up with inserting gussets- I tip my hat to them.
In early Regency era periodicals, it seems to refer to the 18th century stays as "long stays".
A Comparative View of the Social Life of England and France, Mary Berry, 1828
And yet, we see, by 1803 they were back.
Ladies Monthly Museum, Volume 11, 1820.
The Lottery Ticket and The Lawyer's Clark: A Farce, 1827 (same year as the above)
So, as far as I can tell, we have the types of stays pictured above- where we never quite knew what was going on.  Corsetmakers were playing with length, proportion, cups, no cups, tabs, no tabs, cording, and boning, and lacing.
–  Early 1800s  –
It appears, we have a VERY short period where it looks like short stays were quite popular.  Or, a combination of very short stays and "long stays".
Ladies Monthly Museum, Volume 11, 1820.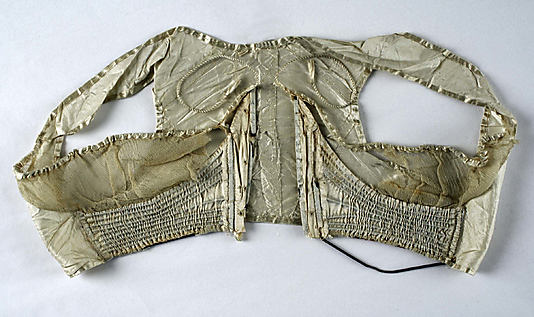 Across the front it looks like these were probably the "elastic" that was referred to in a period source in my last post, a stay of French origin, the source says.  The museum confirms that these were "probably French". Across the front would have been small, spiral springs of metal.
Met Museum: Corset, 1805-1818.
And another pair here.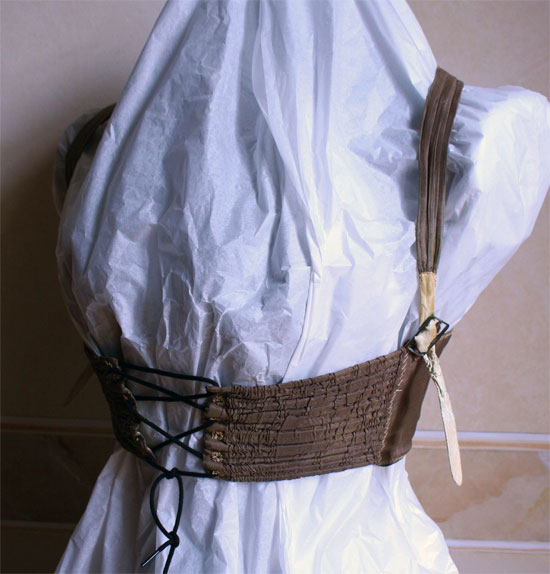 Abiti Antichi, 1800.
It is worth noting, there also appears to have been a use for the "bodice"
V&A Museum: Bust Bodice, 1820-1829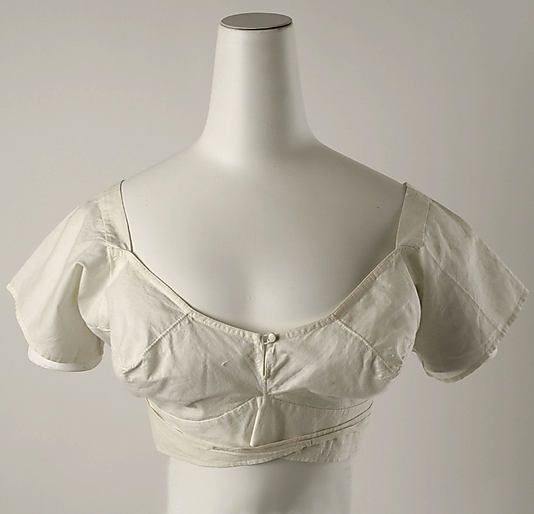 Met Museum:  Brassiere, 1820.
It's worth noting, Short Stays were also called "Jumps"
Which begs the question… is the famous Kyoto wrap stay really a "stay" or is it a "bodice"?  Or perhaps a mutant of both?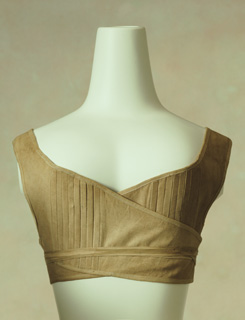 Kyoto Museum: Brassiere, Early 19th Century.
So, we see, there is a lot of variety.  When we get to around 1817, we get what most of us seem to think of as the "standard" Regency stays, which in period examples is known as the "Divorce" corset, the "Armenian" corset, the "Armenian Divorce" corset, the "Circassian" corset, or "long stays".  Stays and corset both seem to refer to the longer type of support, with corset being both spelled as "corset" and corsett".
La Belle assemblée: or, Bell's court and fashionable magazine, 1817

The Hermit in Philadelphia, Second Series, Robert Waln, 1821

The Literary Gazette: A Weekly Journal of Literature, Science, and the Fine Arts, Volume 1, 1817
"Divorce" meaning, as far as I can make out, the separation of the breasts by use of the gussets and the busk at center.
Kyoto Costume Institute: Stays, 1800-1820 via Isobel Carr
It seems the long stay was back in fashion, and preferred among the fashionable set.  It is most likely a derivative of the "Armenian" or "Divorce" corset, rather than the "long stay" we see referred to as the stays of the 18th century.
The Principles of Medicine, on the Plan of the Beconian [sic] Philosophy.  Robert Douglas Hamilton, 1821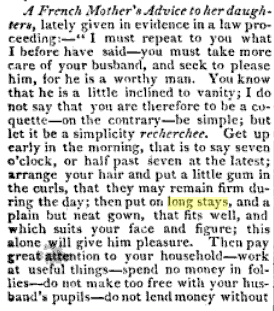 The Ariel, a Literary Gazette- Volume 1-2, 1827.
But criticism of the new version of long stays was rampant, especially among physicians.
 It seems both "long stays" or "corsets" and "short stays" or "jumps" were available at the same time.  However, it seems that the VERY short stays were only in fashion for a short period of time.  It is highly probable that the "short stays" of 1810 and later were more of a "mid point" stay, higher than the waist, but longer than the very short ones with elastic that are pictured above.
So, there we have it.  I will save my last few thoughts for the next post.  I had no idea, when I started, this would be a series!  But now I'm completely fascinated, so have to share my thoughts and findings.