This last weekend was the L.A. Vintage Weekend in downtown Los Angeles, CA.
For market research, and just because I wanted to check it out, my husband and I decided to make the trek up to L.A. to go to Inspiration for the first time.
Oh. My. Gosh.  It was AMAZING.
Just my speed.  A fun mix of old and new, with the old being a mix of incredibly rare vintage workwear, military, denim, vintage Mexican style blankets and prints, crazy sweaters, and Edwardian whites.  Wow.  It's like, all my favorite things.  The new was mostly small USA based and made clothing of the denim, workwear, and vintage motorcycle variety, artisan leather and silver work.  I was completely clueless that this was a scene at all.  But it is.  And it's HUGE.  The place was packed with shoppers.
Definitely different than your average vintage show.  There were shoppers from all over the world who came in to this event.  There was 80's surf stuff, and stuff on the newer age of the spectrum as well.  Gourmet coffee booths.  Hipsters and vintage motorcycle enthusiasts rubbed shoulders.  It was great.
I was a little shy of taking pictures, because, frankly, most of the people were so cool that I was intimidated to ask.  But here's the ones I did manage to snap.
The amount of work that goes into setting this show up must be incredible.  The booths are cleverly designed to make it seem like you've "discovered" something- a bit of an artistic display that makes you think you've stumbled into an undiscovered attic or found a vintage storefront that has been closed up since the 60's.  And there's the minimalist booths thrown in, too.  Some artisans were creating their product right there in their booths.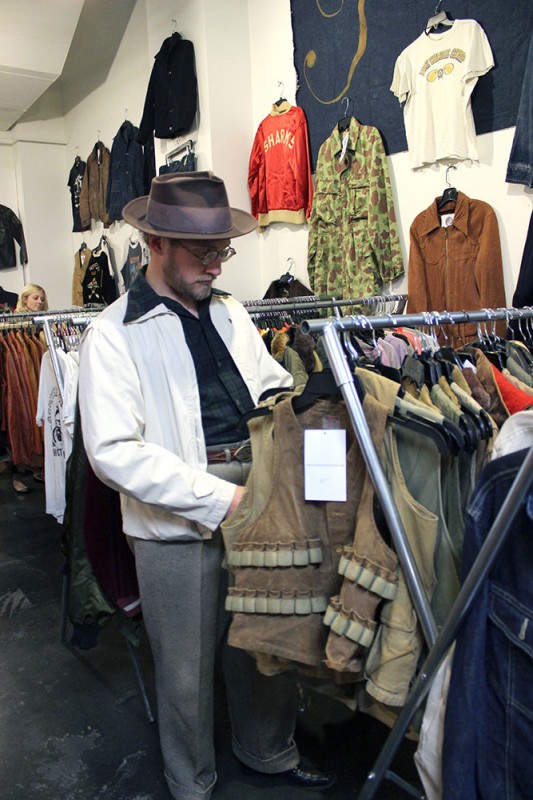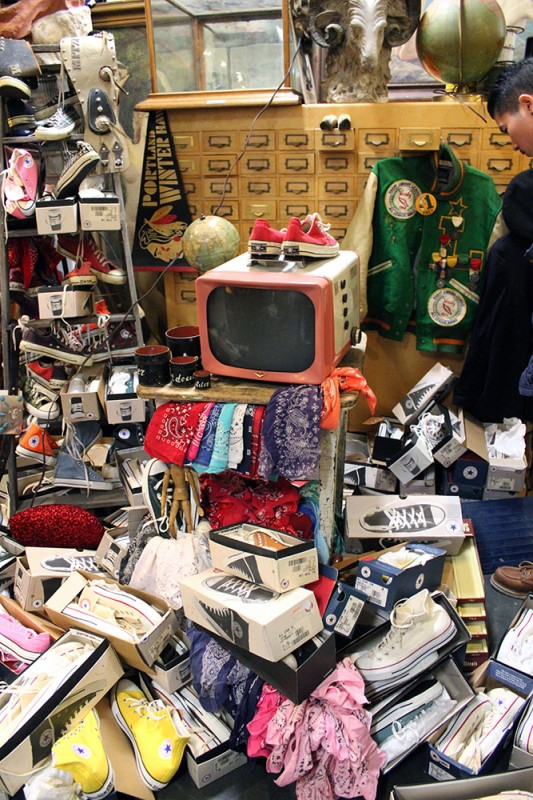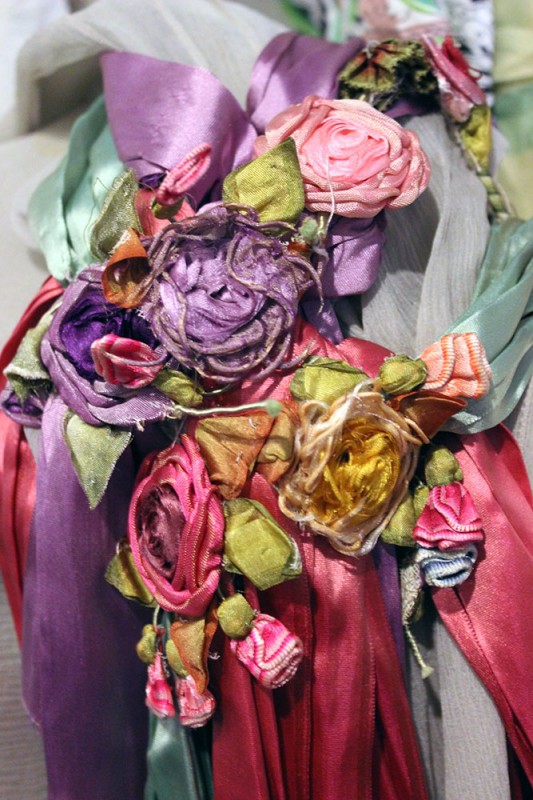 There isn't a lot of feminine finery at this show.  In fact, it's probably not one I think most of the "vintage scene" that I know would find interesting.  But they had so many incredible things there.  Just being able to touch them and see how they were made was incredible.  Have you ever touched a printed t shirt from the 40s?  I have now.  And wow, were they amazing to see.
It's a VERY pricey show, and we didn't come home with anything.  But I keep re-living and remembering things that I saw there and my mind has a million ideas bouncing around inside of it.  Someday, God willing, I  WILL get the clothing in my head made.  And when I do, I'm going to go have a booth at Inspiration.  It's totally right in line with what I want to do.
I met the lovely Miss L Fire in person here, and I just happened to be wearing some of her shoes!  I didn't get a single shot of myself, but I was excited to make it onto her instagram collage of the weekend.
I didn't get a single shot of myself this weekend.  I wore a 1930's Montgomery Ward's 3 piece belted back suit with a double breasted vest that was originally made for teen boys.  My husband has it in his collection and it just so happens to fit me. I wore a Mexican print rayon 40's blouse under it, with a 1940's ladies Dobb's fedora.  On my lapel I wore a blue plastic sombrero brooch and a pin back with a covered wagon on it that read "Westward Ho!".  I saw some people taking snaps of me, so hopefully somewhere one will surface so I can share it on my blog.  I just completely spaced out on it, because I was immersed in the show.
We also checked out the Vintage Expo at the L.A. Convention Center.  I hadn't been in about 5 years, when it used to be held in Santa Monica.  We weren't sure we were going to make it to this show, but since we got out of the Inspiration show with time to spare, and they were just about 10 minutes away from each other, we decided to go check it out.  It's also on the pricey side, but there are pretty things.  I did find a few treasures, mostly at the last minute before closing, including French Vogue magazine from 1920 and a few summer "whites" from the late 30s/early 40s which were a real bargain.  I also got to meet the lovely Tipper in person, who recognized me from my blog.  It was so nice to meet her and place a face to a name!
Hope you had a great weekend, too!