Yesterday I had an amazing day with my friend, Lauren, of American Duchess.  To end the day we spent a wonderful few hours at my friend Nicole's shop, Paper Moon Vintage.  If you get a chance to get to L.A. and you love vintage clothing (especially 1950's and earlier, which are her specialty), you definitely have to check it out.
Well, we "ooh-ed", and "aah-ed" over the beautiful pieces Nicole pulled out.  And I'm so, so thankful and amazed that I was able to give this distressed beauty and home in my collection.  Nicole knows my love of earlier pieces, so I'm so, so happy she let me have this beauty for a rather good price.  It may be distressed, but I am completely in love with the multi-dimensional aspects of design of this period.
This dress found itself into a movie costume house, until, in the end, my friend Nicole picked it up.  And now it lives with me!  The label says "circa 1911", and "size 10″, but it's most likely a 1970's or earlier size 10, because the waist is about 25.5" on my dress form!
I could not resist taking these photos and sharing her with you.  I am so in love with this dress!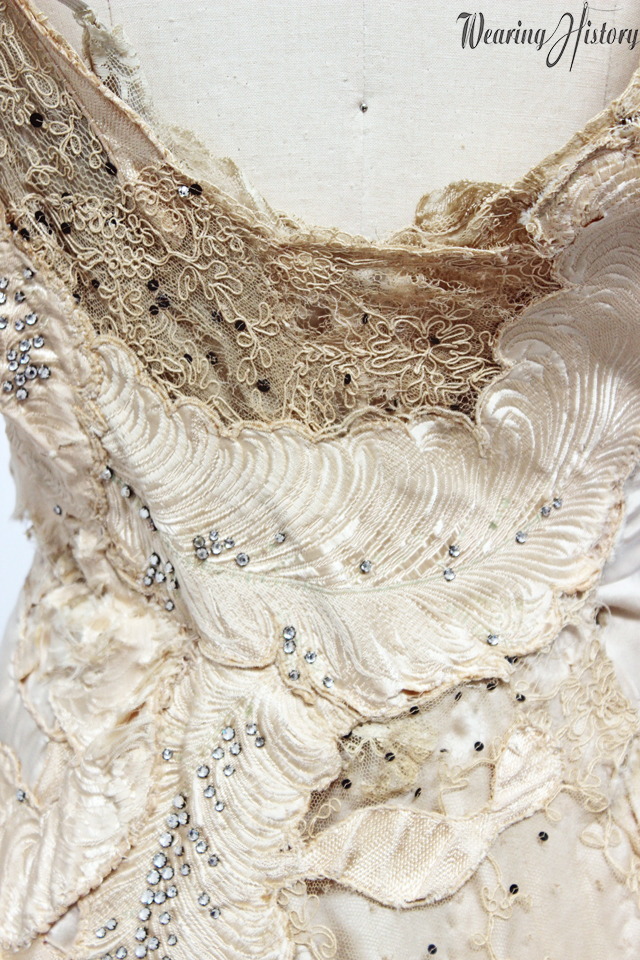 There are no labels inside, but I am in no doubt that this was originally either a designer piece, or made by a custom dressmaker of incredible skill.
Does anyone have any guesses or feelings about what designer may have created this piece?