Hooray!!!  New pattern day!
Introducing Phyllis- named for my grandmother's cousin who worked on airplanes during WWII.
Phyllis is an "Air Raid Suit", or Coverall.  Air Raid Suits were called Siren Suits in the UK, and were meant to be pulled on in the event of an air raid.  They were also used as coveralls, for our sisters on the home front.
The original 1940's  pattern description reads:
"A well-fitted one piece air raid suit or coverall that's easy to slip into.  You'll find it a most suitable costume for defense work and outdoor activity."
If you're a long time blog reader, this may look familiar to you because I made one waaay back in 2011.  It's about time I got around to finishing the pattern ;)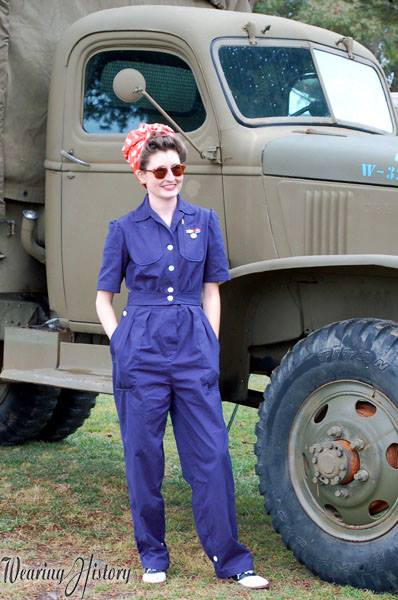 You can pre-order the mailed, printed pattern here.
If you don't want to wait, the e-pattern is available now on my website.  Or, if you're in the EU, you can buy the e-pattern on my Etsy shop.  Not equipped to do digital vat on my website, but you can grab it on Etsy!
Coming up next I'll post more photos, since this qualifies for the Historical Sew Monthly challenge for this month, too!
Hope you love the new pattern! Happy sewing!