The Queen Mary Art Deco Festival was this weekend.  It's actually still going on today, I believe…  and while I was still a tiny bit puffy faced and still pretty sore from my wisdom teeth surgery, I was determined to play dress up and see friends.  That, and my husband said he would take me to the new tea room on board.  Nothing can keep a girl from her tea!
For this event both my husband and I had something snazzy and new to wear.  He had a new belted back sports jacket and I had a new mid 1930s sports dress.
I had been home and achey all week because of my wisdom teeth surgery, so wasn't moving very quickly, but was on and off working on drafting up a pattern I had started the weekend before for him based off of two original mid 1930s men's jackets.  I am not professionally trained to do menswear or tailoring (though I have some on-the-job experience sewing both, but not drafting) so it was very challenging for me, and the pattern went through several phases of advancement, stepping backward, stepping forward, and then, finally, working out the way we both liked.  The fabric is a vintage fabric and it feels like a raw silk and linen or cotton blend.  I am still debating what to do with the pattern I drafted, though my husband says we should do a pattern for Wearing History (it would be a long time coming, if so, so don't hold your breath).  My husband sewed this coat almost entirely on his own.  Since I was feeling under the weather, I prepped it and instructed him on sewing.  I think he did an amazing job!
My dress just so happens to meet both what I wanted to this event and the most recent Historical Sew Fortnightly challenge of  #18: Re-make, Re-use & Re-fashion.  This dress originally started life as a white cotton pique bed sheet that I picked up at a local thrift store for $5.  I was THRILLED, because good white pique is so hard to find!  I knew it had to be a 1930s sports dress.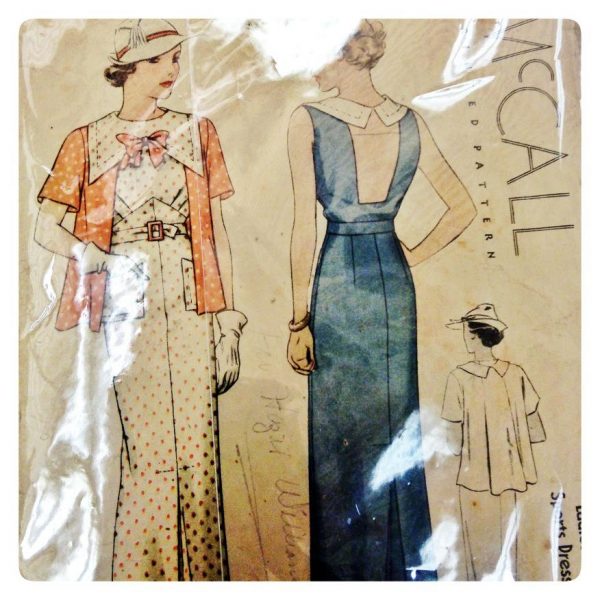 I based the pattern on this vintage pattern, dated 1935.  I wanted to change the "lobster bib", and make it button up the front so I could use fun, red anchor buttons I had in my stash.  I also chose to make the pockets lace up so it had a fun, nautical twist, similar to the feel of these vintage catalog images I posted previously on my blog.  Click the images to be taken to the original posts of the catalog images I scanned and remastered (psst… I've been seeing these floating around the internet a lot.  If you want to repost them, please don't forget to give credit back.  Thanks!)
For the accessories I used a thrifted red belt, a vintage telephone cord clutch that I purchased at a garage sale, and a brand new hat I bought in Old Town San Diego with a 30s/40s vintage flair.  The shoes are also new and were purchased on eBay a couple of years ago.  The "L" brooch was a gift from my good friend, Beth, of V is for Vintage.
For the Historical Sew Fortnightly, here's the dress details:
The Challenge: #18: Re-make, Re-use & Re-fashion
Fabric:  White cotton pique bed sheet
Pattern: Original vintage McCall pattern, adapted for my style preference
Year: 1935
Notions: Red bakelite anchor buttons, white thread, black star eyelets, red silk ribbon, white rayon seam binding, white invisible zipper.
How historically accurate is it?  Other than the invisible zipper I used for a fastener, this is completely historically accurate.
Hours to complete: 7-ish
First worn: September 1, 2013, to the Queen Mary Art Deco Festival
Total cost: Not including the pattern, around $15.  The buttons were the most expensive part of this outfit.  I believe the pattern was more costly, at around $35.
I want to revisit this outfit, as I think it has great potential, but I was a little unhappy with the fit in the photos.  I want to take it in a tad at the waist and bust, fit the belt more closely, and make a red jacket as in the pattern illustration.  I also have enough pique left over to make a matching hat.
We opted to skip the Art Deco Tea Dance, as both my husband and I were a tad under the weather (me from wisdom teeth, he from throwing out his back), so we took the opportunity to try out the new Tea Room at the Queen Mary.  I believe this opened up last year, and I was very impressed.  In general, I'm not a big fan of the shipboard food (not even the loved Sir Winston's.  It's just a personal taste thing), but the tea was very good.  The food was small, like all tea offerings, but perfect size for my post wisdom teeth operation!  It was enough food to fill both my husband and I up.  For $32 per person (a little less than the average cost of a good sit down tea), you get a tower of savory sandwiches, scones with clotted creame, jam, and lemon curd, and then another tower of sweets.  The tea wasn't to my preference, as I like a STRONG English black tea and these were the more subdued American black tea, but I really did enjoy it and will be back.
We ended the evening with a movie on the top deck, under the stars, watching "The Big Broadcast of 1938".  Other than being one of my husband's favorite movies, I'm a big fan of watching old movies on the big screen.  How perfect is it that a 1930's movie about cruise ships is shown on the Queen Mary?  I hope they repeat the vintage movie night at a future Queen Mary Art Deco Festival.
That's about all I've got!  I took a shameful amount of photos, but it was a great day :)