Oh my goodness, how is it that I never finished my Costume College posts?  What a bad blogger I am.  And here it is October, and I never finished posting about August!
During the day I took no photos, but my lovely roommates stole downstairs with my camera so I'm shamelessly posting their outside outfit posts on my blog.  I feel that's only fair- I have to show and tell how fabulous they looked and they ARE on my memory card ;)
Rachael made a fabulous 1940's frock using rayon and one of my all time favorite fabrics- Michael Miller's "Wild Blue Yonder."  I adore her color blocking!  Too fabulous.
Ginger's (Scene in the Past) white dress is so dreamy.  She floated around the hallways during the day in this fabulous white silk taffeta.  Although I was in a limited class while the girls were in a dance class, I am told she danced a picture of grace and beauty- and you can tell her frock would lend to the floating, graceful effect.  Her fabulous wig is by Jenny La Fleur, who does custom 18th century wigs.
Then it was gala time!  You can see my gala dress here, so I'm not going to repost it, but here's photos of some of the other attendees.
Lovely 1830s ladies.

Melissa of The Deviant Dressmaker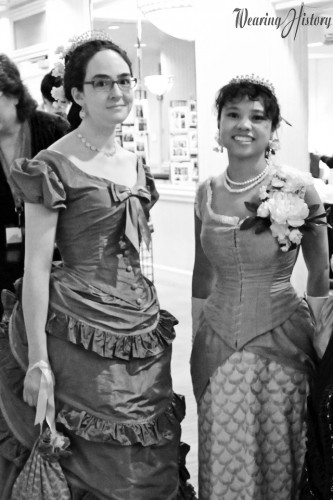 Elizabeth and Sabrina
Vanessa in her ginormous and amazing green 18th century gown.
The Lady Rebecca.
This pretty much sums up why Costume College is so much fun.  Merja of Before the Automobile, Jenny La Fleur, Melissa, and Loren of The Costumer's Closet.

Jennifer of Historical Sewing
Rebecca in her fabulous vintage evening gown she made.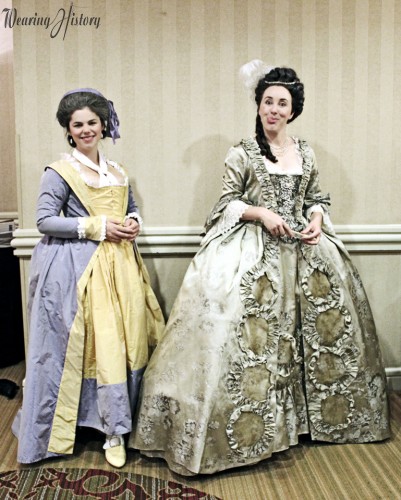 Abby of Stay-ing Alive and Lauren of American Duchess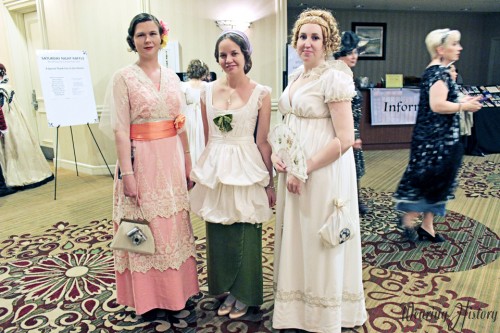 Rachel, Katherine of The Fashionable Past, and Carly.
 I took much less photos than I did in the past, and I'm REALLY hoping Ginger posts about her "Little Red" 18th century ensemble, because it was probably my favorite costume of the whole weekend. (POKE!  Ginger!)
I'm sure you recognize some familiar faces from historical blogging world in the photos above.  It is SO MUCH FUN to be at Costume College with my good friends of similar interests.  If you have never been to Costume College you can check it out here.  It's a long weekend of costuming fun and classes.