Costume College 2016 just wrapped up one week ago!  If you're unfamiliar with Costume College, it's an annual costuming conference with lots of lovely classes and evening events.  It's one of my favorite times of year because it means learning new tricks, visiting with friends and meeting new ones, and having a chance to wear some of the fabulous outfits we've all created.  It's open to all skill levels, from beginner through advanced, and a great chance to get involved and learn new skills and connect with others in our interest groups.
I didn't take as many photos as in years past (see my prior post of Tips for Surviving a Costume Event While Pregnant), so I will share all the photos I took in one post instead of breaking them down into days.  I'm sorry I didn't take more pictures.
During the Daytime and at Classes
Lisa supported my Kickstarter and made herself Smooth Sailing trousers and the 1930's Day and Evening blouse pattern as her Kickstarter rewards.  Beautiful, Lisa!
The Dreamstress (Leimomi) taught a class about her experience during her Fortnight in 1916.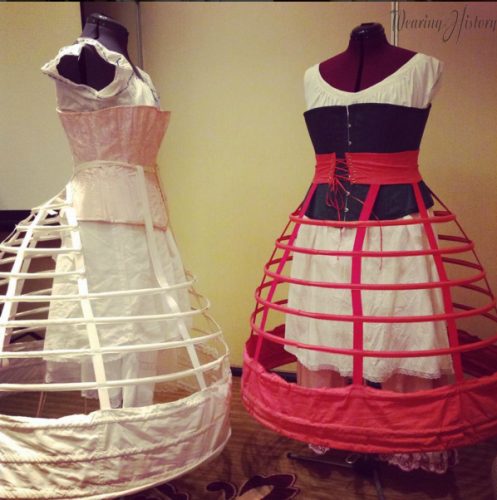 A snapshot of pretty Victorian undies  at one of Truly Victorian's classes.
Ginger's fabulous Medieval inspired Princess Leia outfit.
Ginger of Scene in the Past and Samantha of The Couture Courtesan
Friday Evening Social
A lovely Wearing History patterns customer in the outfit she made from the Tea at Two dress pattern.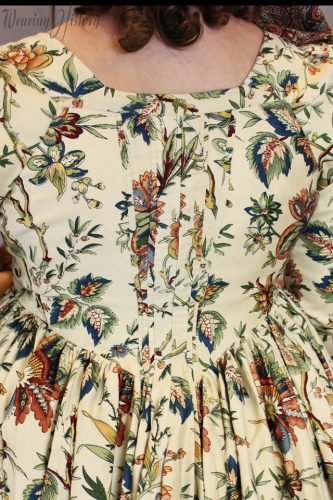 My Curtain Along dress transformed into a 1790s dress that could be worn as maternity (more on this later).
Ginger's lovely sheer 1860s dress.
Beth of V is for Vintage wearing a 1910s dress I made.
The Saturday Evening Gala
The Red Carpet!
Taylor of Dames a La Mode
Stephanie of The Lady Detalle
Leimomi's lovely 1910's evening gown.
Angela of Starlight Masquerade and Ginger of Scene in the Past
Jen of Festive Attyre, Merja of Before the Automobile, Cathy Hay, and Taylor of Dames a La Mode.
Loren of The Costumer's Closet, Maggie of Undressing the Historical Lady, Bunny, Aubry of A Fractured Fairytale, and Meg of Nutmeg Sews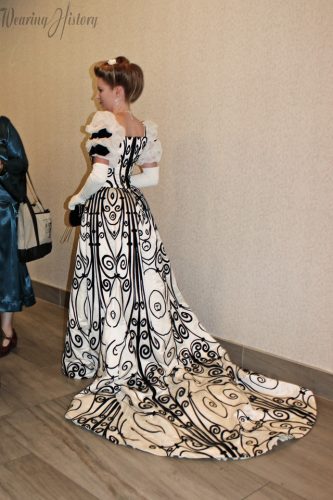 Cynthia of Redthreaded in her lovely Worth recreation.
Lovely ladies before the Gala
And me in my finished gala dress!  Thanks to Taylor of Dames a La Mode for the image!  More on this dress at a later time.
It was such a whirlwind weekend.  I look forward to Costume College every year and was thankful I was able to attend at the last minute.  If you're able to go in the future I highly recommend it!