Catching up on a finished project post!  This was made for the Queen Mary Art Deco Weekend, so I'm a bit tardy in posting it!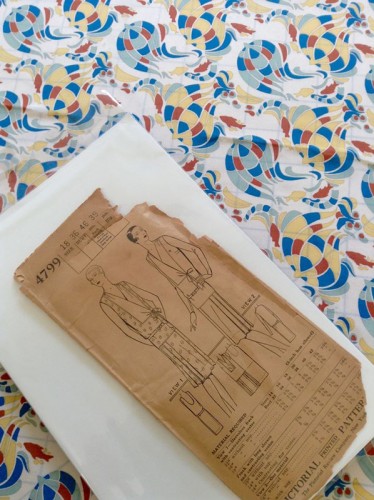 I was going through a bit of a 1920's phase lately.  First I made this dress, secondly I have another dress nearly finished.  I like how cool and causal the 1920's are. No fuss, no nonsense. It is what it is.  And it's ridiculously comfy to wear.
I had found this neat Art Deco-esque silk in the Los Angeles fashion district a few years earlier and intended to make a 1930's blouse from it, but it was telling me it wanted to be 1920s instead.  I also pulled out a green silk charmeuse that had been in my stash and used the wrong side of the fabric so it wouldn't be too shiny for the contrast.
For this project I delved into my neglected 1920s patterns and picked out Pictorial Pattern 4799.
Making it was a royal pain in the rear.  I fought against that wiggly silk and finally basted and stitched down my pleats.  Next time I do one of these I'll chose something simple to pleat like linen!
It was very hard for me to fit, too, since I'm pretty unfamiliar with the 1920s.  In the end, after asking for advice from friends, I ended up taking it in a good deal at the sides, on the shoulders, and adding back darts to it.  Even though it was supposed to be my size, it was so NOT my size.  And a little too shapeless for my liking.  Adding those fish eye darts at the back really helped!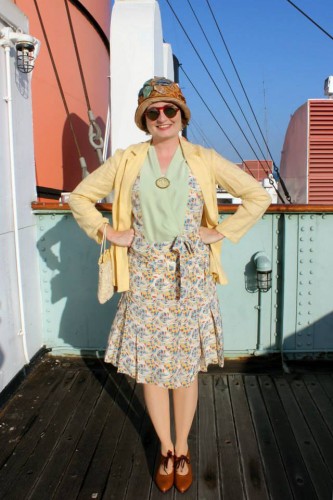 It actually is a sleeveless dress but I REALLY wanted a jacket, so I pulled out one I had made previously from a 1929 German pattern book and it worked perfectly!
I also got to pair it with a vintage cloche I bought ages ago on Etsy, and a lovely celluloid brooch I got at a local auction.
And my little crocheted purse was a Missouri find when we were back visiting my husband's family a few years ago.  Shoes are by American Duchess.  See the way the pleats on my dress like to flow and move with the wind? It totally made it worth doing all those fussy pleats.  So fun!
Hamming it up at the top of the ship.

And boy, are those hallways windy!
Yay!  A finished project :)
Do you sew 1920's clothing?