My husband and I just got home from our trip to New York to visit his family.  Since this trip overlapped our anniversary, we decided to do a little trek up to Brimfield, MA for their legendary antique market.
Three times a year the little town of Brimfield is overtaken with nearly a week long antique flea market thousands of antique dealers.  No joke, we were told that on average 5,000 dealers come out!  And when I say antiques, I mean ANTIQUES.  there's very little of the brick a brick, McDonalds toys, and new trying to pass as vintage.  This is legit, 18th century to 1960s old stuff!
How it works is that there's one main road.  This road has over a mile of fields that are transformed into individual flea markets for the week.  Each field has its own name and its own days.  Some fields specialize more in one type of thing than another, but the majority is a mix match of things from vintage clothing to industrial salvage, to just your good old mom and pop antique dealer.  And the town is OLD.  My Southern Californa self was geeking out over old barns, old houses, old churches.  Pretty much anything older than 1900 is seriously exciting for me.
Heres some snaps: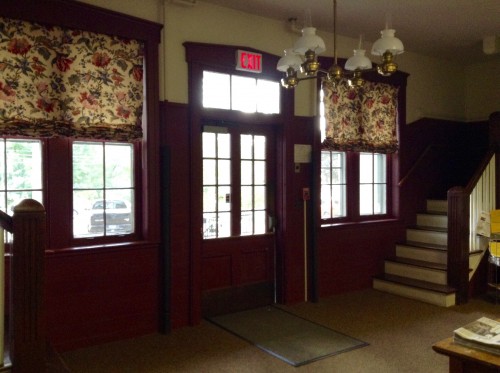 Our first day day we parked at this old academy and we used the facilities (not port-a-potties!).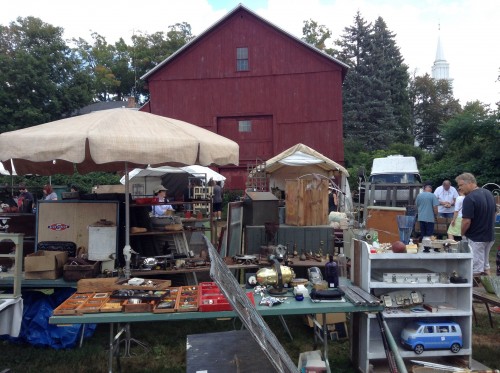 Hunting in a field with an old barn.
WWII women's uniforms on a fence.
My husband was looking for WWI era clothing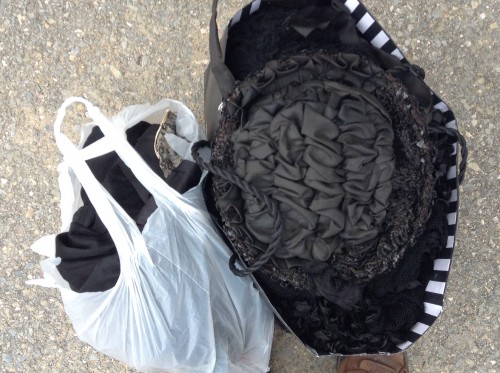 My haul from day 1 (pics to be taken soon for show and tell)
And hunting for goodies by the old church at the far end of the market.  This is where most vintage clothing dealers were.
We're pretty seasoned Junkers, but even then, here's some tips we learned:
1)  Believe people when they say you can't do it all in a day.  You can't.  We did it in two days, but we're power shoppers.  Really it would have been better to have at least 3 days
2)  Wear comfortable shoes.  We were told it was going to storm so I wore my water proof hiking boots.  But I forgot my socks at home that I usually pair with them, and my husband did the same thing.  We had HORRIBLE blisters and had to make a run for blister band aids and buy emergency comfy shoes, which cut into our antiquing funds.
3)  Most bathrooms are port-a-potties.  Bring hand sanitizer.
4)  Food is expensive and not in every field.  Bring snacks and water so you don't get low blood sugar and get grumpy.  Eat when your body tells you to and stay hydrated.
5) Dress in layers.  It went from super humid to rainy, so wear clothes that can be easily draped around your waist, and wear a hat to keep the rain and sun off.
6)  If you can, find a kart to bring.  We didn't, so had sore backs, because it's a long way back to the car!
7)  You will have to pay for parking.  The second day we payed the higher amount at the church because the money went to help the local Boy Scout group.  Might as well support a good cause!
8)  Bring cash.  Most people don't have card readers, and cash is more barter friendly,
9)  You get the best deals on the last day.  But the Tuesday was an antique textile show (which we missed, sadly!)
10)  People leave antiques out in the rain.  That was surprising to me.  Even vintage clothes were sopping wet and price tags didn't come down much (some people are more careful protecting them than others)
11)  There is competition for vintage patterns, but  I found were cheaper than online rates.  The 1939 evening gown for $5 was one of the scores of the weekend.  But I was told by one dealer that a New York costume designer cleared her out of most of the 1930s patterns the day before I got there (!!)
12) Motel rates are crazy.  We paid $120 for a 2.5 start hotel in Sturbridge, but we were lucky to get a room on short notice.  Don't be afraid of driving.  Even with the motel rate and the little drive we found it totally worth it.
13)  Bring a tape measure for vintage clothes to check if they fit.  There aren't changing rooms really.
14) Have a blast!!  And try not to lose your market buddies, because this place is huge!!
15)  Some fields are closed on Sunday, and some dealers start packing up early- especially if it starts to look like rain.  Grab a flyer with the map to see what is open on what days and if there's a fee to get into that field (we didn't pay any admission fees on the weekend).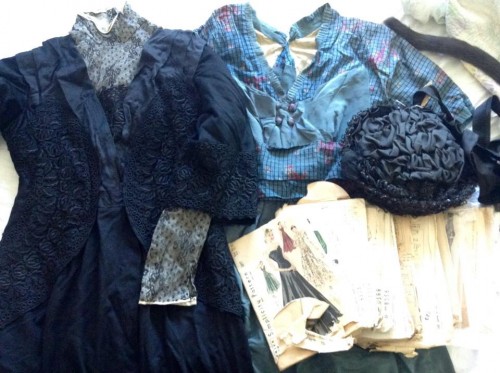 A photo of some of my finds when I was unpacking at home (better pics of the dresses coming to the blog soon!)
Have you been?  What are your tips?