I was recently lamenting to some friends some of the things that come along with the territory of being a one-woman business/blogger.  Luckily, I have friends that can have a voice of clairvoyance, when often times you can't see clearly when your nose too close up to the tasks at hand to gain a true perspective.  My friend said, "You should do a post on that with pictures so we can understand what you do and see your process."
Duh.  Why didn't I think of that?
I tend to assume that people instinctively know what it's like in my life and career choice.  I'm blessed to know or be related to many creators and small business people and artisans, so it's normal to me to know the mountain of work that goes into creating a product, brand, or blog without having employees.  I forget that many people don't know- or only see things from the pretty, shiny, marketed exterior.  I suppose it falls under the category of the "grass is always greener", or the recently blogged about idea that bloggers aren't perfect and we all put up what we want people to see.
For example, I always get vastly amused when I get emails asking to direct the correspondence to the appropriate person.  And I get vastly un-amused when I meet people in person and assume I am young and inexperienced so talk down to me (I tend to look younger than I am, especially on those no makeup and t-shirt and jeans days).
Oh dear.  If only everyone knew how much you work your butt off if you are self employed and a very small business.  But we small businesspeople and bloggers try very hard and put a lot of thought into how to present ourselves and our product.
So, I guess I'll just tell you a little bit about me.  I don't do this very often, because I'm a strong believer that my product should speak for itself, but since prodded by a friend to share I will make an exception to my own rule.  I'm writing this more from the perspective of a business person and blogger, but I'll start with a little bit of background.
This is one of the most recent photos of me in everyday life.  More about me:
1)  I am going to be 35 this year, and I've been sewing since I was 8 primarily because I wanted to make costumes.  That hasn't really changed.  My most successful early attempts were dresses for my American Girl dolls.
2)  I've been dressing up in costume since before I could walk.  Photo proof:
3) One of my best friends in grade school and I used to convince the other kids on the playground that we were really fashion designers.  I don't know how they fell for that.  If you're reading this, I'm sorry, we lied to you.
4) I started designing clothes for myself to wear in high school.
5) My cousin, Joanie, and my great aunt Wanda were the ones who taught me the most about sewing early on.
6) Our first entrepreneurial attempt was around third grade when a few friends and I thought we'd make hair scrunchies to sell.  I don't think we sold one.
7) I began collecting vintage clothing and studying historical costume in 1994 when I was just 14 years old.  Back then I'd get my mom to drop me off a the community college library and I'd pour over microfilm and books, reading all I could about historical fashion from books and original period sources.  The internet as we know it wasn't what we have today (does anyone else remember when Ebay didn't require having pictures in their listings?)
8)  I started collecting vintage sewing patterns in 1998.
9) I debated majoring in Fine Arts, English Literature, and Archeology before deciding I wanted to be a costume designer.
10) I went to the Fashion Institute of Design and Merchandising for the sole purpose of getting my degree so I could then apply for one of their Costume Design majors.  I graduated with honors in Fashion Design in 2002 and was one of only twelve people accepted that year into the Costume Design for Film and Television program.  I did not, however, ever finish that second degree as I already had self-taught myself the information which was being taught and I butted heads a lot with the program directors.  I still don't regret that decision, but I'm honored I was among the chosen twelve.
11)  I started my own business in 2003 with the intent of doing custom bridal gowns.  I did not know a vintage scene existed, and thought that was a good way to blend my passion for vintage and historical costume with what I was trained for.  I was also sourcing and buying vintage clothing and new items for resale.  I will note that I first applied for my fictitious business name and business license at this time and have been filing business taxes ever since.  I sold in local antique stores, trade shows (including the Vintage Fashion Expo in Los Angeles), and my own website and Ebay.  I stopped doing custom clothing in around 2006 because I found it too stressful, but I continued with the resale and vintage sales.  I have since alternated between being self-employed full time and self-employed part time.  When doing it part time, I was employed full time in theatre.  I have worked for the San Diego Opera and the La Jolla Playouse as a stitcher and first hand.  I also did a short stint in independent films, though I'd rather not talk about that (another one that's too stressful).  But hey, I made it to IMDB, so that's cool.
For kicks, a few things I patterned and designed: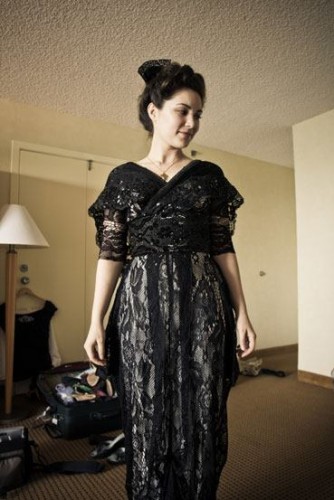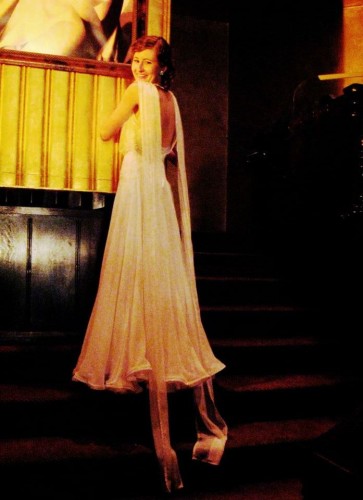 12)  I found the vintage scene in 2005 and have been involved in it ever since.  Although I was continually studying and learning since 1994, I was doing it on my own and unaware that there were others who shared these passions.  I was a moderator of the Powder Room on the Fedora Lounge and received a Distinguished Service Award for sharing knowledge on that forum.  It's how I met many long term friends who also love vintage, and was my jumping off point for my blog and vintage-centered business.
13)  I started my blog in 2007.  I also started my Etsy store in 2007.  I started my sewing pattern line in 2009.  I started my ready to wear clothing line in 2014.
Here's the first sample picture of the first sewing pattern.  Back then I did only single sizes of hand drawn patterns.  Boy, have my patterns come a long way in 6 years.  As a side note, these photos have been stolen a few times by other people trying to sell their wares.  (Oh, boy, the stories I could tell you, having been self employed for so long, but I won't go there…  just for those of you struggling with stuff, I feel you.  It will get better. Or you'll get thicker skin.  Or both, probably).  Yes, the pattern is still around in another form entirely, and has been reworked, but this were it's humble beginnings!   If you know my patterns now, you know they're all multisized (that is, graded to include a variety of sizes), computer drawn, and presented very nicely.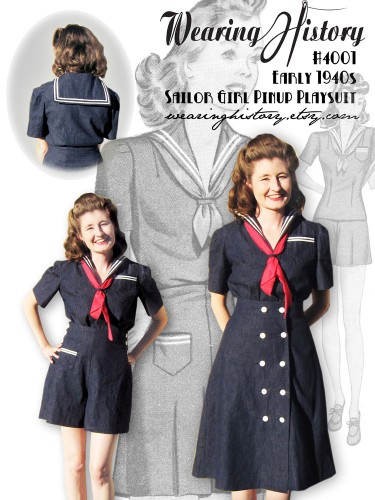 Comparison photos of process on my patterns that are more recent:
Preparing a wholesale pattern shipment- lots of folding, stapling, and packaging.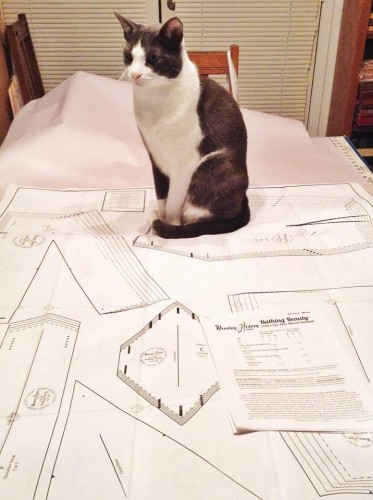 I even do e-patterns now.  Here's one assembled sheet (you can see how my lines and circles are given for justification of assembling the pieces)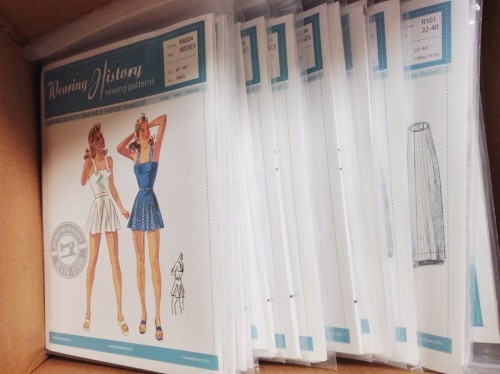 Pretty patterns all packaged. I use clear zip bags because I think they are the most handy for keeping them together and look the nicest.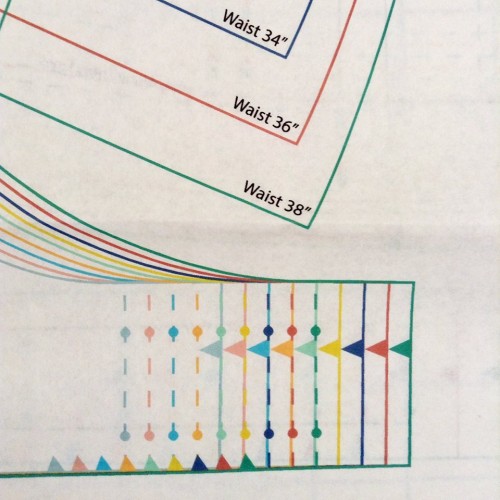 The most recent patterns are even printed in color when you order the wide format patterns that are mailed to you.
14)  I'm blessed to have been featured/mentioned in a few print magazines and featured on websites.  You can find some of those here.
Wow, this post is longer than I thought!  I think I'm going to have to add a part two, and maybe part three since I wanted to explain just how much work it takes to make finished patterns and clothing since I have no employees and have to do everything from a website to emails, to shipping, to design, to sourcing all myself.  If I get busy and don't come back and post again, just know it's A LOT.  And part of why supporting indie designers and companies is SO IMPORTANT is because we do all this ourselves and to our niche market, so we need to try personally use our experience and training to create niche products.  We can't do the extremely low pricing because we don't do the volume and have capabilities that the giants do because we're doing most of the work ourselves.  But that's a subject for another future post.
I hope this post doesn't come off as I don't intend.  I don't think I'm all that cool or fancy or important.  Since prompted to say a bit more about myself, I thought I'd just go ahead and do it- since most of what I post here are mostly happy, fluffy things, sharing, and projects.  So- yup!  That's about me :)    Even though I've spent most of my life doing this I know I'm still a nerd.  A hard working nerd, but someone who's trying to make a go of their dreams and use their passions.  I'm still learning, still growing, and still doing- because I always want to be better than I am now and want to learn how to do it all!
xo
Lauren