This is the very last post for the Air Raid Suit Pattern!  Woohoo!!
The first thing to do is to make your buttonholes in all of your tabs.  Next, add the buttons, similar to how we've done in the prior steps.
Stick a pin through the END of the buttonhole, Pull it through to the other side.  It should align with the seam, but if you have large wrists or want to wear gloves, you may need to scoot the placement more towards the tab.  That's totally fine.
Mark the placement with chalk or your preferred marking method.
Sew on your button.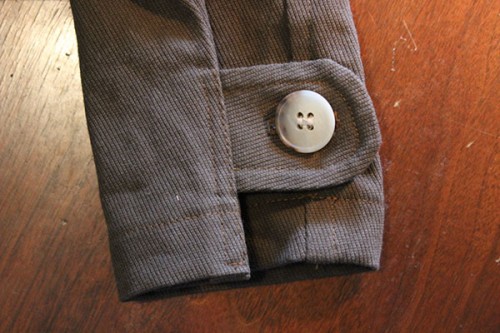 And then fasten.  Do the same for both the sleeves, and use this same method for the pants.
If you plan to wear boots, or if you do not have small ankles, you may need to allow more room for your buttons on your pants.  Since I wore WWII boots with mine, they would not fasten when placed at the original placement.
Finish up all needed things for the suit.  If you haven't done the button and buttonhole for the belt yet, make sure you work those, too.
Clip all your threads and give it a final press.  Then go wear it with pride!  You accomplished A LOT!