Continuing the Air Raid Suit Pattern sewing tutorials.  In this post we'll do the center front buttons and buttonholes.
Work your buttonholes in your front blouse, if you have not already done so.
Now lap the fronts and pin it to position. You should have already marked the button placement of the top of the suit when you prepped your pieces, so match those dots and pin it closed to the waist.  The waist may be thick, so use a good, hearty pin to get through the layers!
Make sure the fly buttonholes are clipped, if you didn't do it already.  Stick a pin through the center of the buttonhole, like we've done in the prior steps, to the facing behind.
Pull them through.  The pin is where your buttons will go.
Mark the placement with chalk or your preferred marking method.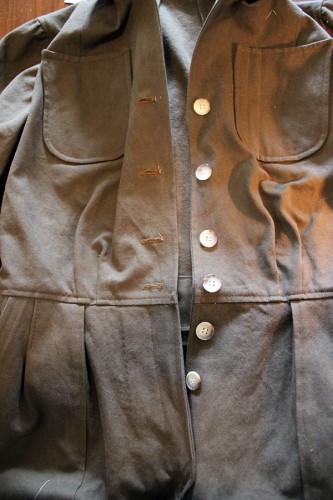 And attach your buttons!  You can fasten them now to make sure they are correctly placed.
You may find it useful to add a big hook and bar at the waist in order to make it even more secure.
Next up is the LAST POST!  Woohoo!  Congrats on making it this far!