Tomorrow's the Fourth of July!  To share some vintage cheer, I went through my old magazines to see what I could turn up with a patriotic flair.  Here's a few of my favorite suggestions for table settings from the Edwardian era that originally appeared in a Ladies Home Journal magazine from July, 1904.
READY FOR A SALUTE
Ice a plain cake and decorate the edges with bonbons.  Make the cannon of heavy paper, gilded.  Mount with two flags.  Have smaller flags around the "fort."
TASSELS OF RED, WHITE AND BLUE
Select a number of full ears of sugar corn, and, after boiling, arrange them carelessly upon a large platter with a folded napkin.  Fasten a tassel of red white, and blue tissue paper to the small end of each ear of corn with a wooden toothpick.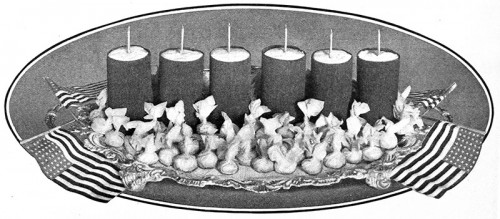 FIRECRACKERS AND TORPEDOES
Make cases of cardboard, cover with scarlet crepe paper and line with oiled paper.  Pack these cases with ice cream frozen very hard.  Place in each a tiny taper.  Around the "firecrackers" arrange small peanut cookies wrapped in tissue paper to imitate torpedoes.
WITH FLAGS, DRUMS AND BALLOONS
This table has for a centerpiece a mock drum which is a combination of stiff cardboard, scarlet crepe paper, gilt paper and cord.  In the center of the drum is a pan covered with red paper and covered with white sand.  The flags are stuck in the sand.  Small drums, instead of bonbon dishes, are filled with peanuts and red and white candies.  The candle-shades are made of light cardboard covered with white crepe paper, stamped with gilt stars, the Great Seal of the United States, and tiny flags.  To the back of each chair is tied a red balloon. These balloons are  exceedingly effective, and after the meal they may be given to the children.
If you try any of these out, I'd love to hear how it went and see photos!
Happy Fourth, everyone!