Howdy!  This afternoon as I was driving home from work I was pondering projects, as I usually do, and staring thinking of what makes a successful sewing project for me, and how I could help sewing newbies (or veterans) have a few pointers.  I am an ardent believer that we all keep learning from each other, so here's my top tips!  Please don't forget to share your own, so we can unite the internet sewing knowledge.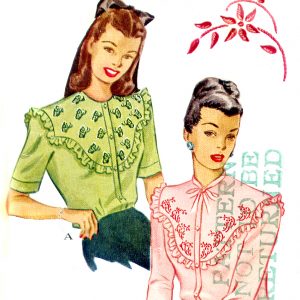 1)  Make Your Mock Up!
I know this is SO annoying to hear over and over when you want to just dive right in to a project, especially when on a time crunch, but this is one of my TOP suggestions for a successful finished garment.
Pure and simple, it's this.  No matter how talented the pattern maker, you just can't expect a pattern to fit you straight out of the package.  It's a totally unrealistic expectation.  Each pattern company uses different ease and different blocks to base their pattern off of, and when using vintage patterns, we have to remember that they were often proportionally different than we are today due, in a large part, to foundation garments and what they ate (and what was in their food).  Plus, each of us carries weight differently, are different in height, and have different proportions of torso length, arm length, etc.  If you've had any sort of injury, your stance may be different, and most of us are not proportionally the same on both sides (unlike dressmaker forms).
Think of going shopping and how frustrating it is to find clothing that fits.  I'm not talking clothing with stretch, but woven, non-stretch clothing.  Just as we can't expect we'd be the same size OR have everything fit us and all of our friends perfectly right off the rack, we can't expect the same from our sewing patterns.  It's just not going to be the case.
Or, if you like, think of it this way.  In theatre, there are different roles to play.  The designer designs the garment and buys the fabric and trims (or has their assistant do it).   The design sketch is then handed off to the draper, who creates the pattern from the sketch.  The First Hand prepares the fabric for sewing and instructs the stitchers.  The stitchers sew the garment together.  Then the draper fits the garment on the actor.  An actor almost NEVER walks straight into a garment with no alterations.  It's extremely rare.. like finding a four leaf clover in a field of grass.  So, if all those professionals who do this for a living have to do all those jobs and STILL do several fittings, we've got to, too!  Just like they make the first garment in cheap fabric because they KNOW there are going to be changes ahead, we have to keep that in our mind, too.  Because we've paid the pattern company to design and prepare the blueprint for us to construct the garment, but in the end we're the design assistant shopping for fabrics and the first hand, draper, and actor in one.  Man, are we talented :)  But we can't expect to just walk into a perfectly fitted, made, and tailored garment- we've gotta put in the time!
So make your mock up!  It seriously will save you money in the long run.  Cut it out of the cheap $1 a yard fabric and save your $10 a yard fabric for when you know you've got it right, instead of spending $40 on fabric for a garment without a mock up that you then HATE and never wear because it didn't end up right.
2)  Choose Your Fabric Wisely
A lot of this comes with experience.  Get familiar with what fabrics are, what different fibres do, and what effect you want from your finished garment.  If you want it to flow, don't pick a midweight quilting cotton, denim, or corduroy… go for a pretty rayon, drapey fabric.  If you want structure, you'll have better luck with a wool suiting rather than a wool crepe.  If you want something slinky, pick a heavier fabric that drapes well, such as crepe back satin.  Don't be afraid to grab the bolt, head to a mirror, and drape the fabric over your shoulder.  Check that the color suits you AND that the fabric does what it should for your design.  Read the pattern maker's suggestions for fabric and heed them wisely.  When you have sewn enough to know what will work for what, then you can deviate- but until then, it's best to heed warnings and pay attention to fabric QUALITY, drape, color, and style.  A few bucks extra for nice fabric in a good weave will be a good investment as well, so this is really where you shouldn't skimp out (though sales are always good!) and if you're doing a fabric with a print you need to match or sewing with something with a nap, like velvet, always allow yourself extra fabric.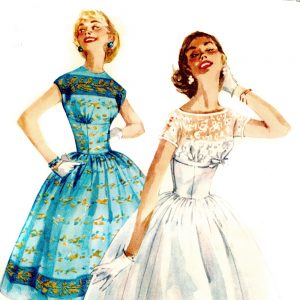 3- Pre-treat your fabric in the method you will launder your finished garment.
It's no fun to spend all that time sewing only to have it shrink up on you after you wash it :(   Do that first, and if you don't know how you're supposed to launder it, or what will be best for your garment, ask someone who will know.
4)  Mark all your pattern marks directly after cutting out the pieces.  
I do this before I even remove the pattern from the fabric I just cut. Mark all your notches, darts, points you gather to, dots, etc accurately.  THIS IS SUPER IMPORTANT!  Your notches should match up, which lets you know your garment is going together the way it should.  Mark your darts, and draw the lines in for yourself if you have to.  Especially when you're dealing with wiggly fabrics, markings tend to shift.  You want to make sure your dart placement is correctly mirrored on both sides of your fabric so your lines don't get wiggly when finished.  ALWAYS, ALWAYS, ALWAYS test your marking method on a scrap of your final fabric BEFORE marking.  If it doesn't come out, better to learn on a little scrap than have a whole beautifully made dress with annoying dots and lines that will live on it forever.  What a waste that would be!
5) Always be careful to cut fabric on the correct grain.
I like to use the straight edge of a table with one of those cardboard cutting mats on top when cutting flimsy, picky fabrics.  I line the selvage right up to the edge, and pin, pin, pin- all the way down the piece, then smooth it over so that it is perfectly square and laying correctly.  I then use an "L Square" ruler to measure out from the selvage to my grain at the top and bottom of my grainline so that I can be sure the piece is placed correctly.  If your fabric is extra fiddly, cut single, not double thicknesses.  Sure, it takes longer, but at least you know the pieces underneath haven't shifted on you!  Cutting one piece at a time is also the way to go when matching patterns such as an all over print, stripes, or plaids.
6)  Do a Fitting!
Obviously this is not in order, since your mock up fitting will be before your fashion fabric gets cut, but you need to do a fitting so you can make sure the garment fits you right.  For a mock up, I do all seams in a large stitch length so the pieces are easy to rip apart afterwards, in case I need to correct my pattern.  Wear the foundation garments and shoes you will wear with your final garment.  Look in a full length mirror (if possible), and check your fit.  Especially helpful watch points are the waist length (does it fit at my natural waist and lie smoothly over my bust?  If wrinkles, it's too long.  If above the waist, and it's meant to sit at the waist, it's too short).  Check the shoulders.  Does it fit correctly, without drag lines, or without pulling too tight?  Does the skirt hit at a flattering place?  Turn to the side.  Does the front or back of the skirt kick out more than the other side?  Does your sleeve hang straight when your arm is down in it's natural position?  Then check the back, or get a friend to take a snapshot of the back for you.  This age of digital cameras is excellent for fittings!  Taking snaps before you step out of the garment is helpful, and helps you refer back to it after you've gotten out of your mock up.  And don't be critical of your face!  We're looking at your garment, not your face.  And seriously, who dresses up fancy to sew?  (If you do, big kudos.  I don't!)
7)  When in the planning stages, consider the "guts" of a piece
This goes back at the beginning, when you're "designing" your piece.  Think about the insides in relation to what fabric you've chosen.  What would be the best seam finish?  How are you going to finish your edges?  Are you going to line it?  What would be the best fastener to use?  Planning these things ahead will help you down the road.  You can always change them later if you have to, but having them in mind at the beginning of the project helps you figure out the best plan of attack for your design and fabric.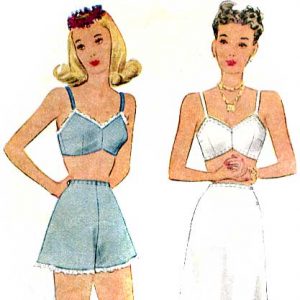 8-  Press as you go
And in the correct iron heat for your fabric (this should be a no brainer, but who hasn't scorced their fabric at some point?).  Directly after you finish a sewing step, press!  Do another one, PRESS!, Keep on going, and press as you go.  It really does make a much more professional looking garment when you're done.
9)  Use sharp needles!
Sharp needles and pins, and a well oiled machine.  Take care of your machinery!  A happy sewing machine makes a happy seamstress.
10)  Everyone has lemons.  Chalk it up to a learning curve and move on!
We all have projects that go sour.  If it happens to you, worry not! We're all in the same boat here.  So throw it across the room, stamp on it, cry on it, bleed on it (kidding, I hope), and then keep on' truckin'!  It matters not, and don't let that dress defeat you!  If worse comes to worse, someone who finds that half finished dress at the thrift store will probably think they found gold.  Sometimes we've all just got to cut our losses and move on!  I bet you've learned something new during this project, so just go into the next with those things in mind.
There's my top tips I can think of for now!
Just for kicks, I'm adding this video. I discovered it quite a number of years ago, and I swear, I learned more things I didn't know about preparing for sewing through this than I did in fashion design school!

What can you add to my list that may be helpful for others?