Long time no post!
I have been struggling to keep up with all the sewing I've been wanting to accomplish, and after my last blog post about these, which I was feeling so positive about these, that I was very dissapointed that they didn't come out as I anticipated.  Determination to actually have a useable object, instead of a finished project I wasn't happy with, made me quickly revisit these to get them to be better, even though I was anxious to start sewing gowns.
After hand binding all the bottom tabs, I tried on the stays and it was no good. My mock up must have stretched on me.  So, I had to chop them at the underarm and insert a panel on each side.  Then, I had to rebind all the tabs.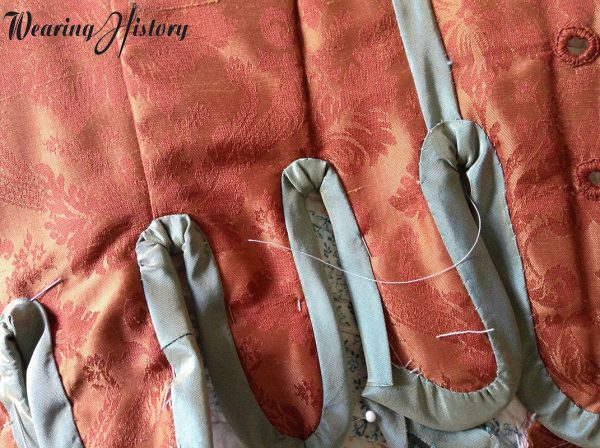 I was really anxious to get these finished, because I only have a few weeks left and I was hoping to make at least two new outfits, so I machined down as much of the tabs as I could.  The other side got stitched down by hand so the machine stitching wasn't seen.
Because my shape is more up and down than conical, I added these large bust pads that wrap from near the underarm and around to the front of the stays.  I hand basted several layers of cotton batting together, covered them in white muslin, and then hand stitched them into the stays so I could remove them later if I needed to launder them or replace them.
I still don't have my other proper undergarments, but it's enough to get the shape so I can move forward!  If I have time, I'd like to cover my laces in the green contrast fabric.
The good news is that it ended up working out much better.  The bad news is that I think I was overambitious with my piecing and I think they're a smidgeon too big now.  Oh well!  They'll work for now.  Heavens knows I don't want to rebind those darn tabs again!
This was finished a few days late for the challenge, but this was my entry for the Historical Sew Fortnightly Challenge #13- Lace and Lacings.