I've been puttering away on something I've been meaning to make for probably about ten years… a new set of 18th Century stays!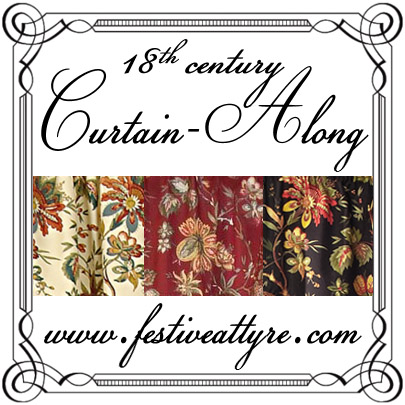 I'm taking part in Jen of Festive Attyre's Curtain Along sewing project, and wiffled and waffled on what I wanted to make.  I had purchased one of the cream background curtains sometime last year and Ginger of Scene of the Past was kind enough to send me another one as a birthday gift last year. About a month or two ago, I finally settled on a transitional 1790s dress. At first I thought I wanted a high waisted one so could make do with Regency stays, but now I'm thinking I want one just slightly raised from the natural waist.  Similar to the image below: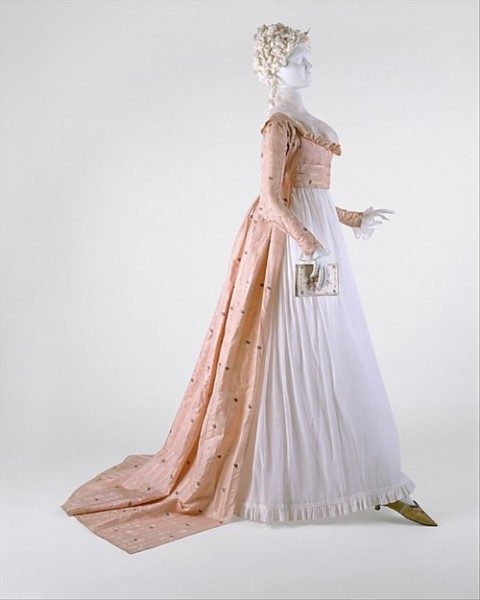 Dress, 1790s, The Metropolitan Museum of Art
Since I no longer had a wearable set of 18th century stays, it was time for (yet) another undergarment project.  I decided that if I was going to go to all the trouble of making another set of stays, I wanted to make them as versitile as possible, and last me as long as possible.  After a bit of research, I settled on making a set of stays (or, as we know them now, a corset) that lace both front and back.  I am hoping that this will allow me the most versatility in the silhouette depending on how I lace it, and allow me some wiggle room for down the line. The first thing I did was pull out a pattern from the first Costume College I ever attended, back when I was in college.  I took a Georgian Corset class and the pattern was drafted to my measurements.  I have grown in measurement since then, and I didn't want those style lines since I found I actually am drawn to the later part of the 18th century, so I pulled out Corsets and Crinolines and cross referenced with The Cut of Women's clothes.  I ended up going with a mix match between 1780s and 1790s corsets.  Sort of a transitional transitional set of stays, if you will.  This shows the comparison between the original pattern and my original changes.  
I did have to go through several more changes, after my mock up, to get the silhouette to what I wanted and get the seam lines where I wanted, but this is a general idea.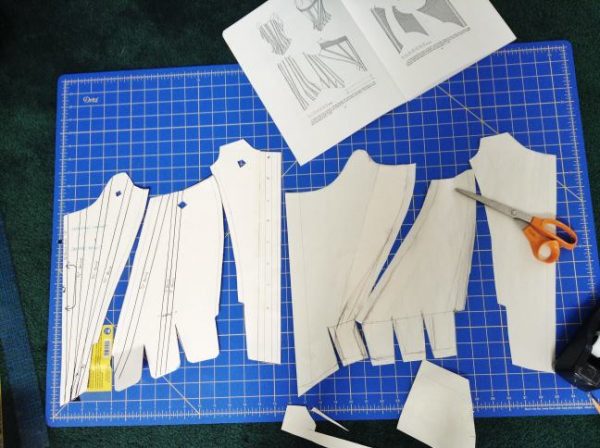 After researching, I decided to use modern zip ties for boning, since I had heard many costumers use them with success for this period.  My husband picked me up some at the hardware store.  I also decided to go for a non-period correct, but "period style" fabrics.  Most stays, from what I understand, were linen, or linen covered in silk.  I chose to use an inner layer of corset coutil, a lining of linen, and an outer fabric of silk.
First the lining and inner layer were constructed first, since I read that "half boned stays", what I chose to make, were often covered in a fashion fabric that would not show the boning seam lines.
Next, I flat lined the boned construction to the silk fashion fabric.  Then I covered my seam lines with decorative bias binding made with the silk taffeta I decided to use as contrast.
The trim was all hand sewn to place, then began the long and tedious task of binding the tabs.  This article on Your Wardrobe Unlock'd was extremely helpful.  I'm not all together pleased with how my tab binding looks, but after a good press I hope they'll lay better.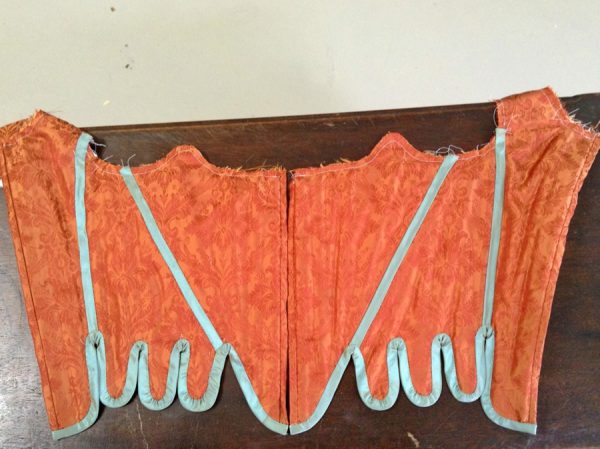 Finally got the tabs done, and it was time to look into making eyelets.  I had to figure out spacing and look into spiral lacing, which was the period correct way to lace stays.  Check out Jen of Festive Attyre's extremely helpful article about spiral lacing.  I forgot to test my strap placement and length, so I've got to get them wearable before I bind the top edge.
Like a crazy person, I decided to do the eyelets all by hand.  No offense to those who love to do them that way is meant at all- I've just discovered I'm NOT good at doing hand bound eyelets.
Oh well.
I've finished the front ones, and now I'm on to the back ones.  Unfortunately, my knuckles ache like crazy when doing this sort of handwork, even when I'm wearing my sewing hand brace and using a thimble, so I keep having to take breaks (which I used to resize cut out a 1940s dress…).  The problem is, I can't make my Curtain Along dress or my desired Gala dress until I get my darn stays done!
Making these has given me even more appreciation for costumers who make beautiful 18th century stays, like Before the Automobile and Jenny La Fleur.  *le sigh*
Hopefully mine will be done soon.  I wish I could teach my kitties to hand sew eyelets for me!
(edited to add… The original blog post title was "Stay-ing Alive", and I'm such a dummy,  I totally spaced that there was an excellent blog of that same title in existence.  I hope Abby will forgive my shortsightedness and absentmindedness.  It was honestly a mistake!  In the meantime, please check out Abby's blog, Staying Alive.  http://stay-ingalive.blogspot.com/)