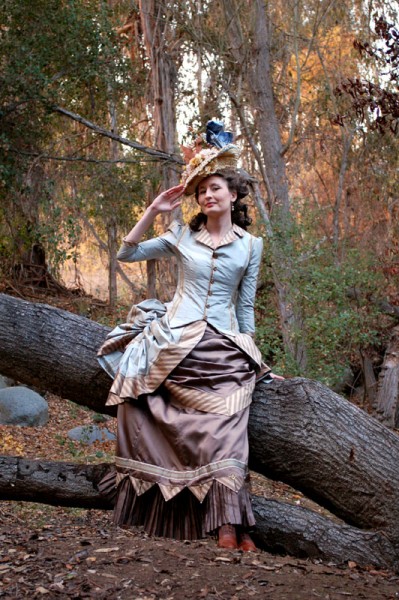 My husband and I finally took proper pictures of this dress I finished last year!  This was my favorite dress I made last year, and it's my first dress from the 1880s that I've made that I've been happy with.
I posted previously about making this dress here, here, here, here, here, and here.  I also posted the hat here.   This was one of the largest personal projects I tackled this year, second only to the white Tissot inspired dress that I'm hoping to take pictures of tomorrow (or soon, anyways).
To recap on patterns:  I used the Truly Victorian Wash Overskirt pattern, the 1885 Truly Victorian Four Gore Underskirt pattern, and I kind of miss-mashed several different Truly Victorian bodice patterns to make the bodice.  Of course, the patterns were modified to suit what I wanted to do. The underskirt pattern was shortened and then made to have the points and I attached the pleating under that- but I think I wrote about that more in previous posts.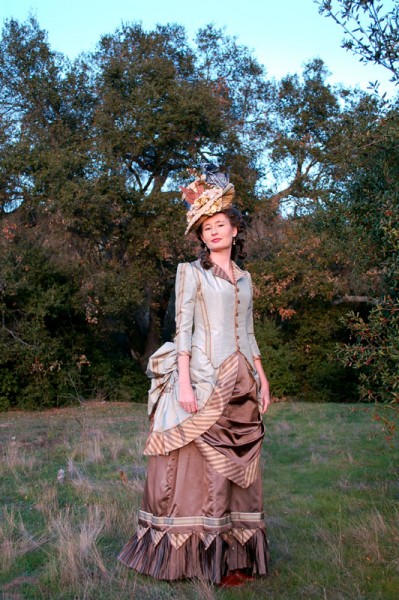 The excuse to make this outfit was to wear to Costume College, an annual costuming convention held in the Los Angeles area.  I'm glad I had the excuse, as I always am most happy with the historical sewing projects I make during the year, and I don't always attend enough events or do any flitting around the house in 19th century attire.  The dress was a combination of a bunch of fabrics, all from out of my stash and bought as remnants here and there, aside from the silk that the skirt was made from which I found for a shocking $3 a yard in the garment district in LA!  My big splurge on this was the blue striped silk taffeta, which was a whopping $5 a yard.  The dress just kind of came together after all the fabrics had a few years to mingle together in the stash and inspiration decided to strike.
This hat is SO much fun to wear, but it is an awful bear.  It makes me stand up tall in order to keep it on my head! lol!  I still need to fine tune my millinery skills- I have a tendency to make hats a little too small in circumference- especially after I add a period hairstyle or wig.   I know it's a little big and a little over the top, but it's FUN.  I like big hats with lots of stuff on them.
We had so much fun taking the pictures! The dress is so fun to wear and makes me feel pretty and fancy- like a heroine in a BBC period drama :)  So, of course, I've got to add some silly shots to the end here of my oh so period correct socks, and just being silly.
Ta Da! My 1880s Bustle ensemble.  On to more costuming adventures! I may have possibly started sewing an 1869 underskirt last night to go with an ensemble I started over 5 years ago. ;)