I had a wild idea. That then turned into a wilder idea. What if I made tiny pattern mock ups of old decrepit patterns that were fussy? What if I saw them in tiny scale and could make sure they worked the way they were supposed to?
What if… I didn't actually have to fit myself. What if I could use up bits of fabric and scraps, and tiny bits of trim?
So, after my friend signed up for the Burnley and Trowbridge half-scale mannequin class using the pattern by Ruth Watkin Costumes I decided to go ahead and download the pattern and print it at a slightly smaller scale.
I didn't want adjustable bust, so I went with the size small womans form. Usually vintage and antique patterns were on the tiny side and I could pad out to fit, if not.
Why 1/3 scale? Well, originally I wanted 1/4, but I printed it out and it was just *too tiny*. So I used 1/3 scale, because less fabric and less printing!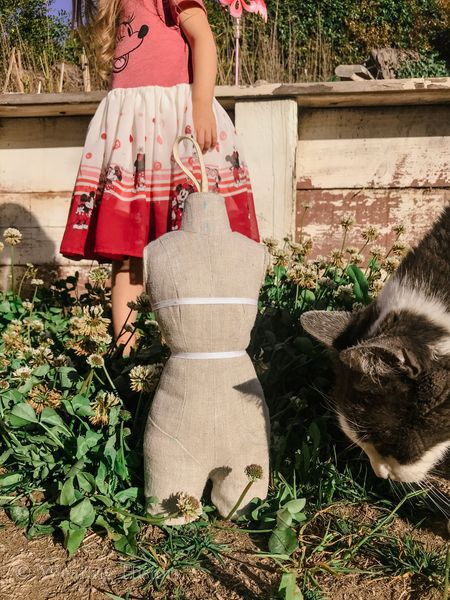 I was a total rebel and disregarded suggested fabric and used a bunch of renegade pennies that weren't taped together. So…. I did get some distortion, but she's still the same in principle. I did some clever tucks by hand, and a few whip stitches to the side seams like my full-size form has. I wanted a sort of 1910's posture, and this helped achieve it.
I added a waist tape that I pulled in snuggly, and a bust tape.
I may make another one in a cotton twill or similar sturdy fabric. But this was sure fun!
The pattern was absolutely perfectly trued, the instructions were incredible, and Ruth Watkins is an extremely skilled pattern maker and costumier. I highly recommend these half-scale mannequin patterns!
Now, my friend PinkSewing is poking me to get into ball jointed dolls so I have something to model. Or maybe I need to sew a 1/3 scale cloth doll? Ruth Watkins does have arms and legs to add on, so it wouldn't be that hard to adapt it….
And thus you see how one simple "I'm going to make a 1/3 scale pattern mock up" turned into having a tiny dress form, promise of more dolls, and even more sewing adventures. Like all inspirational creative projects should.