If you're following me on Instragram, you may have seen my progress posts on my Edwardian corset and bust improvers.  The corset project was a UFO from last year's Historical Sew Fortnightly from the same challenge.  This year I was determined to finish it.  It's just in at the deadline, barely, but I finished it!
I have a few entries for this challenge, since I decided to make Edwardian bust improvers to go with the corset.  Each project is listed separately, but I'll include them both in this post.
It was much too small, so I had to add 2″ panels to each side.  Luckily, with the other seaming, it's not terribly obvious.  I had accidentally cut this WAY too small, and had forgotten I had added extra seam allowance to my mock up but didn't transfer it to my pattern.  Thank goodness I had *just* enough coutil and fashion fabric to cut panels!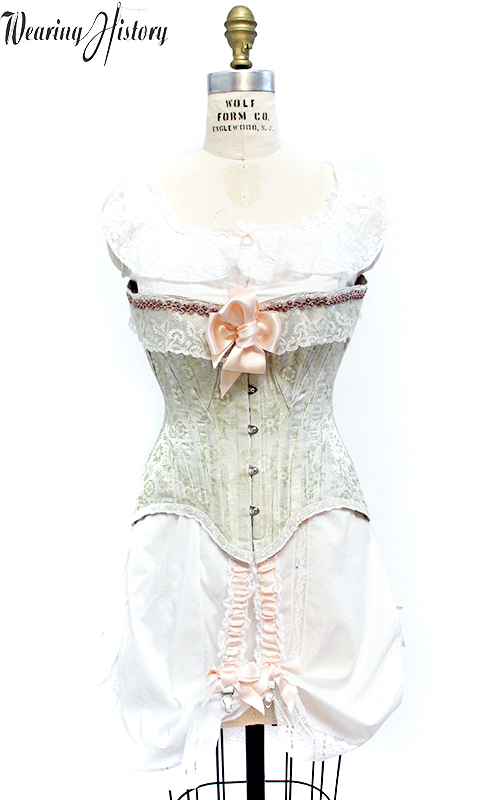 The Challenge: #4- Under it All
Fabric:  Cotton coutil, silk broade
Pattern: Truly Victorian TVE01- 1903 S-Curve Corset
Year: 1903
Notions:  Metal boning, busk, eyelets, ribbon, vintage laces, corset lace, bone casing, twill tape for loops for detachable garters (garters were made for a previous corset, but work for this one as well).
How historically accurate is it?  Pretty close, but I serged the inside seams instead of leaving them raw or flat felling them.  The garters are not really period correct, as they would have been constructed differently.
Hours to complete: Way too many
First worn: Not yet.
Total cost:  Pretty expensive.  I didn't keep track, but I'd guess in the $50-$60 range.  Most of the materials were bought either last year or several years before, so I didn't need to buy any new products to complete this during this year.
Also made were the padding.  I made the "hip pad" from the Truly Victorian pattern that was included with the corset.  For the bust pads, however, I decided I wanted ones similar to those in the LACMA museum, that I had seen in the "Fashioning Fashion" exhibit.
I drafted up a quick pattern based on these.  First I made ones that were 16″ across, but they were kind of big and more "Barbie"ish.  Today I whipped up another pair that are 14" across, and they suit better.
To compare, here's the larger ones, and the smaller ones.  They're both somewhat ridiculous, but so period correct!
I actually ended up sticking this up on my site
as an e-pattern
.  Since I went to the trouble, I thought others might want to make some, too.
Fair warning/disclaimer.   These were based on those in the collection of LACMA, but the pattern I made is in no way affiliated with LACMA, or endorsed by them.  It was just a fun, quick project, using an existing period example as inspiration.
In any case…
For kicks, I took pictures of my corset with a dress I had made a few years ago with padding and without padding, to get an idea of how it changes the silhouette.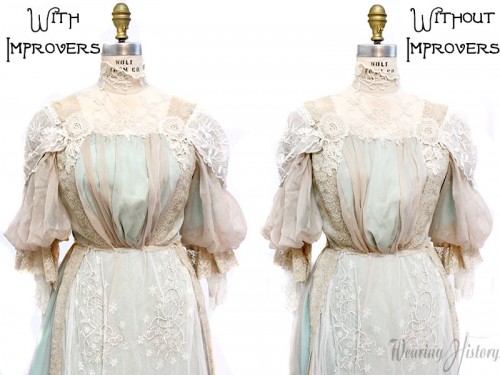 How interesting!  It reminds me so much of this ad:
The Challenge: #4- Under it All
Fabric:  Cotton muslin, cotton shirting
Pattern: Truly Victorian TVE01- 1903 S-Curve Corset, + Wearing History E102- Edwardian Bust Improver
Year: 1900-1908
Notions:  For hip pad: Cotton wadding, twill tape.  For bust improvers: cotton wadding, double fold bias tape, flat lace that was gathered, lace beading, silk ribbon.
How historically accurate is it?  Pretty close.  I think the TV pattern is dead on for the period.  Bust improvers of the time varied greatly, so I wouldn't be surprised if some exactly like this existed.  The museum examples were constructed open at the back, so they could be stuffed and unstuffed.  For ease, and because I will very seldom actually wear these, I just stuffed them and seamed it in, so they have  closed back.
Hours to complete: These were quick. Probably under an hour for each item.
First worn: Not yet.
Total cost:  Everything was from the stash.  Actual cost of each was probably under $5.  The cotton batting was free, and everything else was constructed of scraps of inexpensive cotton.  The lace was probably the most expensive part, since it was all vintage.  The silk ribbon was maybe a few dollars a yard and under a yard was used on each bust improver.