I'm so very excited that Wearing History is branching out into more historical and vintage sewing avenues.  One of the main ways I've wanted to grow is by supporting other independent pattern makers by offering their work on my site.
In the light of the 100th anniversary of the end of World War One approaching us quickly, one of the things on the forefront of my mind has been finding more 1910's era patterns to offer.  I know the sewing community has a newfound appreciation for this often overlooked period of time,  which happens to be one of my favorites for costume history!  I have heard rave reviews of Hint of History patterns, so they were among the first I wanted to offer on my site.
Here's just a few sample images of her lovely patterns.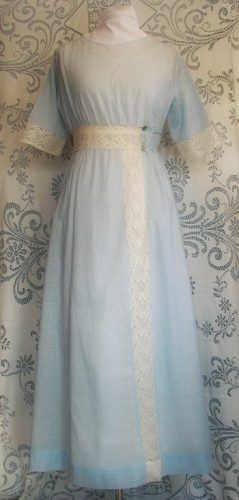 Since some of you may not have heard of this pattern company, I asked Amanda a few questions so we can learn more about her and her work.
WH:  Your sewing patterns are such lovely, timeless designs.  What was the main inspiration behind starting your own sewing pattern line?
Amanda: Studying a fashion plate and interpreting it as a pattern started as a hobby or a personal challenge throughout my later teens. I'm not sure exactly when I started to think about sharing my designs, but in 2004 one of my 1910s style pattern designs won a Young Designer's Contest put on by Sense & Sensibility patterns. This gave me the confidence to launch my own pattern line in 2006.
WH:  I see your women's pattern collection is 1910's inspired.  Is there anything in particular that draws you to that era?
Amanda:  I can't quite put my finger on it, but I just really like the styles of the 1910s! Maybe because they're not quite as stiff and structured as some of the Victorian dresses, but still have so many interesting details–buttons, asymmetrical closures, draping skirts, interesting collars, lace insertion, etc. I own one of the dresses my Great-Grandmother brought with her when she came to the US from Scandinavia in the 1910s, so maybe that has influenced me as well, and given a bit of a personal connection to the era.
WH:  I love that you've designed these patterns for a modern woman to wear now, in everyday life. Do you have any tips you'd like to give my readers for how to wear historically inspired styles for everyday wear?
Amanda: I've tried to design these patterns to not be restricting or need special undergarments, etc, to fit properly. My tips would be to choose practical, breathable fabrics (I personally have a horror of synthetics!) and just have fun–wear your personal style with confidence!
WH:  If one was to make your patterns for historical wear, like events or reenactments, are there any particular tips you'd suggest?
Amanda:  I would suggest researching some fashion plates or photos of dresses from the era to get an idea of the colors, prints, and fabric types that might have been used. Also, accessorize well, and choose a period-appropriate hairstyle. If you put in the effort, little touches like that can really add so much individuality and authenticity to your overall look.
WH:  What got you into sewing?
Amanda:  My mom taught me the basics of sewing when I was fairly young, and gave me freedom to experiment and grow my creativity in many ways! I started with dresses for my 18″ doll, and also put out a catalog of stuffed animal clothing that my younger brothers and sisters could "order" from me. I moved on to making dresses for myself and my sisters, mixing and matching and altering my favorite basic sewing patterns. When I was 16 or so I got a book from the library about drafting your own sewing patterns. This really put a framework behind all of the things I'd been learning and experimenting with on my own, and helped me realize how the flat pattern pieces come together into three-dimensional shapes.
WH:  I see you're not only a pattern maker, but a talented illustrator.  Can you tell us more about your other endeavors?
Amanda: Yes, I have always enjoyed drawing! For me, art and dress design are very interconnected–even before I knew how to sew, I loved to draw fancy/historical dresses. At the moment I am planning to launch my second Kickstarter publishing campaign. My first one was for a coloring book featuring quotes from Jane Austen's books (can one love historical clothing and
not
love Jane Austen?!) and this one will be an illustrated children's novel about a little girl who takes the stories in her Princess Fairy-Tale book a little too seriously. You can see some of my artwork and join my illustration newsletter at
amandakastner.com
–I would love to see you there!
Thank you so much for interviewing me, Lauren; it's been a pleasure!
Thank you, Amanda, for taking the time for our little interview and telling my readers about you and your patterns!