Horray! New Pattern Time!
This lovely little pattern release has been simmering for a while, and I'm so happy to announce it's now ready to get out there and into your sewing room!
We call this blouse the Nanette Blouse. All the pretty little styling reminds me of early 1930's films, and "Nanette" sounds like a cute little coquettish name.  I'm sure you'll feel glamorous in this timeless blouse!  If features lovely gathering at the sleeve cap, short sleeves with gathers and a cuff or longer sleeves that fit to the arm with elastic.  The front can have a jabot or be left plain.  The neck is finished with a length of self bias that ties into a bow.  The side can be fastened with snaps or you can update it to a zipper, if you prefer.  A lovely little self belt finishes it off nicely.  This blouse can be tucked in or left out. So iconically 1930's, but classic enough to be worn around today!
This pattern is a bit of a bridge between my Resto-Vival patterns and my Signature Style patterns. It includes the original period cut, period seam allowance, and all the original instructions, but since they were so very minimal I actually illustrated all new instructions. There are brand new cutting charts for modern fabric widths.  This pattern comes in size 30″ bust to size 42″ bust.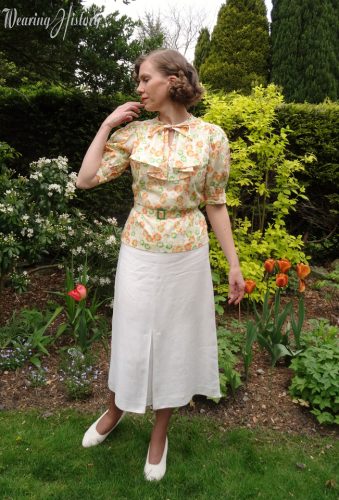 The lovely Simone in her blouse she made from the pattern.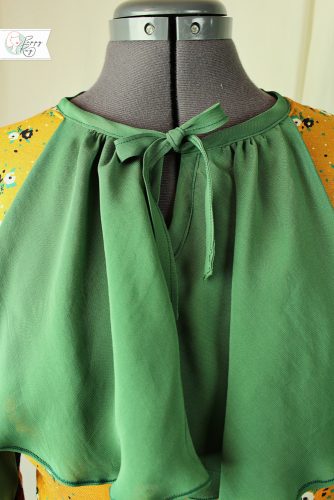 The lovely Stefanie opted to make her blouse two-tone, and check out her lovely vintage belt buckle! (Cutting and yardage not included for two-tone version, but I love how creative she was in choosing it!)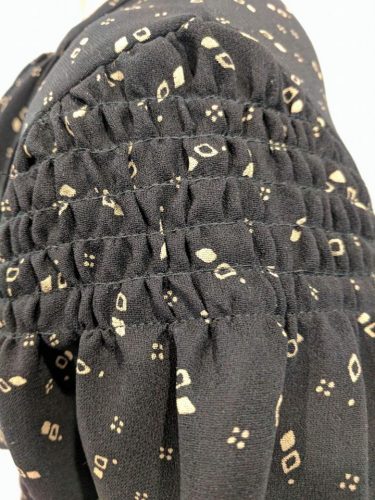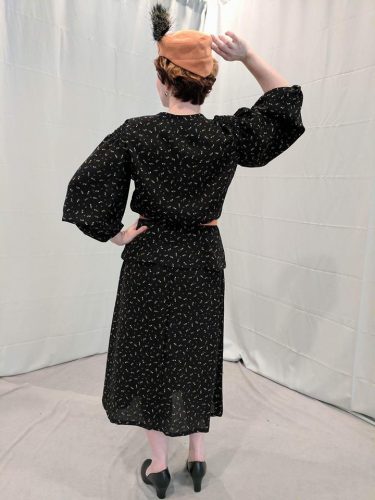 And the lovely Nicole opted to make hers with the longer sleeves and shows us her beautiful shirring.  I love that she made a matching skirt to make it a two piece dress! (Skirt not included, but skirt patterns are available on my site!)
Big thank you to the lovely ladies who helped me test this pattern and provided pictures.  I hope you love it!
ON SALE for a limited time.
Printed Patterns for pre-order. Expected to start shipping next week! http://wearinghistory.clothing/mid-1930s-nanette-blouse-pattern/
E-Patterns available NOW on my website: http://wearinghistory.clothing/e-pattern-mid-1930s-nanette-blouse-pattern/
and on Etsy: https://www.etsy.com/listing/535964256/