Hi!
I finally got to go check out the Wavecrest Woodie Meet in Encinitas at Moonlight Beach!  This happens once a year, and the last time my husband got to go but I didn't.  This year I finally got to attend!
In high school my dream car was a woodie wagon.  I was really into old school surfing, and loved the idea of having a woodie wagon.  At one point, we were there by the ocean with a live group of musicians playing bluegrass, and all these amazing cars.  It was completely idyllic to me!
The care above would have been my dream car in high school!  Plus it has long board surfboards and skateboards, which were two of my favorite things to do.  I don't think I'd be even able to stand up on either anymore!
This was one of my VERY favorites.  It was purposefully painted to look "rustic", so fulfilled my Indiana Jones type adventure dreams.
Check out how cool the handles on the door are!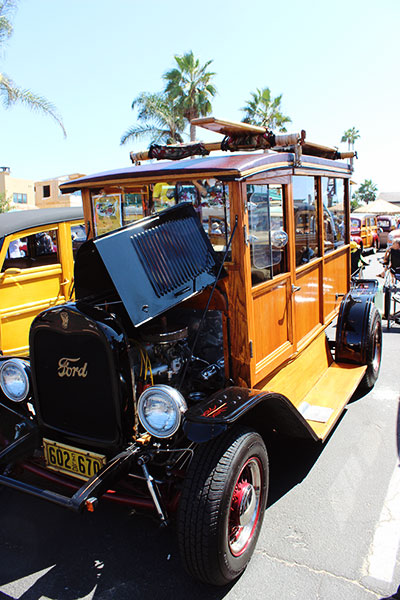 This was my other favorite.  I'd LOVE to cruise in this car with my friends!

I loved the car below, with his display of vintage ukeleles.  He said if he set that up he'd get more girls interested and wouldn't have to just "talk cars" all day with guys.  LOL!
Some of the dashboards were just incredible. My husband said the brown plastic here was made using peanuts, so is rare to see surviving.
I loved the grill and the fish hood ornament on this Mercury
I love the lettering on the wood of this car.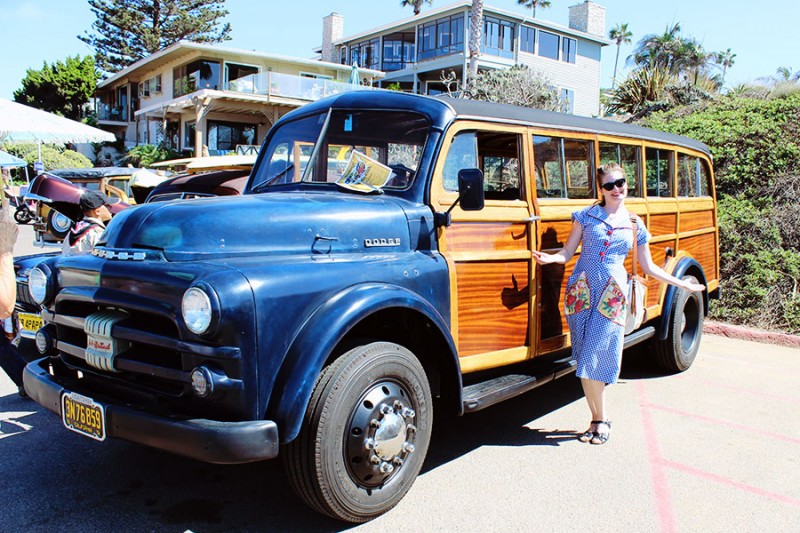 Another dream car- a woodie wagon BUS!  I told my husband I wanted it for a vintage "motorhome."  Can you imagine how fun road trips and camp outs would be in this thing?  (There's me being Vanna White).
And a boat car!  By Rolls Royce, my husband said these are SUPER rare.
Do you like these kind of cars?