Hello everyone!
I have an announcement about the custom printed and custom dyed fabric we are using for the Scarf/Turban, the Norma Jean Blouse, and the Maisie Dress.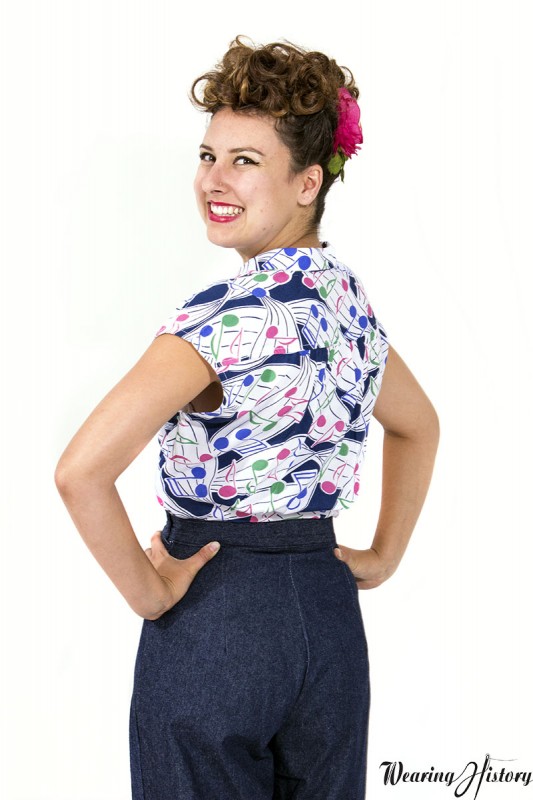 (Norma Jean blouse.  Pre-order via Kickstarter for $96.  Retails for $99.50)
After intense product testing, I have made the decision to upgrade the fabric from Rayon Challis to a Tencel fabric (previously classified as a type or rayon).  Because I want these to be the best they can be, I have tested several samples from several fabric distributors to find one of better quality that will still give the look of a vintage garment.  After testing, the rayon challis pilled too easily and I did not feel happy in the quality.  The new fabric has so many benefits, both ecologically and performance wise, that it is a much better decision for these garments.
(Maisie Dress.  Pre-Order via Kickstarter for $200.  Retails for $225)
THIS MEANS THE KICKSTARTER PRICES ARE DISCOUNTED FROM THE NEW PRICES ON MY WEBSITE.  Only 3 days left to get the items at a discount if you want one of these garments!
Tencel (also called Lyocell) is best described in this quote from Wikipedia:  "The US Federal Trade Commission defines Lyocell as a fiber 'composed of cellulose precipitated from an organic solution in which no substitution of the hydroxyl groups takes place and no chemical intermediates are formed'. It classifies the fiber as a sub-category of rayon.["
(Scarf/Turban.  Pre-Order for $35 via Kickstarter.  Retails for $40)
Here's other reasons why this fabric is superior to standard rayon:
Environmentally friendly.  Rayon has been historically very hard on the environment, both in the way the trees are harvested for it's production, and the byproduct in terms of waste of production.  Lyocell is made from farmed trees and has almost no byproduct that is harmful to the environment. It's called "closed loop processing".  It is classified as "eco-friendly"
Stronger when wet or dry than rayon, but with the nice drape we love from rayon fabric.
More wrinkle resistant than rayon.
Tighter weave than rayon challis.
Closer to "cold" vintage rayon hand than modern rayon.
Tencel is very breathable and moisture wicking, which means it's good for dancing.
Of course, all these benefits come with an increase in actual fabric cost (the tencel is 2x as much per yard as rayon challis), but the pre-order price of the Kickstarter for the garments that include this custom fabric will NOT be changed.  Your orders are all intact and the price will not deviate from what you pledged for.  Plus, the quality difference makes this change worthwhile to me, and I want to make sure you LOVE these garments!  The prices on my website, however, will change, so you guys are getting a bonus for pre-ordering :)
(Scarf/Turban.  Pre-Order for $35 via Kickstarter.  Retails for $40)
I do need to let you know, however, that there is a delay E.T.A. of the fabric.  The supplier does not have the total amount I need in stock, and expects the fabric to arrive mid-October.  I have looked at other suppliers, but find the quality of this product to be superior to those offered by other fabric distributers.  Because of this, we will most likely not meet shipping dates of early November.
I will keep you updated on the status of the fabric, and when we go into production.  I am certain that the improved quality of the garments will make this decision worth the wait.
You get even bigger discounts if you pre-order garment packages!!
Only a few days left to pre-order!  If you want one of these garments, get your orders in now via Kickstarter!!
Thank you!
Lauren