Hi Everyone!
It's been a little while since my last proper update about my steady work making Wearing History Clothing a reality!
First of all, I picked up the keys to my new space in San Marcos!  Super exciting!  In California, you have to have  a place outside the home to base an apparel manufacturing company (I'm technically not making the clothing myself, but CA still says I'm a manufacturer), so that's a HUGE thing off of the checklist!
Once that was achieved, I could officially file my garment manufacturer registration with the state!  That's all sent in, so just waiting on getting back the info for when I can go take the test.  After I do that, we can rock and roll on getting clothing made! YEAH!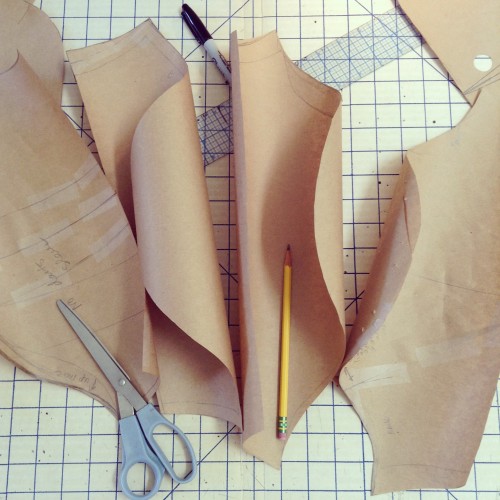 In the meantime, I've been hard at work making my patterns for the ready to wear clothing. I've been making all the patterns myself, which takes quite a while since I'm so darn picky.  The photo above is four of thirteen tries until I got just the right sleeve for my 1940's blouse that will premiere with the first collection.  I wanted to make sure it looked cute style-wise, but would provide enough movement for dancing, or doing civilian re-enacting, or just about anything.
To me, it's not just about looking cute- we've got to have practical clothing, too!  Speaking from experience, here… I've ripped sleeves out of original dresses while dancing before.  That's no fun!  That's part of why I'm so excited about bringing newly made vintage styles to the marketplace- we need vintage styles that can stand up to wear!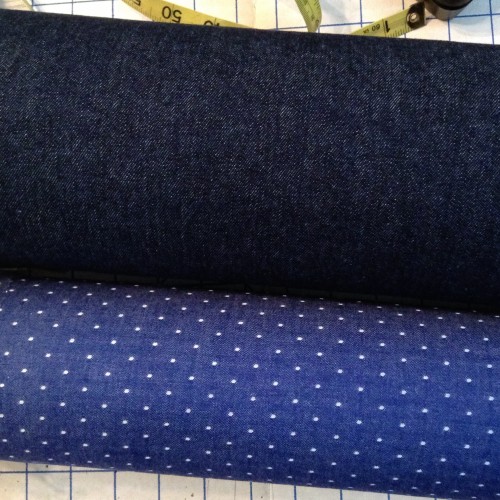 Something else really exciting- the two fabrics above were just picked up yesterday!  These are fantastic cottons with a good drape- two of the three fabrics that will be in the final collection.  So you get a little sneak peek here!
You get two hints on what the first collection will bring in this post… one was already mentioned (a 1940's blouse), AND if you've loved my Smooth Sailing trousers for a while, there WILL be a ready made version of those in the first collection!  I have had such good reviews of that pattern that I drafted, that I'm excited to be able to offer them in ready-to-wear.
The collection will have four pieces, so there's still two more to go.  I've got one more fabric coming that I'm having custom printed.  SO EXCITING!  Beth of V is for Vintage and I went yesterday to meet with the textile printers, and I'm so, so excited that this is becoming a reality!
I'm getting the fabric screen printed, which is really pretty incredible to me.  I find that I prefer the results over digital printing.  Of course, with this process, we've got to meet a pretty high fabric yardage minimum, but I believe you all will love this collection so much that I'll never regret starting the way I mean to continue- and part of that is getting fun vintage inspired fabrics that will be unique to my brand- of which, this will be the first one. If you've never seen a rotary screen printed fabric, check out this pretty amazing video showing an example of the process.
 Make sure you stay tuned for future updates!
If you'd like to keep in the loop, make sure to sign up for my newsletter!
xo
Lauren