I had scanned in several more pages from the 1905 Delineator when I was making up my S-Curve corset, so I figured, rather than getting lost in my abyss of a computer, that I might as well share them now!
Here's a few little fun ads from 1905 that show some garments that go under what you usually see.  Make sure to read the ads, not just look at the pretty pictures, to get a good idea of what's going on and what was offered in the period.
"…like all American Lady Corsets, it has the essentials for stylish form building, but the special purpose of this garment is to give a sweeping curve effect to the entire figure.  The lateral sections accomplish this by training the flesh from the front to the sides and back…"
It's interesting to note these earlier S-Curve ads almost need to talk the reader into buying the "new" silhouette.  I've seen several of these in this era, and they're always amusing.  Note that most often ads of the early 1900s and before emphasized shaping the figure by FOUNDATION GARMENTS rather than by DIET.  Once the 1920's hit, diet was often advertised as well as foundations, and this continued throughout time… only now do we usually tend to rely on diet alone to achieve the essential shape.  Well, diet and, often, surgery.  Sure, spanx and the like are now used, but they don't have nearly the effect of the foundations of our mothers and grandmother's day.  In terms of a fashion history perspective, I find the modern ideals of figure most depressing and, usually, unobtainable for most people.  Combination undergarment + diet for certain looks seems much more achievable, in my opinion.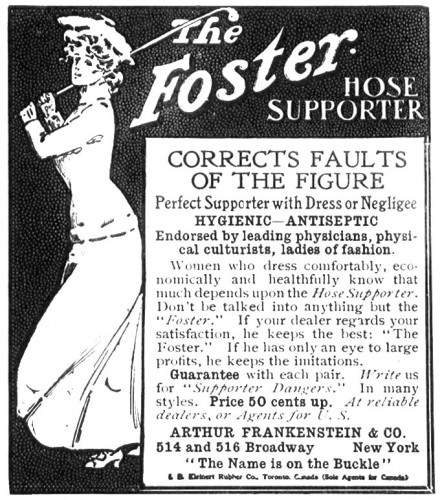 Although we don't actually see the "Hose Supporters" here, it's worth noting that the advertisement shows an active lady.  Sport for ladies was growing from the 1880s on, but it especially was present in the 1890s and early 1900s.  Golf and bicycling, most noticeably.
And it's also worth noting that not all Edwardian corsets included garters (suspenders or supporters).  There were often separate articles that were purchased and used for this purpose.
And for those fancy garter hooks, here's hose that will not tear!  In earlier time periods there were elastic, knitted, or ribbon garters.  In the Edwardian era, garters like we see on later foundation garments were in use.  We needed fancy new garter tops to keep up with the wear and tear of the metal on fiber!
Hope you're having a lovely weekend.