I have been working on this on and off for about a month or so, and just finished it up!  I've come down with a rotten cold, so the opportunity of finding couch worthy projects helped me finish this up.
I may be stretching a bit, but since I just finished this, and the next Historical Sew Fortnightly challenge is "Bodice", I'm going to use this as a submission.  A little internet searching, and I found this "knitted bodice without sleeves" from 1870 on the Vintage Stitch-O-Rama Free Pattern Emporium.  The one I made is nearly 50 years later, but a similar idea.  Maybe stretching the "bodice" idea a bit (har had, it's knitted, so it already stretches), but I'm going with it.
Here is the pattern I made mine from.  It's available in my Etsy shop.  I fell in love with it in the original periodical I have in my archives.
I admit, I didn't do this pattern exactly as it is.  Being a somewhat notice knitter, I was clueless as to how to pick up stitches and knit the border around the collar and down the front.  And it wanted me to make buttonholes.  So I cheated, and crocheted the edge instead.  There's enough stretch in the sweater for me to not have to have functional buttonholes.
I also changed the way the cord was made.  I didn't like how the one looked that the instructions called for, so I looked up "crocheted cord" on Youtube and ended up doing one that's often used in crocheted lace, or macrame.  I like it!  It took a while to get used to doing, but after a while I got in the groove and the two yards I needed to make went pretty quickly.
I also realized, as I was working this up, that I colorized the photo wrong, and there were meant to be three colors.  Oops?  I actually prefer the two.  In the original instructions, the collar and front three cord and button fasteners are supposed to be a different color than the slipover and edging and cord.
The pattern is old, and so isn't terribly instructive like modern patterns.  I had to fudge a little here and there, since I had never made crocheted buttons or crocheted top tassels before, but I just played with single crochet and it worked out just fine.  For the base of the buttons I just used some plastic buttons in my stash that I didn't particularly like, but that were flat.  I know I had plastic rings around here somewhere, but these worked in a pinch.
I'm pretty proud of myself for finishing this!  I'm actually REALLY pleased with how it came out.  I've had so many knitting disasters in my eight-ish years I've knitted on and off, that it's nice to have something look pretty close to the original image.
I've shown this over a 1910s blouse I made a few years ago and an original vintage skirt from the 1910s to very early 1920s.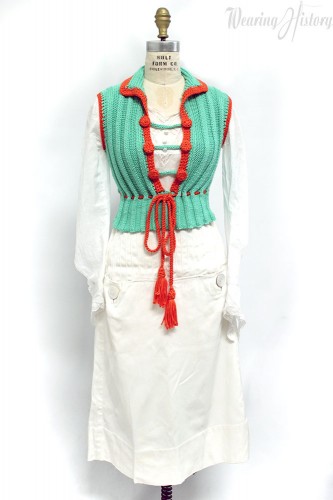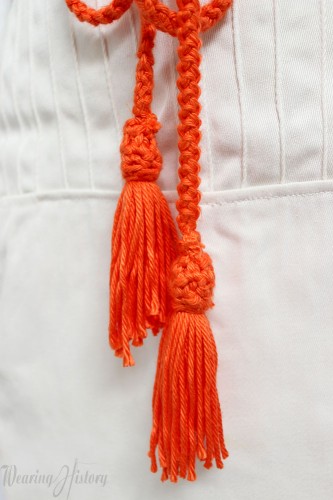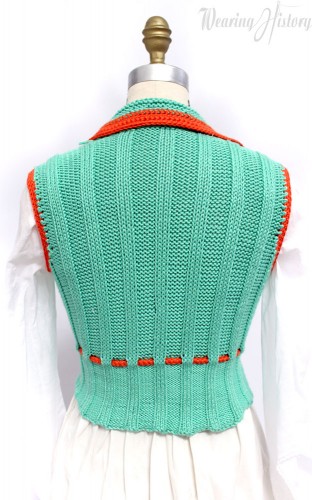 The Challenge: #5 Bodice
Fabric: (Yarn) Shine Worsted Yarn by KnitPicks.  I loooooove this yarn!  So soft!
Pattern: 1919 Knitted Slipover (PDF in my Etsy Store)
Year: 1919
Notions: Buttons to cover.  I used sewing thread to sew on the buttons and little cord things across the front.  Crochet hook and knitting needles.
How historically accurate is it?  Nearly 100%.  The buttons I used to cover are modern plastic, and they may not have had cotton/rayon yarn then, but again, they may have, as rayon was often called "artificial silk" in this time period.
Hours to complete:  A million.  I'm not the fastest knitter.
First worn:  Not yet, but I'm totally planning on wearing this with modern clothing as well as historical, so I'm sure it will get some use.
Total cost:  Maybe $30?  I think I used about 7 balls of yarn at $2.99 each plus shipping.