I'm not a one of those girls that's really into the color pink.  I tolerate it more than I used to, and I occasionally do buy something pink, which is a long way from where I was in my high school and college days, where I blatantly refused to put anything pink on my body.  Now, I actually kind of like certain tones of pink, but I am very particular.
When the Historical Sew Fortnightly "Pink" challenged was announced I instantly knew what I would do.  I have found I have an affinity for the color pink when it's used in vintage undergarments, or on vintage "boudoir" items- like little rosettes for decoration, etc.  I even have a pinterest board for these items that I pink to on occasion, and others things of the pink vareity are on my "pretty things" board.
Since I had so much fun with my 1929 pajamas, I decided to go with something 1920s again!
I decided on Butterick 3201, and a little detective work shows it was probably from 1921, since the pattern sequence number appeared in Delineator magazines of that year.  I love that it still has a late 19-teens vibe, so I could probably wear it for both.
The construction is quite odd.  Here's my muslin with markings drawn in sharpie.  That longish dart actually hits at the waist.  The line you can see at the back waist in the image isn't a belt- it's the dart seam.  The little fish eye dart hits under the armpit.  Luckily I had almost no alterations.  My friend Beth was kind enough to fit me in the muslin when she was down visiting.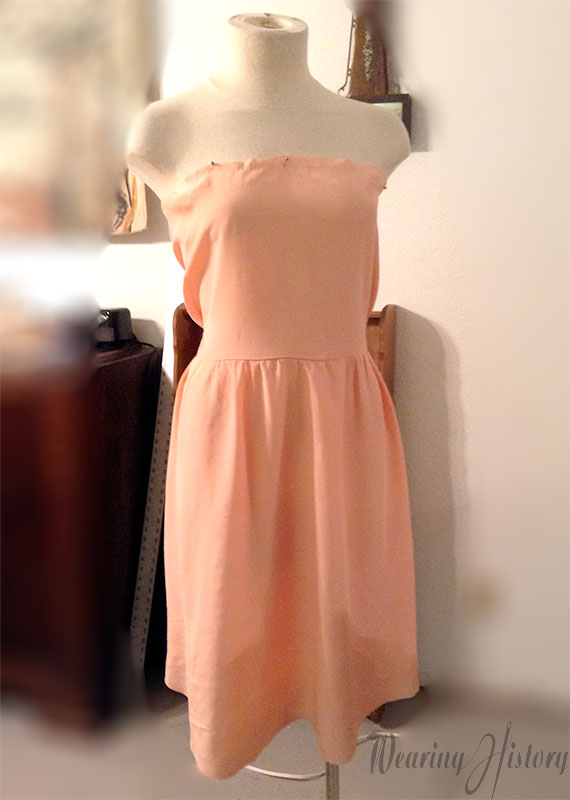 The fit is very loose at the bottom, and very long.  It hits knee length of me.  Both Beth and my husband thought I was pretty amusing, especially when it was made up in unmovable muslin with my awesome fluffy slippers and big white socks!  LOL!
I did play with the idea of shortening it, then decided, what the heck… I'm just going with it.  Unflattering they may be, but they're period, and once I add trims I bet they'll be more fun.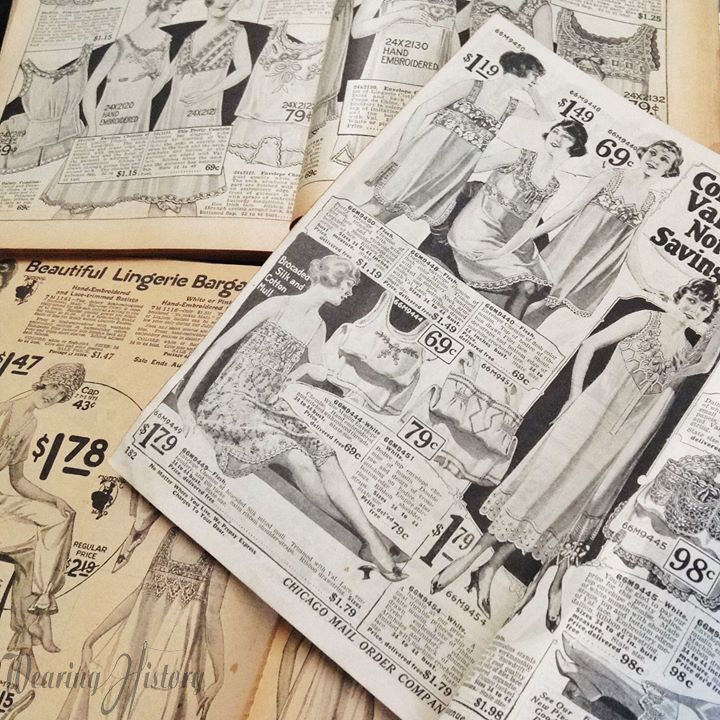 My original trim idea of wide lace didn't work, since I chose to do the version with the curved hem.  It would have made the lace stick out funny at the sides, or have to be gathered in, and I just didn't feel like dealing with it.  I broke out period catalogs from the late 1910s through early 1920s for design inspiration and settled on a narrow lace at the hem and decorations instead.
Most of the period examples in my catalogs were really plain on the lower portion, but I decided to do bows!  I had wanted to try lace insertion bows for quite some time- ever since I saw them in a period sewing book of the late 1910s.  My kitty is helping.
First bow nearly done!  I drew this one freehand, out of my own imagination, with a pencil, then attached the lace.
Then I transferred it to the other side with a light box.
Right now I'm taking a break from lace work and making little french knot embroidered flowers on the front.  Part way through I realized I should have used a more flat type of embroidery if I'm really going to wear these as 1920s underwear, or else the texture will show through.  Oops?  Maybe they'll just be for cute, instead of for practical.  But French knots are SO period!  I just had to do them.
I'm moving right along with these, so I hope to have them finished by the due date on Monday!  I'm pretty proud of myself for attempting embroidery AND lace insertion on a Historical Sew Fortnightly project!  It's only because the garment itself is so simple that this has a possibility of being finished on time!