I've been collecting and selling vintage patterns for quite a long time now… 15 years collecting this year!  In the amount of time I've been doing this, I sure have seen some interesting things in pattern envelopes.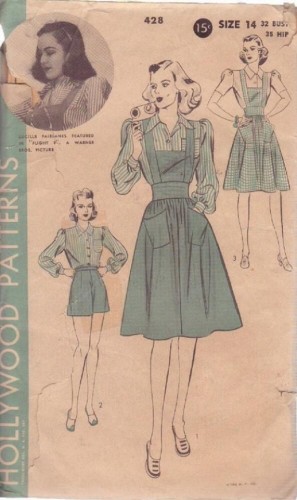 Now, granted, patterns were never meant to be something that would last through time.  They were made of cheap paper.  And, really, until relatively recently, people didn't want clothes that were authentic to time periods past.  Just look at movies.  Even in the 1990s, historical dramas took on a 90's flair.  Today, we've got period movies that certainly aren't period.  Not everyone wants a time travel wardrobe, but more people do now than they ever did before.  So, really, people didn't feel the need to bother with preserving them for decades in the future.  They were just to make fashion, and fashion is fleeting.
Still, there's those of us who love these little bits of fashion architecture.  We're thankful that some survived the ravages of time, use, and basements (or attics) and resurface now, so we can make clothing of the past.
But, doing this for so long, here's some things I want to say to NOT do… because I've seen it all.
1)  Use a hanky, not a pattern.  Ew.  Boogers are so not classy.
2)  Blood on a pattern is gross.  I'm sorry if you poked yourself, but your bloody fingermarks make me think I've found the clue that was missing from a murder mystery.  Little did they know, the dressmaker did it.
3)  Include the piece lengths you've cut off.  It stinks when people chop patterns and don't include the length for View A (etc), but just decide to chop them off.  We all know how accurate pattern illustrations are in terms of proportion (HA), so there's always guess work involved with putting them back the way they were.
4)  If you're petite, and you chop off things, at least make a note of how much.  I'm dealing with this right now with a 1910s pattern.  It's so much NICER when they just fold them down the center to shorten, instead of chopping things off at the bottom.
5)  What are those random newspaper pieces for??  And why are they never labelled?  Though it is really cool when they have a date on them, because we can see when the person made it.
6)  Why do some patterns have, like, 5 collar pieces that are the same?  It's like the packer got lazy and just grabbed a bunch.  "Oh well, there's like 5 of them stuck together.  I can't bother separating them. They'll fit…"
7)  Please, please, put the right pieces back in the right envelope.  It stinks when there's a gorgeous design, only to find that half of the pieces are missing and have been replaced with pieces from a completely different pattern that have no resemblance to the pattern you want.  Bummer.
8)  Celluloid tape sticks to itself as it ages, and then tears patterns. Sad.
9)  Try not to let your kid near your pattern with crayons.  I'm not a mom, so this is probably easier said than done.
10)  If you've got to do really wonky alterations to your pattern, trace out a copy instead of chopping the existing one to bits.
And, as an afterthought:
11) Don't crumple pattern tissue into the tiniest ball possible then cram it in the envelope.  Those sad, sad, little tissue pieces are crying, "help meeee!".
Now, there's lot of really lovely things found in patterns, too.  Notes, fabric, old receipts, heck, a friend said she even found money in a pattern once!
 But, if you want to keep things for future people to enjoy, take a moment and make sure they don't thank you for the headache you've left them later on!
I hope this post gave a few of you a little giggle or smile.  We're kindred spirits, we pattern nerds.
Have a great weekend :)