I so seldom remember to do "in progress" blog posts, but I'm making an exception because the thing I'm making now happens to be two pieces!
For the Historical Sew Fortnightly's "Innovation" challenge I dilly-dallied with a theme.  First I thought zippers.  Then Rayon.  Then Trousers (this still might happen).  Then brassieres.  Then movie star fashions (related to marketing, like "Hollywood" or Butterick "Starred" patterns rather than an actual movie costume), then combinations… and then I settled on pajamas.
I've wanted to make these since I bought the pattern which was way too many years ago to remember when I bought it, so I thought this was a good excuse.  I had actually scored a few lengths of rayon for pretty cheap in different spots that compliment each other well, so it was easy to get this project together.  The print was $3 a yard in Los Angeles, and I grabbed the last two yards they had with intention of making beach pajamas (this is close enough to the original idea), and the red rayon was a thrifted find for $2.99 for the whole length, so this is a cheap project that actually fills three "innovations"… pajamas for women, rayon fabric, and Art Deco since the print is very reminiscent of deco prints of the period.
Tonight I've managed to get together the trousers!  Hurrah!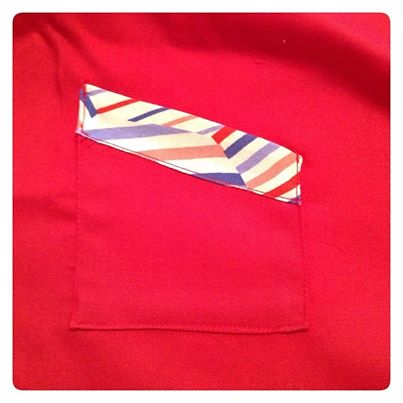 The cute little pocket got put on first. <3 the pocket.
And the funny, saggy butt pajama pants!
I was lazy and didn't mock up, since these are just pajamas, and they're too big in the waist, but that just means they're more comfy!  I had to add five inches to the length, too.  I guess I'm a bit tall compared to what they thought the height should be, but I noticed the illustration shows the length about at ankle length and I wanted these longer.
Although I thought this was from the late 20's, and I'm still going with that, there are newspaper clippings inside from 1931.  If fact, I just found on Witness 2 Fashion, that the number places it at 1929.  Pajamas were the sort of patterns that would be in production for quite a while, since fashions didn't change that drastically.  In fact, I have a McCall catalog from 1939 that shows patterns that would be from the mid 1930's, but the illustration art.  So these pajamas are at a fun point in history- I was going for something a "collegiate" girl might wear.  I think the cheerful print would be right at home in a young ladies wardrobe!
Next up, I've got the blouse!  I'm doing the longer tunic blouse, but I really hope I have enough print left to squeak out a sleeveless, shorter blouse as well, that can be tucked in so I can show off the pocket on the trousers.  We'll see!