I've already announced the new, lovely jacket pattern- Sophie.  Here are some great inspirations taken from 1898 Ladies Home Journal that can inspire you to trim your own version in a different way than initially show.  There is no reason why you could not substitute soutache, braid, or even embroidery in the place of topstitching.
Here is the original pattern illustration:
And here are original period illustrations of similar garments: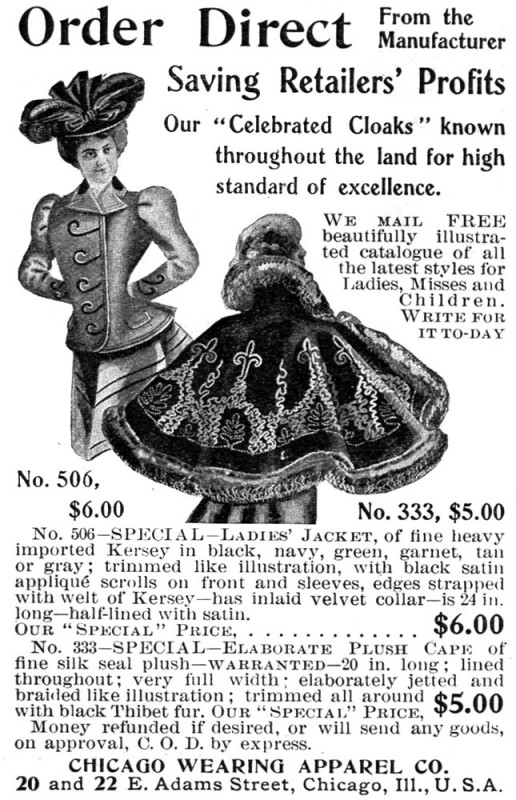 The swirls in the image above are "black satin appliqué scrolls".  This could easily be done by cutting bias strips and hand stitching them in place.  It may even be pretty to add a thin braid to the edges.  I think the scrolls on the sleeves are especially fun!
The image above appears to me to be something like a velvet ribbon, or bias cut velvet, edged in a braid.  This would give great dimension to a jacket, as it would have different texture and visual interest.  The topstitching, similar to on our coat pattern, is on this coat as well as the trim.
Although this does not have trimming (except the capes), this is a great illustration of how you could add faux flap pockets and bigger buttons for the more exaggerated 1890's silhouette.  I would suggest lengthening the jacket below the waist for these styles, too, to make the coat more balanced with the addition of the pockets.  A little fiddling in the mock-up stage could change the coat from a scalloped coat to a straight hem, and the omission of cuffs would put you right in line with the jacket at the lower right.
Have you joined my new e-mail list yet?  Please do join!  I am starting to do promotions that are only for my e-mail newsletter list, and you'll keep up with my pattern, blog, and etsy happenings!