Hurrah!!  It's been three years coming, but I FINALLY have this pattern finished!
It started nearly five years ago, when my husband and I were lucky enough to be able to travel to Paris.  At a little flea market, I came across an old stack of La Mode Illustree magazines with patterns in them that ranged from the 1890's to the very early Edwardian era (or, since it was France, the Belle Epoque).  Needless to say, I gleefully tucked them under my arm and spent the entire train ride back to see our friends pouring over them, and relishing in the things I would make, and the patterns I would make available.
Once home, and I could properly look through, I instantly fell in love with this jacket.  To me, the lines and the proportions are ideal.  So, I transcribed it from the overlapping sheets, added seam allowances, and started my mock ups.  I set it aside and let it linger, and about every year, when the weather became cold, I'd pull it out again.
Initially it was a project for myself, but my friends I was sharing progress pictures of, loved it and wanted a pattern, too.  So I thought I'd re-issue it in original form.  Then, I thought, I might as well add all the seam allowances and markings.  Well, as long as I was at it, I should add notches.  And, I guess I should make it in more sizes, too.  Well, the original instructions were pretty nonexistent, so I guess I should write out instructions… oh, I guess illustrate them.  And maybe add three more sizes to the pattern.  And as long as I'm at it, I guess basic yardage requirements and cutting charts would be useful.  And you see why this went from a short project to one that spanned, off and on, for several years.
I don't have any proper pictures yet, but here are a few snapshots to share- some at my old work (I only WISH that was my studio), and one from the Costume College hallway last year.  I think this would work excellently for either authentic historical looks, steampunk looks, or even for modern wear with jeans!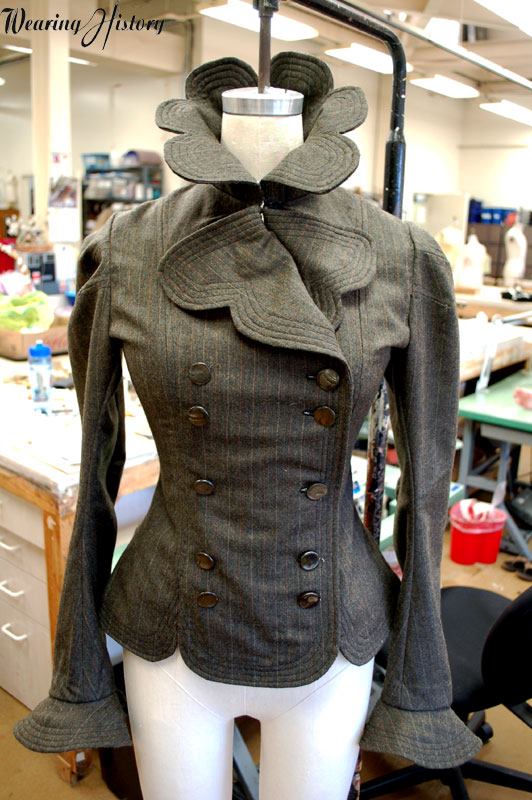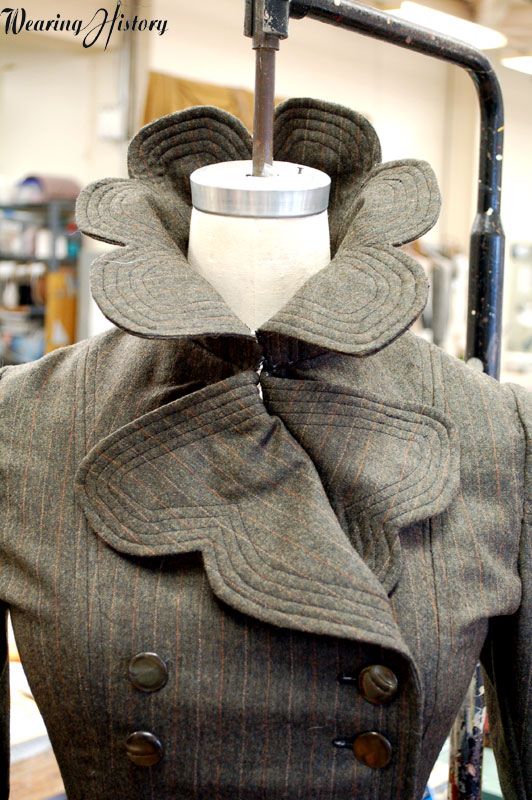 From the back cover, here is more information on this pattern.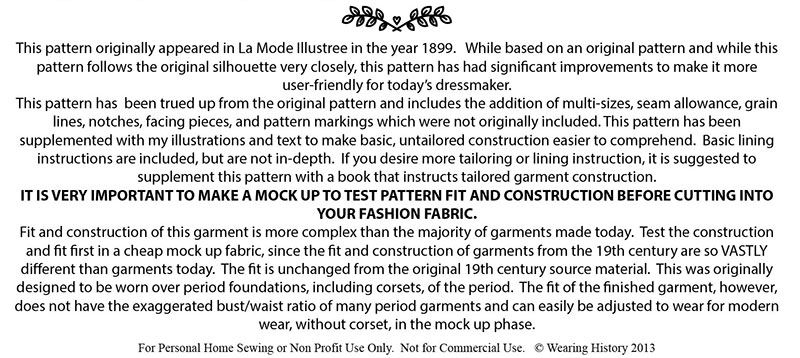 You can now purchase the mailed, wide format printed pattern here.  Or, if you prefer, there is a print-at-home e-pattern version of this pattern here.
I do want to do more period patterns from authentic source materials, but I will keep them close to the original way they were published so it won't take me years to make them availalbe !  I'm sure, just having them available will be fun, so depending on how well this is received, expect to see more from my Victorian and Edwardian pattern archives!