In the last post I shared our set up at The Vintage Marketplace, but I had a great time looking around and shopping as well.  Luckily my husband was along to help mind the booth so I got to go take a gander and get some shots of some of the other offerings of other vendors.  Here's a few of my favorite shots of what others had to offer.  I didn't get every vendor's name down, so apologies for that.  If you know who's booth an image is from please leave me a comment so I can amend my post.

Christie Repasy of Chateau de Fleurs (one of the two ladies who runs The Vintage Marketplace) makes gorgeous paintings inspired by antique roses. She shared with me that her inspiration is often rooted in the 18th and 19th century. Here's something I thought were darling- prints of her roses made into necklaces. Her sister in law, Rita Reade of Mammabellarte (who is the other lovely lady behind this show) makes these necklaces with prints of Christie's roses. Christie also offers original paintings at the show, and Rita has her own booth with her furniture, necklaces and handcrafts, and even real life baby chicks at this show!

Tea and vintage finds- two of my favorite things!
I love these fun pieces by Vintage Bruja.
Beautiful Victorian celluloid boxes
Pink Depression glass.
Edwardian actress postcards from Paris Cowgirl
An antique vanity that seems like it would be right at home in the Norma Shearer version of Marie Antoinette.
A rather creative way to store and use glass glitter.
Beautiful two-tone antique boots
Creative sign art by Junk Art Gypsyz
A fun vintage kitchen cabinet from Touched by Time
You can find the rest of my photos here on Flickr.
The next show will be November 30th-December 1st. Mark your calender!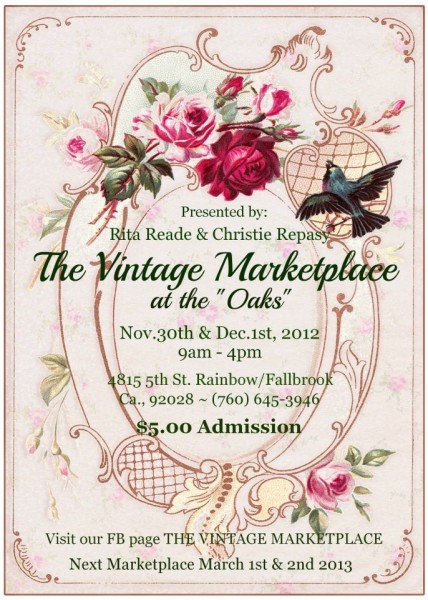 And later I'd love to share two of my new friend's works. So posts about them will be coming up.