Wow- Another project to post! I must be on a roll.  I have two more to post, but both of which I didn't get *terrific* photos of, or no photos of, so this may be the last for a while.  Or maybe I'll just borrow photos from friends.
The theme of Costume College this year was "The Golden Age of Hollywood."  If you remember, last year I made a gold satin 1930s dress with a cape.  Well, that was before the theme for this year was announced.  Obviously I had to repeat the vintage theme… and the gold… and a cape… ;)
In all reality, this project didn't completely come together until a few weeks before Costume College.  I was being indecisive.  Couldn't decide on pattern… couldn't decide on a fabric.   I just knew I wanted it to be sparkly.  Bought a fabric that didn't work out.  You know why?  I thought "surely, 4 yards will be enough for a 1930s evening dress."  But then I remembered a skirt I drafted based on dresses worn by Ginger Rogers in the Fred + Ginger movies and pulled it out and laid it down on the fabric.  In the end the dress took over 10 yards.  The previously bought fabric is marinating in the stash until it becomes something else (and right now I'm thinking that something else will be a 1920's evening dress.  I blame Katherine/Koshka of The Fashionable Past).
One of my all time favorite 1930s evening dresses was one worn by Harriet Hillard as Connie Martin in Follow the Fleet (a Fred and Ginger movie).  Although I really don't like the musical number, here's a video clip from YouTube showing the dress in motion.  I think I was subconsciously thinking of this dress when I made this one!  In the end it looks rather similar.  In fact, I'm now determined to make myself a pretty spray of gardenias to wear across the front next time I wear the dress:

But enough chatting!  On to pictures!
What's a dress without a cape, right? The cape was made from a 1940 McCall pattern of "scale" sequin fabric with a faux fur trim at the hem.  The dress itself was made from a strange almost netted fabric with gold spangles all over it.  The slip was made from gold lamé crepe bought from SewHallie (aka Couture Allure) on Etsy.  I was trying to harken back to the fabulous gowns of Hollywood yesteryear with this dress.
The dress itself was a combination of many patterns.  I drafted the skirt based on Ginger Rogers' dresses (as mentioned earlier) and the top of the dress was cobbled together from three different vintage patterns.  Luckily it fit perfect after the first mockup.  The hem has horsehair in the edge to help give it extra body and "swirl power".  I added fishing line to the edge of the sleeve to help it have a little more body at the hem as well.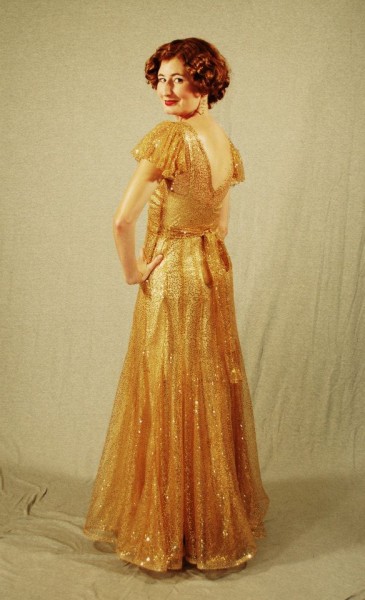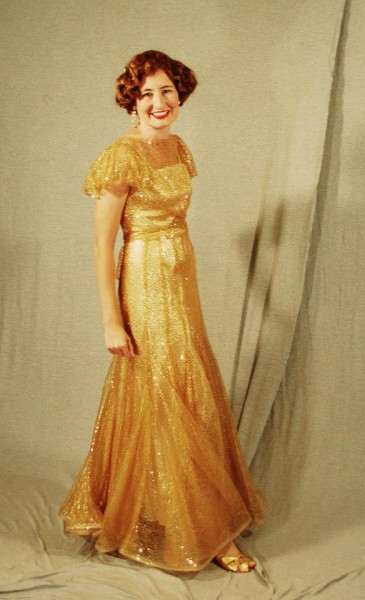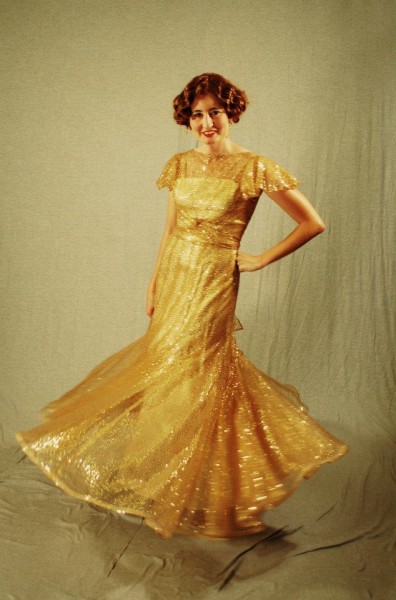 The best part about the dress is the swirl power!
So that's it! This was my secret Costume College Gala project.  It's very fun to dance in, so I hope I get to trot it out again soon :)