Fair warning- this is a long and picture heavy post!
This dress had been a long time on my wish list.  I'm an ardent fan of James Jacques Tissot's paintings, and a particular dress that appeared in a few variations in several of his paintings really inspired me.  The dress is not an exact copy, but is inspired by the following paintings.
This was the first one I found, called The Gallery of H.M.S. 'Calcutta' (Portsmouth), 1877.  This image is from the Hermitage Collection Connection's blog.  My good friend is eventually going to make the one in blue so we can go about together in our ensembles :)
 Then I found several more paintings in which this image appears:

Portrait of Miss Lloyd (on left) from loveisspeed.  July (on Right) posted by a friend online.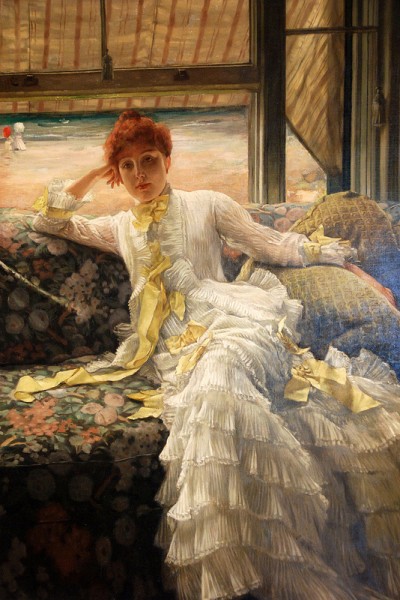 July: Specimen of a Portrait from Flickr (on left), Fete Day at Brighton from Wikimedia Commons (on right) has different color bows but is the same dress.
  I started this dress in June of last year and actually did wear it to Costume College last year, but only for an hour or two, during which I taught a class.  After Costume College last year I finished it up and meant to take pictures the entire year, but after a bit of thought decided I liked it too much to not wear again, so it made another (longer) appearance this year.  The photos below combination of photos taken at Costume College this year and afterward at a public park.
The skirt was made from the Truly Victorian natural form Fantail Skirt pattern.  I wanted this to be a transitional dress between early bustle and natural form, so I actually tied the back of the skirt looser (it's on a drawstring) and fit it over my Truly Victorian Petticoat with Wire Bustle, and tied the tapes inside the bustle somewhat loosely to have a smaller bustle shape.  The "polonaise" was made using the basis of Truly Victorian bodice shapes and I compared the cut with several in Francis Grimble's Fashions of a Gilded Age (I don't remember if it was book 1 or 2).  Since I am already familiar with the cut of Truly Victorian bodices I found this to be easier than scaling up and fitting a bodice from an original pattern I wasn't familiar with.
The skirt and polonaise are both accented by pleating that is edged in lace.  The front fastens up the center front with hook and eye tape, and the bows are taffeta cut into bias strips and then tacked on.  The dress is made from a cotton/poly blend.  I was told it was all cotton when I purchased it in the Garment District in LA, but boy- was pleating it a pain!  I used the Perfect Pleater, but since it had poly in it, it did not want to hold the pleats.  In the end I used a combination of vinegar/water to set the pleats- sprayed it heavily and ironed the pleats in until they were well dry.  I waited for it to cool.  I then did a heavy coating of spray starch, gave it a second to set, then ironed it well (too soon after spraying and it would stick!), and then waited for that to cool.  Part way though this project I realized how beneficial a press cloth can be!
Yes, it took FOREVER and is not something I'd like to repeat soon.  I'm actually unsure of the yardage. I just kept going until I ran out of fabric! I'd still like to make the matching jacket but I ran out of fabric.  I just saw it again on the last trip to LA, but forgot why I wanted it.  Of course, now I remember! I hope they still have it whenever I go back- I went on a wild goose chase last year trying to find the darn fabric again with no luck!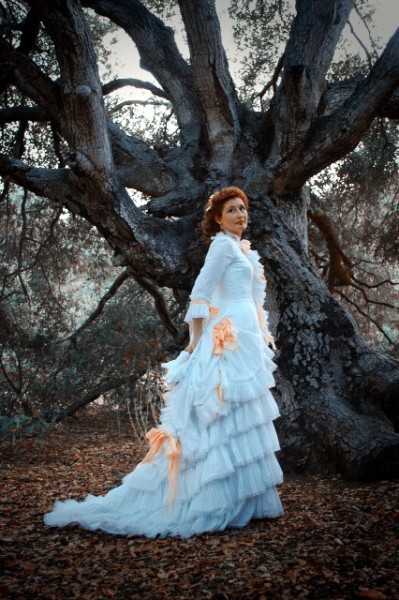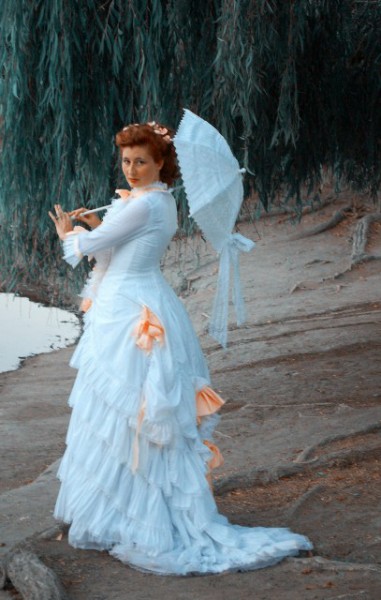 At the last minute before Saturday at Costume College I remembered I didn't have a hat so threw one together very quickly with fabric scraps and hot glue on a straw base bought from Truly Victorian when they sold these.  My husband painted it white for me last summer.
I just posted my favorites here (and I know there's a lot) but I have several more photos of this dress on Flickr which aren't in this post.  You can see them here.
This dress feels like a dream to wear. I just adore white dresses from the Victorian and Edwardian eras!  I need more excuses to pull this one out in the future