Great News!!!
The "Rita" Pleated Shorts pattern is now available!  This one was finished and ready ahead of schedule, so if you're looking for some fun Summer sewing go take a peek at the link and grab your own copy now.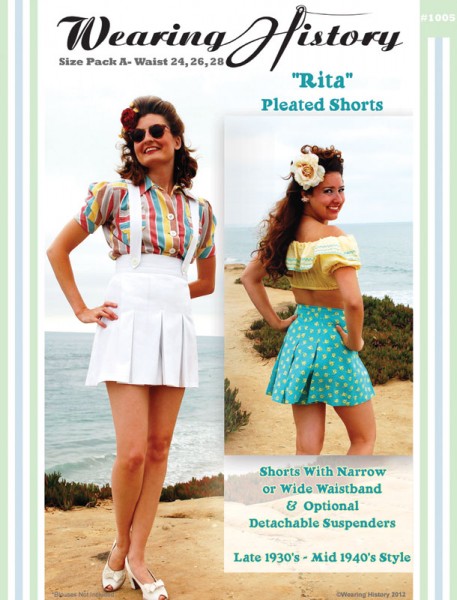 It's always a combination of relief and a bit of nervousness I get when I finish up a new pattern.  Relief because usually the last week of work is the most difficult (plus, I work extra hard and long to try to get it done faster!), and nervousness because I always hope that what I put so much time and effort into will be well liked!  I really hope you love this new pattern.  I've got to say, I've already sewn up four versions of it myself and I totally want to make more- I love wearing them just that much :)
Now on to a little break from patternmaking for me- I'll be putting more original vintage patterns up on the Etsy site and possibly eBay in the coming weeks.  There will also be a few photo tutorials coming up on the blog that you can use on this new pattern.
I'm also teaching two classes at Costume College in August that I've got to get cracking on.  If you're attending this year make sure you come say "hi".  I'll be teaching two classes- one on understanding vintage patterns and on on building a basic 1930s/1940s wardrobe- and they've given me the "ok" to offer patterns for sale at the end of my class (as long as we don't go over in time).
Hope those of you in the USA have a wonderful Independence Day tomorrow!
xo Lauren