Hello friends!
I've got some lovely photos to share today from Erin who authors The Consummate Amateur blog.  She has graciously sent these photos and accompanying descriptions to me to share here with you.  Aren't these delightful?  Erin says these are photos from her mother's father's side of the family and were mostly taken in Ontario, Canada.  Eris says, "They are ethnically English, Scottish, and Irish and the families emigrated to Canada in the mid-1800s, then Bob and Elizabeth (Smith) Wiggins ended up in Detroit. Most of the family remains in Canada."
I must say, I really love it in old photos when the family is thoughtful enough to put the names. I especially love the pen and ink, with the tones slightly varied.  This is a lovely group show and we get to see a few of the ladies wearing aprons, and I'm particularly taken with Elizabeth's cardigan!  I also think it's quite interesting that the gents are not wearing jackets in this photo.  Erin says these are, " Elizabeth (Smith) and her husband Bob (Wiggins), with Elizabeth's sister Annie and possible sister-in-law Bertha (married to Elizabeth's older brother Tom Smith) and two men I don't recognize (Abe and Charlie)"
Erin says these are "Four sisters Smith: Annie, Mayme, Lizzie, and Gertie"  I love the simple elegance of their hairstyles.  And the little girl barely in the shot looks like she's ready for nap time!
This shot is so charming I just don't know where to begin.  The bunny! The giant hair bows!  The cute little outfits on barefoot kids! So darn cute.  Erin says, "Elizabeth's first two children are Gertrude (named after her sister) and Lin (real name is Robert after his father, but he always went by Lin or Linny…this was my mother's uncle and then her stepfather, and was the grandfather I knew). Edna and Helen are someone else's children, but I'm not sure who. Possible Tom and Bertha Smith's. Edna is named for the youngest Smith child (sibling of Elizabeth's) who died at age 1."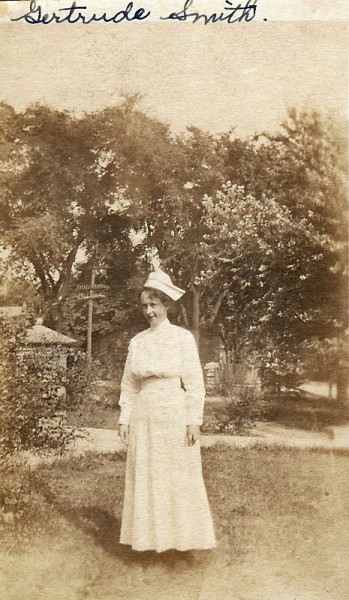 Erin says this is "Great aunt Gertrude Smith in what I assume is a nurse's cap."
This shot looks a tad bit later than the others shared.  Erin says this is "Lin and Gertrude with their uncle Melville Smith and other family members, including their youngest brother Wilmot (real name is Gordon Arthur Wilmot Wiggins) in an early car (wish I knew exactly what it is)."  Does anyone know about this car?  I love this shot!
This photograph is so lovely and serene.  Her hairstyle is just fantastic!  Erin says, this is "Mayme (one of the four sisters Smith, real name is Mary Louise) with her son Stewart (real name is Franklin Stuart) [aside: so strange how nearly everyone in this family went by nicknames or their middle names]"  I'm so glad Erin has shared the nicknames!  They are just lovely!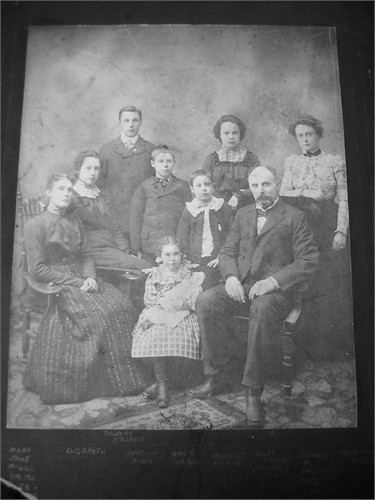 A little bit earlier photo, with lovely detailing of their costumes.  Erin says this is, "the whole Smith family: Samuel Mackenzie Smith and Mary Jane McGill (parents), and children in order of birth: Gertrude Katharine, Thomas Edward,  Elizabeth, Mary Louise (Mayme), Harrison Alvin, Melville Wilson, Annie Isobel (who is either holding a doll or the baby Edna who died young)."
Erin says, "this one is a departure from the Smith family. It is my great grandmother Augusta ("Gusty") Durow on my father's side and this side of the family is ethnically German. A knowledgeable friend has suggested that this may be a "graduation" photo."  I agree!  And what a beautiful photo this is!  The lace insertion, and the lovely gathering of the sleeves, and the tucks around the skirt.  What a stunning gown and beautiful photograph.
If you'd like to find out more about her family and the heirlooms that Erin has, please read the following links on her blog:
Elizabeth Smith Wiggins's yo-yo coverlet:
Augusta Durow Koch's two quilts:
Augusta's picture, pocket watch, and locket:
Thank you so much, Erin, for taking the time to share these lovely photos and descriptions with us!