One of my goals this year is to start sharing some images of clothing I have in my vintage clothing collection.  My collection of antique and vintage garments is not large (I have friends with much larger collections), and has been routinely gathered together, then let go, then gathered together over the years until what I have left is mostly what I love and what gives me joy.  Since I started off with vintage and antique clothing and costuming with the early 1900s, and especially with Edwardian "whites", I'm happy to finally have a proper excuse to bring to light some of these loved pieces and share photographs with you.
I believe this blouse was a gift from a friend, and it's got very neat little construction details that I hope to share across a few posts.  Today I've got basic photos of the blouse to share and I'll go a bit more in depth next time with interior or close up shots.  This blouse was one of the blouses I examined when putting together the 1910s Blouse Pattern.
Most of the blouses I have seen of this age are quite short-waisted and this one is no exception.  High waisted skirts were de rigeur at this time, so that could be one excuse why.  We also have to keep in mind that proportions have changed in the last 100 years.  I'm not one to buy into the "people were shorter back then," idea (though, no doubt, we have changed in stature over a longer period of time), but there were short and tall people just like today.  We take into account changes in diet and in undergarments (grown women at this time most likely had some sort of corsetry starting somewhat early on in their lifespan) and I believe that's where a lot of change comes about from.  I'm somewhat derailing from train of thought, so back to the blouse. This is pretty simple in design and is accented mostly with embroidery and pintucks, with a very simple lace accent at the squared neckline and edge of sleeves.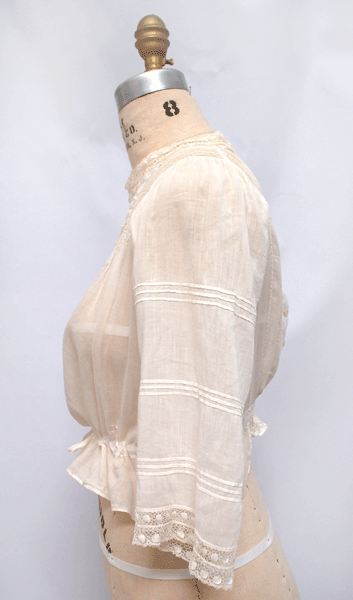 You can see here the hang of the sleeve and the pintuck accents.  You can also catch a glimpse of the placement of the shoulder seam, which sits back farther than shoulder seams once we get into the "vintage" eras and today.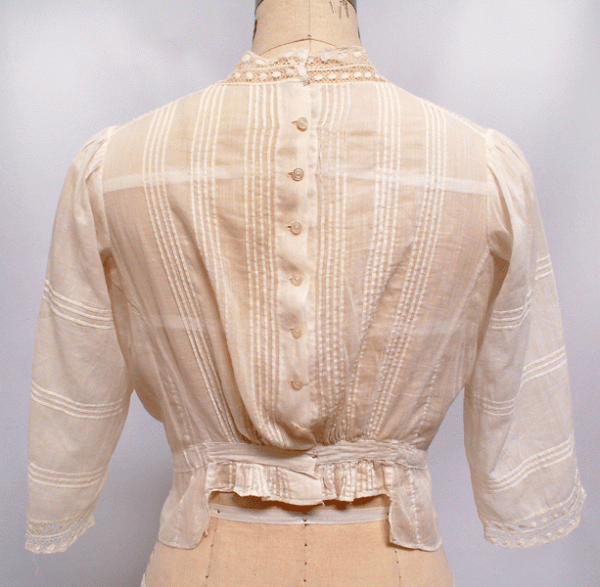 This blouse buttons up the back and has an interesting shape at the back, with the center back where the waist is stitched to place with a band being shorter than the rest of the waist, which draws in with a casing and ties.
A little detail shot of the pintucks, embroidery, and lace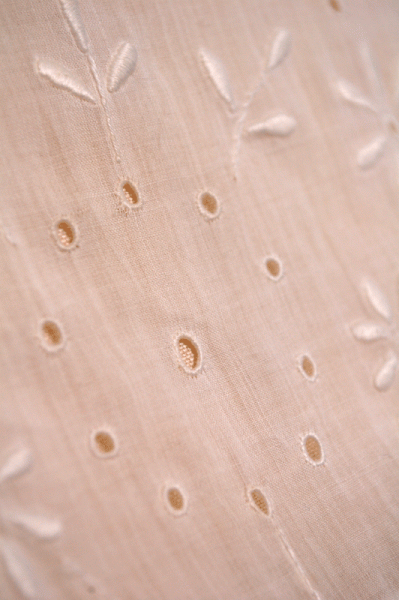 And here you can see the hand worked eyelets.
More photos coming this week of interior shots and other details.
Have a lovely weekend!