Hope everyone had a lovely holiday!  We had a great Christmas with my family.
The day after Christmas my husband and I headed out for a much needed little mini vacation with the destination in mind for Palm Springs.  We left on Boxing Day and headed up first to visit a good friend who filled us in and gave us a grand tour of his house restoration project and did a little antiquing (I found a bound book of 1903 Cosmopolitan magazines I'm itching to share with you!), and some good old time together hanging out.  He's a Hollywood memorabilia collector as well so I got to actually try on Gene Autry's suit jacket.  How cool is that?  I didn't take any pics, but you'll have to take my word for it, that jacket was completely awesome.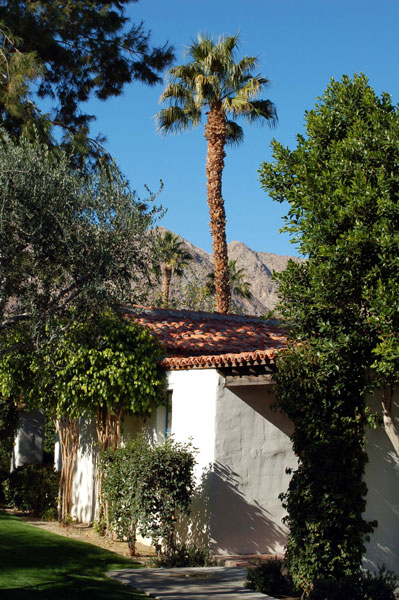 We arrived after dark in Palm Springs area (La Quinta, actually) where we checked into the La Quinta Resort and Spa.  We were last minute with planning this trip so I spent several frustrated hours on Christmas eve trying to find a decent hotel in our price range.  I finally gave up and booked a hotel for one night through Hotwire.  It was the first time I had ever been on that site, let alone used it, but I was so frustrated by hotel searching that I finally just broke down and thought "whatever we get we get." as they don't actually show you the hotel you've booked until AFTER you've paid for it.  Wouldn't you know, we got the actual hotel I REALLY wanted to stay in for about half the price?  I know that's probably pure coincidence, but it was completely awesome to be able to stay there.
The hotel was originally built in 1926 and was composed of several casitas made in traditional adobe with spanish tiling, and a common area.  The hotel has been built on and built on, until today they have over 400 casitas.  We stayed in one of the modern ones which was not a casita with our room only, but a grouping of a few rooms.  I actually really liked it and didn't mind at all being in a modern building.  It was nice and clean and had an in-room gas fireplace and a vaulted ceiling.  Neat!
The grounds were quite spacious and included over 40 pools.  Here's a picture of the oldest one on the property, built in 1937.  I wish we had stayed a few nights so I could have taken advantage of some pool lounging time!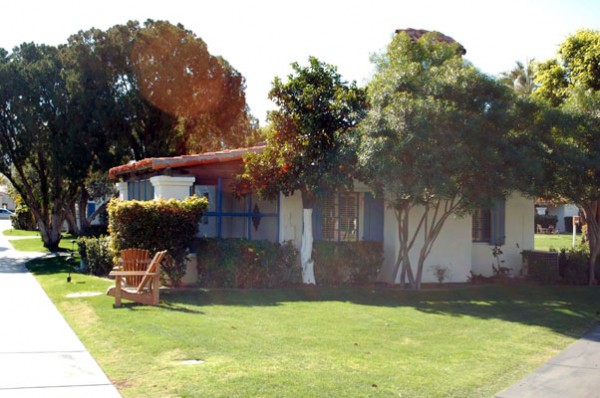 The hotel had a veritable who's who of old Hollywood stars who frequented there. When we checked in I asked for if they had any brochures of the history and got a neat little complimentary booklet with stories and names of old Hollywood stars who had stayed there. Bette Davis, Errol Flynn, and Katharine Hepburn just to name a few.  Ginger Rogers even got married here! So fun! It's still quite posh and it was very busy with lots of people who looked much more accustomed to the upscale surroundings than ourselves (we may have been the only occupants planning on making thrifting excursions the next day), but it was so relaxing and the staff were SO friendly and helpful.  My only complaint is that there was a resort fee which was additional to the booking fee, and I didn't happen to read that before booking.  Still, it was awesome and we hope we get to go back for a stay at the historic hotel. It was so picturesque and so RELAXING.  Definitely a much needed little getaway.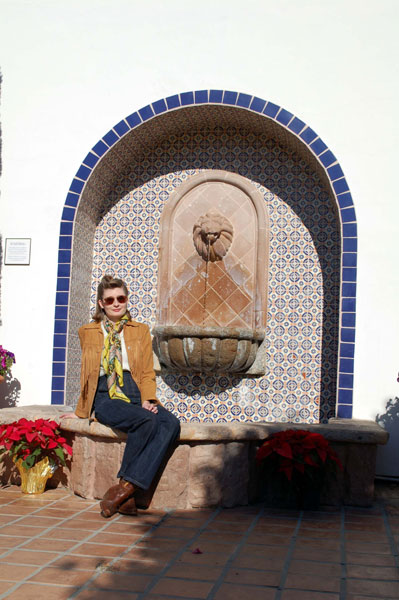 Here's a little shot of me in my western getup. Any excuse to break out the westernwear!
I suppose I should post the fine print: I wasn't approached by the hotel or reimbursed or paid or anything to post about it here. I just really liked it and wanted to share a few photos.