Finally!  These are finished!  My (mostly) hand sewn 18th century stays!
These were made from the 1780 stays from the Corsets and Crinolines book.  Started in 2015, these qualify for the Historical Sew Monthly's "Procrastination" project.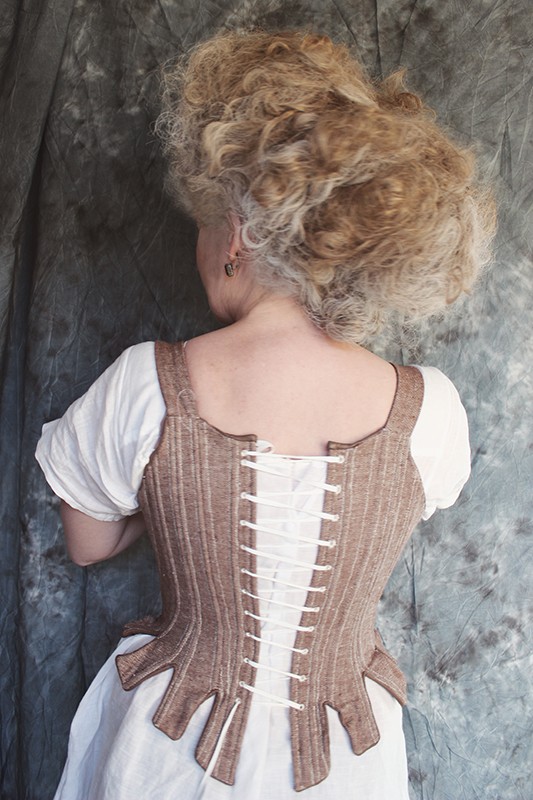 (I know, they're not tied off.  I got into and out of these myself! That was hard.)
Challenge #1 2016: Procrastination The Historical Sew Fortnightly
What the item is: 1780 Stays
The Challenge: Procrastination
Fabric/Materials: Cotton denim, cotton canvas, leather, reed, cotton thread.
Pattern: 1780 stays in the Corsets and Crinolines book by Norah Waugh.
Year: 1780
Notions: reed.
How historically accurate is it?  The pattern shape was unaltered from the original pattern based on original dimensions.  They most likely would have used linen rather than cotton, and I did machine sew all the seams that would not be visible from the outside, but all the channels were hand sewn, so this is most likely the most historically accurate 18th century item I've made thus far.  I decided not to line them, which may or may not be historically accurate.  Obviously, the serged edges that you can see on the inside seam allowance since I didn't line them are not period, but they helped keep it from fraying like crazy when making them, so I don't care ;)
Hours to complete:  Three million.  Seriously, these took forever. I probably won't hand the channels of sew 18th century stays again.  Glad I did it once, though!
First worn: Just for pictures today!
Total cost: Probably about $35-40.
You can tell these took me ages, as I documented a LOT of them in pictures to prove to myself I was getting somewhere.  Working backward from the end…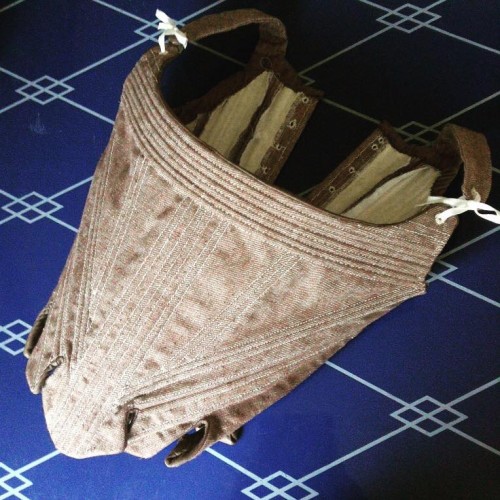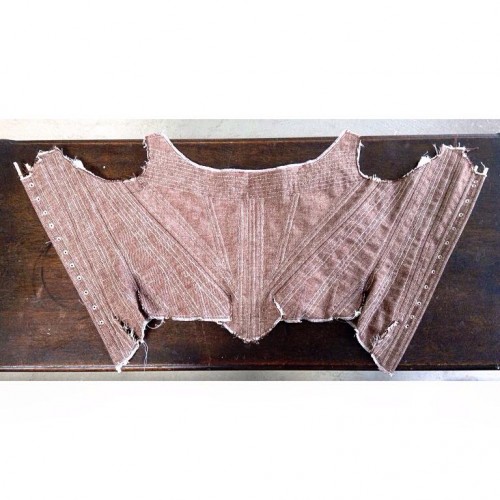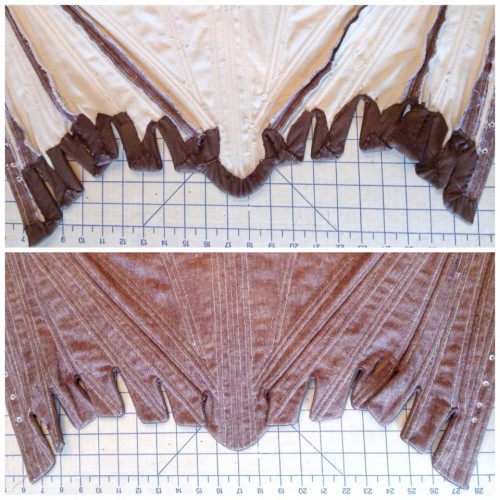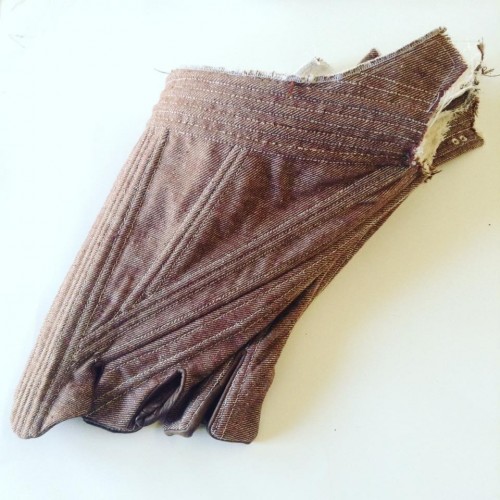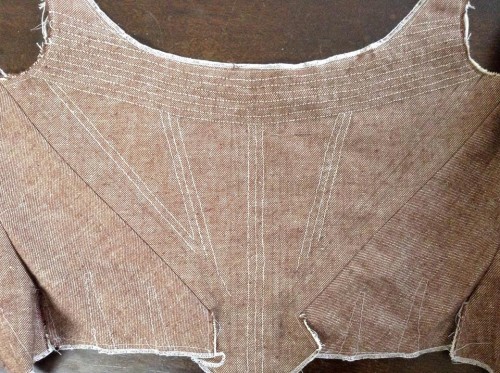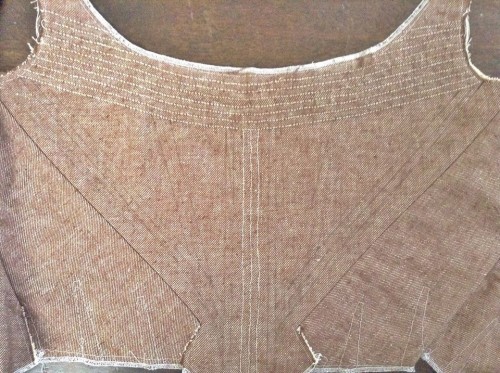 Final Thoughts:
Like I said, I won't hand sew channels again.  It's just not my thing. I have great admiration for those who do hand sew everything, but since I wear 18th century very rarely I don't think the amount of time hand sewing them will be justified by end wearing time.
Reed was a pain in the butt to put in.  You have to soak the stuff, and while it's still somewhat damp put it in so it can flex to the boning channel shape, but they kept snapping on me since my channels were slightly too narrow.  In the end I needed to shave some off of the long edge of the reed to get it to fit without snapping.
I really love the narrow binding.  I will do that method again.  But hopefully with a lining so you don't see the big ol' strips on the inside
Leather binding is a pain in the butt, but really pretty.  This was from a vintage skirt I was gifted that was in pieces, so I cut it apart for binding strips, which means it was free for me!
I love the brown denim.  Originally I wanted to make the Brown Jean 1780 corset in Jill Salen's corset book but the pattern didn't work out for me as I had hoped.  Regardless, I really love the way the brown denim looks, even if it might be slightly different than traditional "Brown jean" was, which I think might have been more of a twill without the undertone being an off white.
Even though these took me ages, I now want to make fancy brocade 18th century stays!  And to think I used to be afraid of making corsets… ;)
And finally, without the help of very knowledgable friends, I know these wouldn't come out half as well as they did. So thanks to Abby, Angela, Lauren, Maggie, Laura, and I'm sure more of you who put up with my endless questions. :)