Hello everyone!
Last week I neglected to post an update because things have been crazy busy around here!
Most notably, we have most of the first collection in stock now!  The Melody Print Sash/Turban now in stock. It came in last week!
And just yesterday I got the Norma Jean blouse in stock.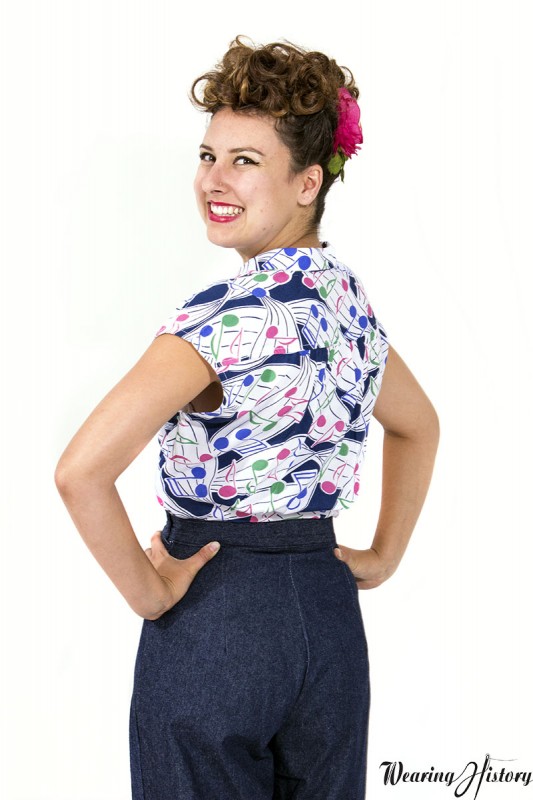 I'm really, really pleased with the fabrics these are made from that was made especially for me.  I know the Norma Jean is going to be in regular rotation in my closet!
So the only thing we're left waiting on is the Maisie Dress and sash.  I've just been informed of the Christmas and New Year's holidays the family owned business that we are having these made through will be off.  So, while they said they'll try to get these to us by the middle of January, they may be pushed back a little because of the holidays.  I can't say enough how thankful I am for the patience you've all graciously had due to unexpected set backs in our production schedule.  THANK YOU!  I know they'll be worth the wait.
Meanwhile, everything that we've got in stock has been shipping out.  I'm down to 40 Kickstarter rewards to fulfill out of 357 backers.  Each reward contains one or more item, and for every e-pattern reward, even though I didn't have to ship them, I still had to generate and save a unique coupon code for every backer.  Wow, has it been a busy few months for me!  But I'm down to 40 left to fill, and I'm working as fast as I can to get things out that are in stock.  I'm hoping I can get the rest out before Christmas (since I was able to ship nearly 20 orders today alone!).
If you supported the Kickstarter or are a customer on my website and you've received your items, I'd LOVE if you could post me a review on my website for the items you've received.  To do that, go to http://www.wearinghistoryclothing.com and go to the item you bought.  At the bottom of the page it will say "Product reviews".  Click on that, and you should be able to review the item by using the same email you provided in the Kickstarter.
I've been getting some lovely photos from some of you, where you're wearing your clothing rewards!  Oh my goodness, it just makes me heart so happy!  If you want to check them out, see the album on my Facebook page here.  If you have photos I can add, please let me know.  And if you've done a blog post, or are going to do one, don't forget to share a link with me!  The biggest part of this dream is hearing and seeing how much you like the clothes!  For some reason it seems all the more real, and I'm so blessed by the feedback.  So THANK YOU!
I guess that's about all the updates I have for now!  So excited that I can see that the end of this big post-Kickstarter push is getting closer. I have so many ideas of new things to make when I get the time to work on them!
I've gotten a few comments from folks who were bummed they missed out on ordering the clothing.  But don't worry, you can still get them!  If you missed out on the Kickstarter, don't forget you can now order the clothing on my new website!
Lots of love to you all, and THANK YOU again for your continued support.
xo
Lauren