Hi there!
I was pondering last night, in retrospect of some sweet comments, what sort of things I do in order to avoid looking too costumey when wearing vintage or vintage inspired clothing.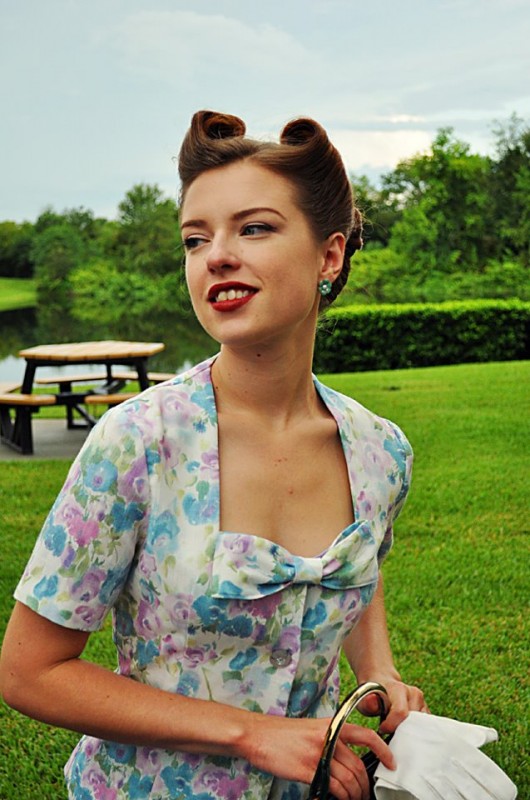 Casey of Casey Maura
There's a lot of misconception out there on vintage or retro style. Many people think they can't pull it off.  Others are afraid they'll look out of place, or draw too much attention to themselves.  And still others are unhappy with their total look because they feel too much like they're in fancy dress or costume.
We all have those random days when things don't come together quite as well as we had hoped, but here's some simple tips from me on how to not look costumey when wearing vintage or vintage inspired clothing.
Disclaimer:  If you prefer to look costumey that's totally FINE, too!  Dress how feels good to YOU!  I don't judge someone for what they wear. The great thing about living NOW is that we get to chose what styles and fashions we most enjoy!
Here's just a few things *I* do when I dress vintage.
Me wearing a vintage 1940's suit
Decide if you want to do authentic vintage fashion (a head to toe period look) or vintage inspired fashion (adapting or mixing vintage with everyday clothing).  
For me, those are the top two ways I see vintage fashion worn.  There's no right or wrong answer here- it's all up to you and what you want to do with your look.  If you're going for head to toe period- it's time to dig into those original period sources.  If you're going for a vintage inspired look, let overall aesthetic be your guide.
Katherine of The Fashionable Past, Ginger of Scene in the Past, and I at Costume College a few years ago. 
Dress for Your Personality, Not Because You Think It's "Right"
In the way you've dressed previously, what have been your favorite looks?  Chances are, if your past style sense had a general "feel" to it, you can find an equivalent in vintage fashion.  Are you a tomboy?  A girly girl?  Avante Garde artist?  Sensible and practical?  A career woman?  Well, regardless of what your lifestyle is, chances are there's a vintage equivalent to you.  1920's girls didn't all wear fringe, 1930s girls didn't all wear bias cut gowns, and 1950's girls didn't all wear poodle skirts.  So go poke around online (I suggest pinterest), and if one look grabs you instantly as something you would wear in real life, add it to your pin board.  There's no real "right" or "wrong" way to dress in an era, because there were so many different styles in every single decade.  In fact, old magazines suggested you dress by "type", just like fashion magazines of today.
Me wearing 1930's style last summer.
Chose Your Hosiery For Your Outfit
There should be a sort of overall aesthetic to your look, so chose your legwear (or not) accordingly.  Maybe you select nude seamed stockings, which gives a little extra dimensions.  Perhaps people won't even realize you're wearing seamed stockings if they're nude on nude, but it will just look *interesting*.  Harmony, simplicity, and cohesion work well here.
Casey of Casey Maura– a woman of exceptional style.
Select a statement piece
What's going to speak the most out of the outfit you're wearing?  Is it your dress print?  Your crazy novelty pin?  Your bakelite bangles? Your crazy hat?  If you have a piece you really want to be noticed, plan your outfit around that specific piece.  If in doubt, keep it simple.  A solid background for a statement brooch always looks classy.  Sometimes red lipstick is enough of a statement in itself.
Me at a living history event in San Diego.  I'm wearing trousers, a comfy blouse, flat shoes, and sunglasses, because I knew I was going to be active that day.
5)  Make it Livable
How do you feel when you're wearing your outfit?  Do you feel like yourself, or do you feel like you're dressing as someone else?  Are you self conscious, or are you confident?  Our clothes can do amazing things for us.  But they can also make us feel out of sorts.  For example, I can't wear high heels or I'll trip over myself.  If you're thinking about a single article of your clothing more than you are what you're doing or enjoying the company you're with, maybe it's time to re-think that choice. Sometimes it's as simple as adding insoles or heel grips to a shoe, or holding a hat in place with a hat pin, or finding a lipstick that doesn't go all over the place when you eat (and how do we always get it either on our chin or on our teeth?  Ok, maybe it's just me).  It sometimes takes time to find what works for you, and that's ok.  Even if everyone else raves about a particular maker or style, it's ok if you decide it's not your thing.
My friend, Katherine Brookes, always has impeccable vintage style.
Find Flattering Hairstyles
One you've got one you've found that works for you and your face shape, you're good to go.  It's ok to do it over and over, or variations on that hairstyle, if it works.  Like clothing, there's no "right way" to do hair for any given time period.  Check out photos of real people if you're intimidated by the super polished looks you see other bloggers, or movie stars, wear.  Not everyone needs to have perfectly polished victory rolls to have vintage style.  And if you've got a flat spot, just add a hair flower or hair ornament, or hat.  People will think it's intentional.  Really.
My friend, Simone (of The Wardrobe Mistress on Etsy).  Photo by Gordon Ayres
Makeup
Some people can pull off the super dramatic makeup or pin-up style. I can't.  My old standby for makeup is red lips, nude eyes with medium brown crease, and maybe eyeliner if I'm feeling adventurous.  And if you aren't comfortable with red lips, that's totally ok!  There were a variety or reds, pink, and corals that were worn through many different vintage decade.  I often wear a lip stain instead of a lipstick, even when doing daily vintage inspired looks, and you know what?  It totally works.
Beth of V is for Vintage.  Always expertly fitted, always tasteful in accessories.
Select Clothing That Fits Well
This is probably not something that comes up too often on style tips for a reason.  If you see sets of wrinkles going across any part of your body, it's probably too tight.  If it doesn't hug your curves or if it droops, it's probably too loose.  Find something in the middle and the fit is just right.  There's not much we can do about too tight vintage, but you can do something about a piece that's too roomy.  You can either take it in yourself, or go to a tailor and get it altered to fit you perfectly.  It is an extra step and sometimes an extra expense, but it's SO worth it to have clothing that fits you just right.  If you're not sure where to find a place that does alterations, ask a local dry cleaner or do a search for alterations in your area.  And if it's vintage, make sure you tell them to not cut out the extra fabric that's there after the seams or hems are taken in- there may be a time you want to let it out later!
Me, pretending to be fancy.
Embrace Your Good Points
We all have things we don't like about our appearance or body type, but instead of festering about that, why not turn that around to something positive?  What's something you LOVE about the way you look?  Do you have a tiny waist?  Emphasize it!  Great décolleté?  Wear more boat necks.  Long legs?  You can look tall and elegant in trousers and knee length skirts.  Pretty hair?  Add ornaments some pretty comb or flowers to your hair.  Love the color of your eyes?  Wear colors close to your face that bring out that color.  Underplay the points you don't like, emphasize the ones you do like.  And if someone pays you a compliment, don't tell them what you don't like about yourself or your look- just kindly say "thank you!" and give them a big smile :)
Me at the Huntington Gardens
Be Confident!
Once you've selected your look for the day, embrace it.  Don't fuss in every mirror.  Don't wonder if people are looking at you.  If people compliment you, give them big smile, look them in the eye, and thank them.  If they ask you funny questions "Are you in a play?", ask "What's the occasion?"  or ask a question or make a comment on your style, just be kind back and tell them you just like to wear vintage styles.  Most people are just curious, and some may even want to take up the look themselves!  Don't take every notice as something negative.  Feel good about your choice, and just keep on enjoying your life.  Confidence and happiness are contagious :)
(Revised 2022)