I'm happy to announce that the Cordelia 1910s Skirt Pattern is now available for purchase on my website!
You may remember I announced this pattern earlier this year.  Well, some things happened, and I wasn't able to get to it.  But it's now been released in the original pattern size of 28″ waist.  The original posting was updated a while ago with the reason for the change.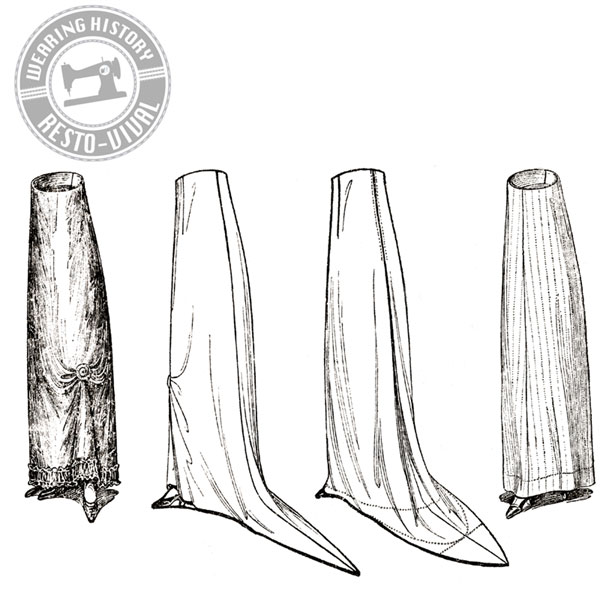 This pattern introduces a new line of patterns for Wearing History, though some of the old favorites are now finding their home under this new classification.  Since I do both new patterns and what have been termed "reproduction" patterns, it was decided to clarify the difference for my customers and we now have two different lines.  "Wearing History Signature Styles" are patterns which are based on original sources or period illustrations with hand or computer drawn illustrations and step by step instructions, cutting charts for modern fabric lengths, improved fit (for some, though some are still based on a vintage block), and multi-size.  "Resto-Vival" patterns are what were previously called "reproductions."  To be honest, I've never felt very comforatable with that title. If you've worked with my patterns you may notice they're a bit different than original sewing patterns, and in my mind a "reproduction" means that it's 100% unchanged from the original source material.  We've got a new description of what exactly "Resto-Vival" patterns are, to help clarify:
About Wearing History Resto-Vival™ Patterns
Resto-Vival™ Patterns are original historic patterns that have been restored and revived.  Original patterns are usually available only in single sizes, precut from tissue paper and totally unprinted, with details like grainlines and darts indicated only by small perforations.  Resto-Vival™ patterns are printed on sturdy bond paper instead of tissue and clearly marked with drawn and labeled markings.  These markings aid the modern sewer in understanding the markings of the original pattern and the construction of the garment.  Resto-Vival™ patterns follow the period shapes of the original patterns, maintaining the historical accuracy of the completed garment.  Original period instructions are included. These instructions are text only (unless otherwise noted) and fairly minimal, especially compared to instructions for modern patterns.  At least an intermediate knowledge of dressmaking and a good familiarity with pattern construction is suggested.  You may choose to have a modern or period sewing book handy to help with basic construction methods that the pattern instructions do not cover in detail.  Also, fitting a muslin mockup is strongly recommended, as all garments were meant to be worn over period foundation garments or corsetry.
I'm very, VERY excited about the new Resto-Vival patterns!  I have LOTS more Resto-Vival patterns on the way, including one I'm just about finishing up on.  Most of the Resto-Vival patterns will be single size, with the possibility for more sizes in the future based on demand and style.  And we're going to go a bit earlier in time period with these, too, as I have original patterns back to the 1880s that I'm excited about bringing to new light- over time I'll be bringing them out so others can enjoy these fashion history treasures.
I hope you're as excited about these new patterns as I am!  And I hope you love the Cordelia skirt!