Hello!  Happy Saturday!
I've been hard at work getting these pattern previews together and working like mad to get these new releases out soon!  I'd like to announce the first official preview of one of the two upcoming Edwardian-1910s patterns I have coming soon!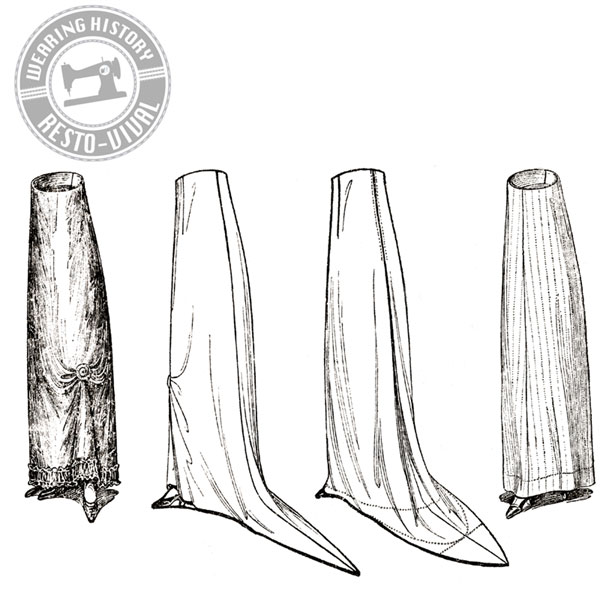 This is the "Cordelia" skirt, in homage of it's romantic nature, and the name was inspired by Anne's dream name.  It also means "'jewel of the sea", which I found quite fitting for the Titanic centennial this year.
This skirt is suitable for both daytime and evening lengths and includes a slight sweep, rounded train, square train, or pointed train.  The front of this skirt can be accented by tucks or left to fall smoothly from high waist to hem.
The skirt is in the Edwardian "directoire" style, and meant to fall gracefully from the top of the fitted interior waistband, skim the waist and the hips, and fall gracefully to the floor.  It is not meant to be fitted at the natural waist, but is fitted to the top of the raised waistband.
If you'd like to learn more about this pattern, please read the new pattern listing page for "Cordelia" on my website.
I've also been posting pattern sample photos to my Facebook page for Wearing History. Make sure you visit over there and "like" me to keep up with happenings.
*Update 6/2012- Cordelia got put on the backburner due to some patternmaking issues- this pattern is VERY large, cut in one giant piece for the skirt, larger than the pattern paper it is printed on and requires more than 60″ of fabric width to be cut in one continuous piece above the original size in my possession, which makes grading and pattern layouts a challenge when doing it for a variety of sizes.  It will be available in a single size pattern as a "reproduction" coming soon, hopefully within the next month. I will have more single size reproduction patterns from this era and earlier in the plans for the future as well, so these fashion history treasures can continue to be made in our present times.  These older patterns will have very minimal changes and the style lines will be intact, meant to be worn over period corsetry, and instructions will be text only, as per the original instruction sheets.  Upper intermediate to advanced skill is recommended.
Apologies that this pattern did not pan out as planned.  I hope that the future single size reproduction patterns of these earlier eras will be exciting to those interested in this period of fashion history.