I know I jumped the gun last night, but I'd like to officially announce pattern #1006- the "Rita" Pleated Shorts!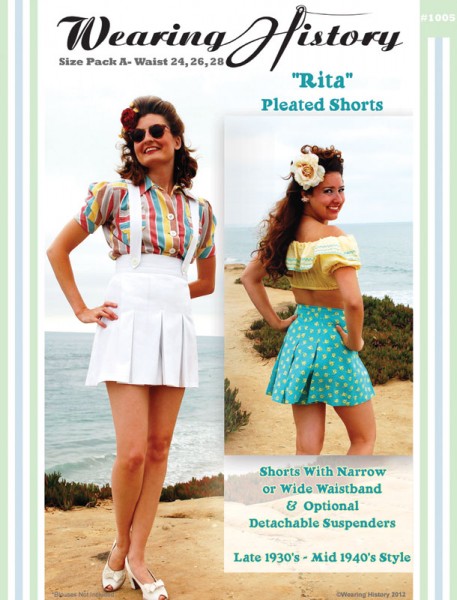 This pattern is an original Wearing History design and was inspired by vintage mail order catalogs and magazine images from the late 1930s through the mid 1940s.
These classic shorts look like a mini skirt but are actually shorts!  Perfect for summer days, and a great modest and flattering solution for your hot weather wardrobe.
These shorts feature three box pleats at the front, three box pleats at the back, a side zipper, and a narrow or wide waistband.  When choosing the wide waistband option you can also add detachable suspenders!  These shorts hit at the natural waistline (not low rise- "high waist" by modern standards).
These shorts are meant to have a vintage cut with a bit of an updated fit, including a higher rise (crotch length) than vintage shorts, but a longer rise than modern shorts.  It's a happy mid-point that I think you will like!  Although these shorts were inspired by late 1930s to mid 1940s images, these can easily carry you into the 1950s.  By lengthening the rise of the shorts and the length they can work for mid 1930s styles as well, when done with the narrow waistband.
These shorts make a great base for your creative embellishments.  Add decorative buttons at the front for a sailor style, add piping to the high waistband and embroidery for a western style, or play with your designs in the form of appliques or fabric paint.  They're a fun and playful addition to your wardrobe.  Make multiple pairs that are styled differently to keep your look unique.
This pattern includes step-by-step instructions compiled and illustrated by me, as well as cutting charts for 45″ wide fabric.  Blog tutorials for pleating and zipper insertion are coming up after the pattern release!
These shorts look great in printed or solid cottons, linens, and rayons.  These work best for dress weight or mid weight fabrics.  They have a lot of "swing" to their movement!  If you make a matching blouse this will make an adorable playsuit!  I suggest the Smooth Sailing Blouse, the Late 1930's Beach Halter top (both tops shown above) or the the Sunkissed Sweetheart tie top as adorable companions to these shorts.
You can purchase the Rita Shorts Pattern here on my website.