Hello! Hope you had a fantastic weekend! Saturday found me with some friends, swimming in a pool, and drinking ice cream sodas. It was pretty fantastic! Jill at the Vintage Baroness snapped a shot, but I'm afraid I didn't take a single photo all day.  It was quite a nice afternoon!
Today I want to post and let you know my favorite vintage sewing and pattern drafting books.
Making sewing pattern instructions is a bit of a challenge, I will be the first to admit.  When you start sewing vintage, especially from original sewing patterns or reproductions, you might find that instructions are sparse compared to modern standards.  Likewise, when sewing new patterns, you may find they pack so much information in that it can make the instructions seem confusing and complicated.  The old patterns assumed you know how to sew, the new ones assume you don't!  I think a happy middle ground is the best, and that's when I pull out my trusty sewing books.
A sewing pattern isn't really meant to teach you how to sew, and it usually won't fit you right out of the packet.  It's a tool to help you achieve a finished project.  Sewing technique and skill are built up through time, and sewing books or sewing lessons are a great way to add to your skill sets.  In fact, if you're not able to take sewing classes and want to learn how to sew you may find that buying an easy sewing pattern and going through a sewing book will help you.  They're meant to be compliments to each other, so don't think that pulling out a book is somehow a sign of weakness or lack of skill.  I pull them out ALL the time- to see different ways techniques are done or if I need to brush up on something I've forgotten, or to learn something new!
Vintage technique and terminology can be a tad different today than it was in the past.  Also, sewing patterns may be a bit different.  In 1940s and earlier patterns you often don't get pieces for facings and underlaps.  Instead, you are instructed to finish inside necklines and short sleeves with bias facing, or cut a piece of facing from your scrap fabric.  This was meant to conserve fabric and paper- they serve the same purpose as modern facings and pattern pieces for facings, but help to conserve materials.  One way is not better than the other- they're just different.  Vintage sewing books can also help you with finishing your garments in a vintage way, or adding vintage style embellishments, since they often come with instructions for detail work like embroidery, tucks, cording, rick rack, and other fun ways to add dimension and interest to your sewing.
These are my favorite vintage sewing books I have in my library:
Anything by Mary Brooks Picken.
Seriously, this lady was a wonder.  I found that all of my favorite books were written by her.
Favorite books by all authors, in no particular order:
(Image of book for sale at VintiqueHomes on Etsy, $12)
1) The Singer Sewing Book-  Many editions came out of this book.  I have a 1940's edition, but later editions look like they have the same content.
*Image above of book for sale on Amazon.
2) Modern Dressmaking Made Easy- also by Mary Brooks Picken, this book includes both sewing technique and how to choose colors and styles, and how to act, walk, and appear to your best advantage. One of my VERY favorites.  A lot of the info from this book has been recently featured on Amy Barickman of Indygo Junction's blog.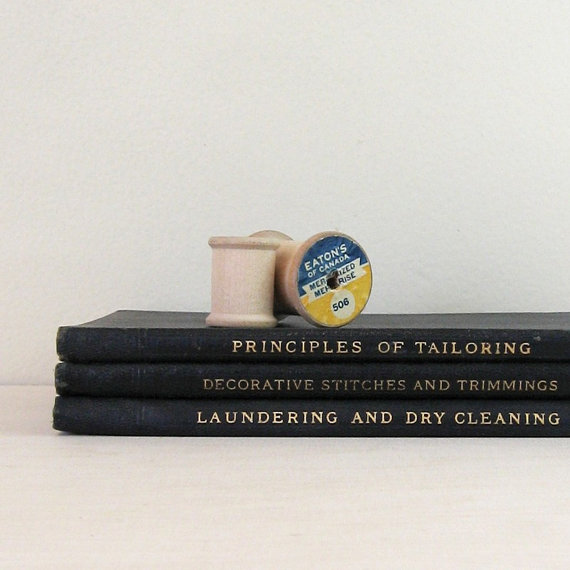 *Image of W.I. books for sale by BookBW on Etsy
3) The Woman's Institute of Domestic Arts and Sciences books.  Also by Mary Brooks Picken, these books range from the 1910s through the 1940s in several editions each.  My personal favorites are the books on tailoring and lingerie, since information for those topics are often hard to track down in vintage books.  Some are harder to find than others, and some are larger books that are a compilation of smaller books or pamphlets.  Some illustrations were changed as the decades progressed, so the illustrations and information in later editions may be different than the earlier editions.
*Image from Amazon.
4) Modern Pattern Design by Harriet Pepin.  A treasure trove of information.  This book can be somewhat hard to track down, but it's worth it if you can find it for a reasonable price.
*Image and book review by/on The Daring Domestic Blog.
5) Dress Design- Draping and Flat Pattern Making by Hillhouse and Mansfield.  Another treasure trove of a book- this one is an essential on my bookshelf and I find myself referencing it often when creating or altering patterns.
*Image on Amazon
6- Pattern Drafting & Grading- Women's and Misses Garment Design by M Rohr.  This is an essential for me, and I find myself using this more than any other book on my shelves.  In fact, my copy is starting to look quite shabby.  Most of the book is on pattern drafting, though it does have a few pages on basic grading as well, which can be useful to see the two inch grade used for vintage patterns.  Great book.
Those are my top vintage sewing and drafting books.  Do you have any favorites?