Another finished project post!  This was started early in 2018, and it's been done for several months but I neglected to take photos of it until now.  Perhaps not the most romantic of shots, but this will do for proving that there's another project done!
The pattern for this project was Depew 3079.  I actually remember bidding on the original of this on eBay, but lost the auction.  Was I ever excited to see Mrs Depew made a reproduction!  Yay!!  I'm a sucker for ANYTHING from the late 30s/early 40s with a hood!
Because I knew what pattern this was based on, I omitted a mock up.  That probably wasn't the wisest thing, but usually these patterns fit me pretty perfectly right out of the envelope.  I really *should* have mocked it up-  I think my fabric is a bit heavy for the pattern, so I'm getting some funny wrinkles below the chest.  I know the original shows it blousey, and perhaps I forgot to shorten it for my short-waisted self.  And although this era was big on "big shoulders", I may take it in a smidge on the shoulders the next time I make this pattern.  As you can see, I didn't make it button up all the way, either.  I'm not a huge fan of things high on my neck, so wanted it open.  These notes, of course, are because of my personal body type and preferences and not a reflection on the pattern.  The pattern makes up very well with all notches and seams matching, and everything going together just as it should.
I'm particularly proud of my pocket matching!
The fabric I used was thrifted wool- both the outer fabric and the red facing.  The inside is done with black rayon satin.  I used fusible hymo in the belt to give it more body.  It ran just a *smidge* too small for me, but again, that's because of my fabric and because I didn't make a mockup.
The pattern was very well presented, easy to print and assemble, and I have a few more I've bought that I want to make up!  This was one of Mrs Depew's full size patterns- not one you scale up yourself.
One of the neat things about this pattern is that the hood unbuttons!  I think this would be *great* for camping or hiking.  I may make a lightweight one sometime in the future- more like the "windbreaker" it's supposed to be instead of an outdoorsy warm jacket, and not skip the mock up next time!
I wore this with the jeans I made from my 1940's Home Front Overalls pattern.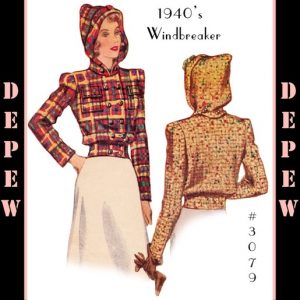 Click the image to go to the pattern.
Just a quick note- I know I make vintage patterns myself, but I ALWAYS love to support other makers who I think are doing good work.  And I am very pleased with the presentation of Mrs Depew, and she's a nice person to boot!