As you can tell by the title, we had a winner from the poll I gave a while back asking what you prefer for these posts where we talk about fashion in everyday.  More than 40% of you said you like the name as I originally chose it, so here it is!
Today I have some original images from a very unusual photo album.  This album has had photos ripped out, pasted over, cards pasted on top, and none in any rhyme or reason.  In example, here are a few little images from the album which show what I mean.  Is it a shame, or does it add to it's romantic mystery?  I suppose a little bit of both!
You can click on the images for a somewhat larger image, in order to see more detail.
We have lovely Edwardian images today.  I would estimate these to be around 1905-1908, and the one with the children a bit later- probably 19-teens.
I admit, I do like Edwardian/Victorian photos of ladies with guns. Brings out my childhood "Annie Oakley" aspirations.  This image is really great, but I *love* the details of her outfit.  The original image was quite faded, but you can see the lovely pleats in her skirt and her bangle bracelet accessory.  In the close up I heightened the  contrast a bit so you can make out the lovely lace collar and neck frill, the gathers in the blouse, and the pointed belt.  I think something like this would be great fun to adapt to the coming 1910s blouse pattern.  Also notice how dark her hat is in comparison to her blouse and skirt.
This trio are out playing about.  I am in *love* with the ladies hats, especially the one on the left.
The same trio, climbing aboard equipment of some sort. Luckily this photo survived after having something pasted on top.  We can see what a gentleman he is, helping the ladies in their adventuring.
This image of a hunter with his prey, and a very curious dog. I have put this image side by side so you can see it as it is now (on left), and with some of the detail brought out (on the right).  I may be odd, but I find the freckled spots on the image to be somewhat romantic and dream-like in effect.  The gents should not be left out of these images, after all! I know nearly nothing about dating old cars, so perhaps someone with a bit of knowledge can shed some light on an approximate date for this photograph?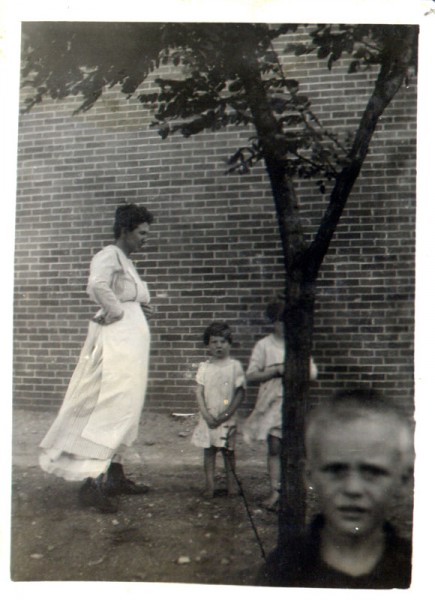 This is quite possibly one of my favorite photo of the bunch in terms of composition. I wonder if the child in front popped up by surprise, and I wonder if they're all getting a good scolding by the lady in the apron!  I believe this photograph dates later than the others pictured here.
Hope these offer some fun inspiration for you!