I just finished up my first vintage sewing project of the year! Hooray!
I'm not sure how the weather is by you, but here in the San Diego area it's been quite warm for this time of year!  It gets my sewing inspiration all messed up- I go back and forth between wanting 1910s costumes and pretty coats to craving 1930's and 40's cheerful dresses and beachwear.  Since I needed to order grommets for my 1910s corset was in the process of waiting for them in the mail, I took the excuse to delve into a little vintage project.
I made this dress from a vintage pattern, Hollywood 1558, from 1938.  I even found the pattern pictured in a 1938 Ladies Home Journal magazine!  This was an instance of fabric first, pattern second, however.  I found this wild print in the Los Angeles garment district and KNEW I had to make a very loud dress, similar to those I posted about quite a while ago as shown in a 1938 catalog.  The fabric is a lightweight cotton and but collar and belt are made of white cotton pique.
This dress was very cleverly designed to have fabric cut on the straight of grain, crossgrain, and bias in order to play with the direction of stripes.  I actually cut the back piece on crossgrain instead of grain because I wanted my pattern to line up with the sleeve.  I think this was one of the instances where cutting the dress out took almost as much time as sewing, but for a print like this I knew it would be ideal!
I used vintage buttons that are little novelty ones that look like hats and a vintage buckle.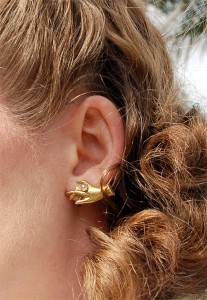 My shoes were by Farylrobin (purchased on Amazon) and my bracelet was bought many years ago from Forever 21, but I was excited to be able to wear these vintage novelty screw back earrings I just picked up at an estate sale.  They remind me so much of one of Adrian's designs for a bathing suit in The Women!  Actually, I'm not sure why my hair looks so dark and red in the other photos (though it does make me want to dye it!).  My actual hair color is just a little darker than the picture above!
I've got about a yard or a little more of the fabric left, so am already daydreaming of a little shirtwaist dress using this as the blouse and making a matching jacket. Hmm… I just picked up some navy gaberdine at the same estate sale…