No, not a dress for a chicken, unless you want to count me ;)
When I saw the "Make the Look" feature on the Sew Weekly for the Bosc in the Glory Dress, I knew I needed to make some sort of version of it using McCall 6024.  I'm a sucker for vintage style novelty cotton prints.  I've made a few dresses with them and I've never been entirely thrilled with them, but when I saw this pattern I knew that that would be a dress I could make in silly fabric and wear!
When I found the Farmdale Crossing fabric by Alexander Henry I knew I found my perfect fabric! I waited for the pattern sale  at Joann's when I could pick up McCall 6024 for 99 cents, and it took a while of searching to find a matching fabric for the ruffles but I finally found it at the shop where I just had my machines tuned up.  A match made in fabric heaven!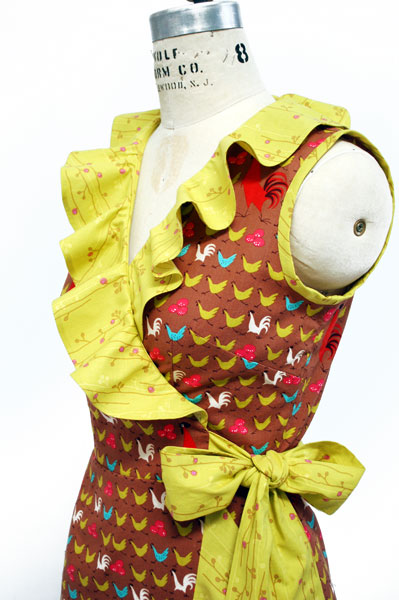 This was actually a super fun dress to sew, perhaps because the fabric makes me so happy!
As far as the pattern goes, it has been probably at least five years since I have sewn with a modern pattern from one of the big companies, so I had to remind myself of how much ease they have. I did the measurements flat on the pattern pieces themselves and ended up cutting two sizes smaller than the size that was indicated on the size chart.  Also, I don't know if it's just me or what, but I had a bit of a pain in the butt with the back bodice piece.  I had to shorten the back shoulders 1/2″ and also add two little darts at the back of the neck because it stuck out very far.  I also narrowed the shoulders of the dress 1/2″ at the armhole edges just because I thought it looked better on my frame.  There's still a little gape at the back armhole which was there before the shoulder adjustment, but, on the whole, after those adjustments I was good to go!  I did really like this pattern and I love that it has different bodice and facing pieces for different bust sizes.  The pieces matched up really well and it was quite fun!  The dress went together quite quickly aside from the circular ruffles- hemming them took a while but I'm so pleased that they came out the way they did! I'm such a sucker for circular ruffles.  Also, I don't quite remember how much fabric I bought of each, but the pattern was meant to be cut for a single fabric, not two contrasting ones so if you're interested in making a similar dress you'll have to do some guesswork for yardage.  I have a bit left over from each print that I'll be sure to put to use sometime or another.
So there we have it! A fun little modern dress, the first one I've sewn in many years.  :)  I am excited to wear it! I just need to find a suitably obnoxious-colored little cardi to go with.